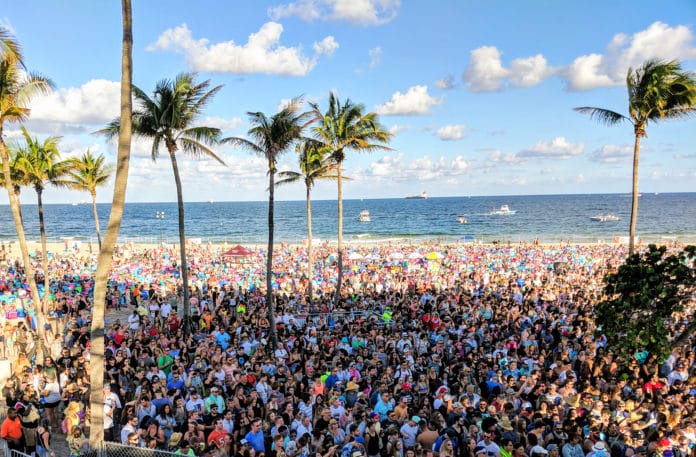 On November 23-24, Riptide Music Festival will feature a music extravaganza on the shores of Fort Lauderdale Beach featuring bands including The Killers and The 1975. Also on hand are fashions from Tan France (of "Queer Eye" fame) and culinary demonstrations by celebrity chefs. Von Freeman, Riptide Music Festival's executive producer, gives us the scoop.
Conceptually speaking, what does Riptide offer?
When you have 40,000 people on the beach in November in Florida, Riptide becomes more than an event—it's an experience. And we try to come up with a festival experience that blows your mind. Feeling that fall breeze and seeing your favorite band on the beach is something that can't be fabricated.
How does being on the beach enhance the experience?
There's something magical about being on the beach. It's the game changer. The reason it's so special is because you have those turquoise waters and palm trees. The beach is the anchor, the basis for a great time.
What can festivalgoers expect at this year's event?
We decided to focus on alternative music, whereas in years past we also showcased R&B and funk. In addition, we have nine other events leading up to the festival, including the "Searching for Giants" exhibition, a series of inflatable sculptures installed as part of a promotion for Riptide. Tan France from the TV show "Queer Eye" will also host a fashion show during the festival and will give some attendees makeovers. Our food options include celebrity chefs serving meals on the massive Maximus mobile kitchen, as seen on Gordon Ramsay's show, "24 Hours to Hell and Back."
Any tips for attendees?
Ride-sharing is a must when it comes to any event on the beach. We're expecting about 40,000 people, so parking is at a premium. If you do end up driving, there's the new parking garage off Las Olas Boulevard. Or, park at the downtown garages and then request a ride.
What about bringing the kids?
Young ones are absolutely welcome at Riptide. To get the best experience, I recommend going to the fence and relaxing with the family there. The law office of Anidjar and Levine, who are sponsors, will be giving away beach towels, so you can grab one to sit on. You're on the beach, so kids will enjoy building sandcastles and playing while their parents are listening to these incredible music artists.
This article originally appeared in the Fall 2019 Issue.