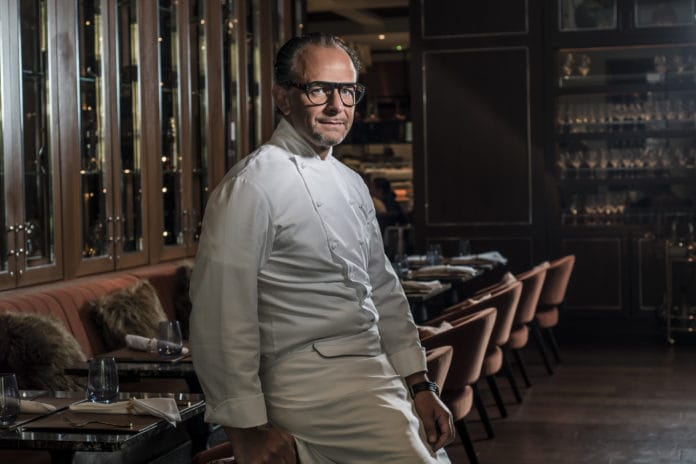 Chef Fabio Trabocchi and his wife, Maria, have two children, but sometimes it can feel more like 10. That's because they also run eight restaurants in Washington, D.C., Venice, Italy, and now South Florida—and each one feels like an offspring.
"Restaurants are like children: They need not just constant care, but you also need to have a passion for their care," says Trabocchi while perched on the sleek granite bar of his elegant Italian eatery, which opened last November in Coral Gables. Of all the couple's non-sentient brood, the South Florida location is exceptionally monumental. It was, after all, the first outpost of the renowned restaurant outside of Washington, D.C. Trabocchi can't help but beam with fatherly pride. "Fiola Miami was already a strong and healthy newborn, but now it is a very robust child," he says.
Trabocchi and Maria met at the site of their first restaurant in downtown Washington, D.C., in the '90s. Back then the swanky space was called Bice, and it's where he had taken a kitchen job after emigrating from Italy and where she managed the books after moving from her native Spain. While at Bice, Trabocchi rose through the ranks quickly as a young chef and soon moved between Spain, London and Washington, D.C. He was nominated for a slew of James Beard Awards, winning the award for Best Chef Mid-Atlantic in 2006. He then earned a Michelin star while working at Fiamma in New York. When that restaurant shuttered during the 2009 recession, the Trabocchis returned to D.C. When the couple realized the Bice space was available, they took the coincidence as a good omen and opened their first restaurant, Fiola, at the spot in 2011.
Since then, Fiola has become the epitome of power dining in the country's capital, frequented by the likes of the Obamas and other high-profiled officials. Trabocchi excels at creating classic Italian dishes with a modern flair, including standouts like the bucatini with red prawns and sea urchin, prosciutto-wrapped veal chops and lobster ravioli. The latter, made of chunks of lobster with olive oil, chives and ginger, has become a favorite among guests, Trabocchi says.
The name of the restaurant itself harks back to the chef's Italian roots. The word "fiola" was more commonly used by previous generations as a way to talk about their precious nieces, nephews, children and grandchildren. "The most accurate translation into English is 'my sweetheart,'" he says.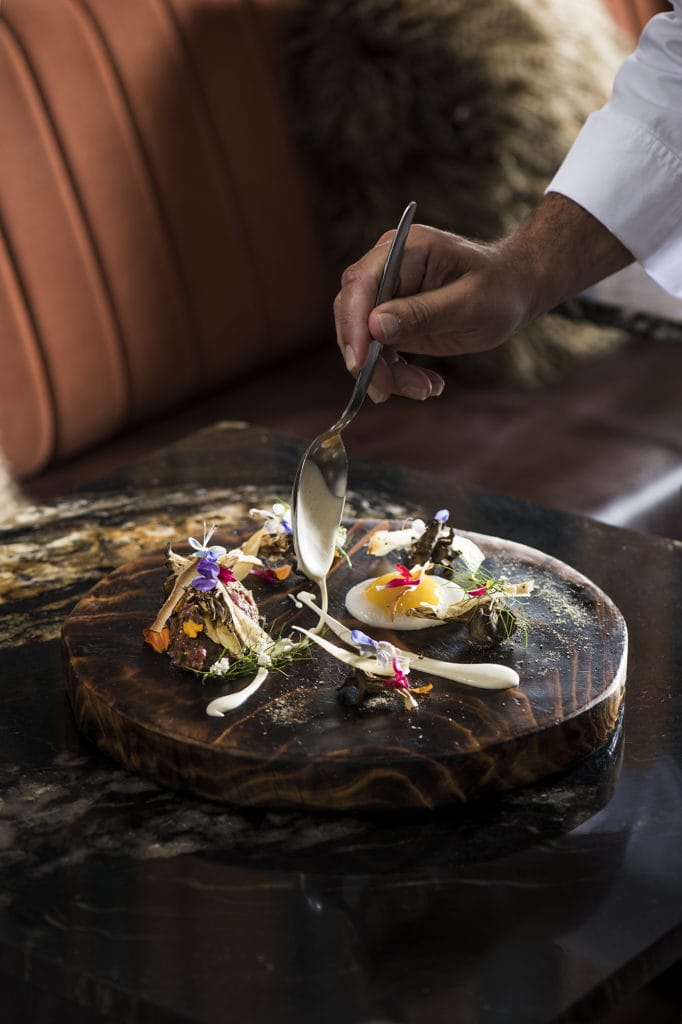 Trabocchi was born and raised in Osimo, Italy, in the Marche region, wedged between the Apennine Mountains and the Adriatic Sea. His father was a farmer, and his family, like most Italian families, was food-obsessed. As a kid, Trabocchi remembers sitting on the kitchen table, grabbing pieces of dough and trying to mold them like clay.
"When I was young, they used me as a mat to clean the pasta board," he says with a laugh. "Because of that memory, we dedicated one of our restaurants to the craft of making pasta."
Trabocchi is referring to Sfoglina Pasta House, a neighborhood joint in the D.C. area. Sfoglina comes from the Italian word for the female artisans who carry on the Italian tradition of rolling sheets of pasta by hand with a rolling pin. In addition to whipping up squid ink linguine, potato gnocchi and other classic Italian fare, the restaurant hosts intimate weekly pasta-making classes where participants learn how to make and roll dough, shape pasta and create dishes they can bring home.
The decision to expand the Trabocchi brand of Italian cuisine to the south by opening this new outpost of Fiola in Coral Gables "was a natural extension," he says. For years, he and his family vacationed in South Florida, and it became their go-to destination if time constraints kept them from traveling to Europe. "We love the climate, the variety of people, the Latin influence," Trabocchi says. "We received an incredibly warm welcome here."
The Trabocchis partnered with Fort Lauderdale-based attorney and now restaurateur Tom Angelo—who frequented the Washington, D.C. location—and spirits scion Facundo Bacardi, opening Fiola Miami to rave reviews. A reservation at the Italian eatery—an elegant 5,800-square-foot space with a glass-walled wine cellar boasting thousands of vintages—soon became one of the toughest to snag.
"Fiola Miami offers a bespoke experience through an incredible attention to detail and hospitality, along with a passion for excellence," says Angelo of the restaurant, which serves lunch, dinner and a Sunday Champagne brunch. "Fabio has a long-term vision of not just this brand but also his other brands. My partner and I were interested in someone we could grow with, build a relationship with over time and work with in a collaborative manner."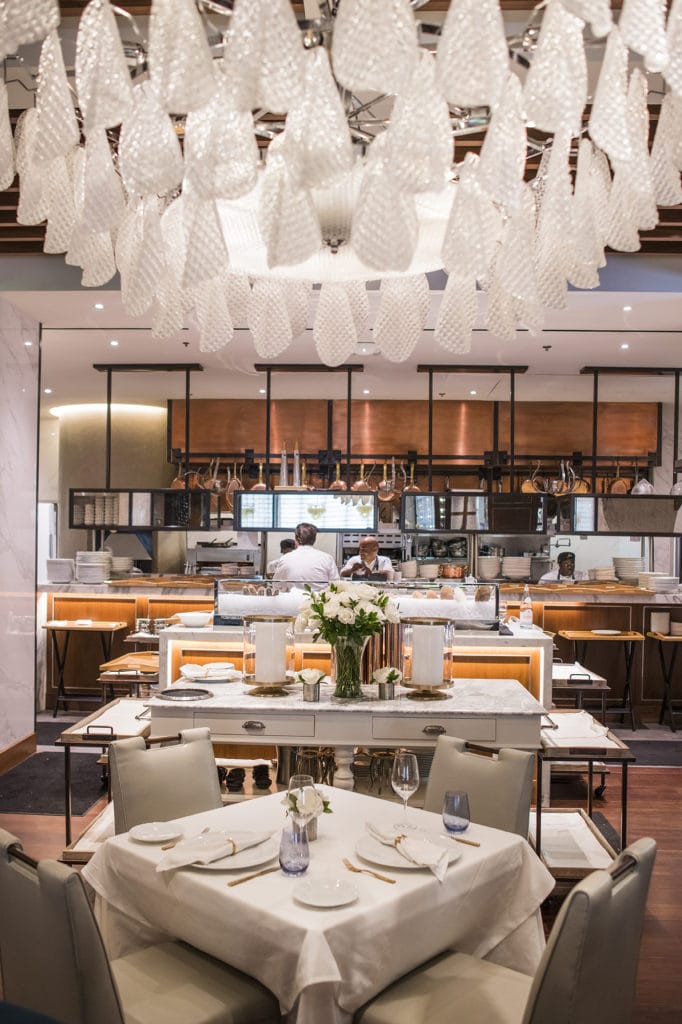 Amid the flurry of waiters pirouetting courses from one white tablecloth to another, Trabocchi acts as the maestro overlooking the masterpiece from the open kitchen. He hired executive chef Michael Fusano to work alongside him, and makes a point to venture into the dining room to host his guests. Though the Fiola Miami menu still offers the original eatery's favorites (such as the lobster ravioli), it also introduces new dishes that cater to South Florida's palate, such as the Mediterranean-inspired crudo towers and ceviche options.
"To me, the most Italian thing to do is to not just be local but to also adapt to the local taste," Trabocchi says. "The way Italians eat in the north is not the same as in the south due to things like tradition and climate—the same is true here."
This article originally appeared in the Fall 2019 Issue.