By Jenny Starr Perez. Photography by Eduardo Schneider.
Amidst the hues of turquoise waters and golden sands of South Florida, rises a tribe of fierce women – the female entrepreneurs of the South. They don't just ride the waves; they create them. Building empires between sips of cafecitos, they're turning the vibrant streets of Miami, the serene landscapes of the Keys, and the lively energy of Fort Lauderdale into their personal business playground. For Maria Galli, the tri-county region serves as an appropriate background for business expansion, with its widely publicized population and industry growth since 2019. "South Florida is the place to be when it comes to any kind of business, especially in the creative branding or marketing space," says Galli, "because so many brands are looking for any connection to the magic we make here."
Galli, a visionary entrepreneur and marketing maven, has taken the vibrant region by storm with her highly successful branding consulting and marketing firm, Pink Coconut Studio, adding her signature style to South Florida's booming business industry and making her a well-regarded top leader in the creative realm. As the founder and driving force behind Pink Coconut, Galli has carved a niche for her company as a trendsetter with an innovative approach that seamlessly blends data-driven strategies with cutting-edge creative concepts. Galli's company has become a go-to destination for businesses seeking to establish themselves as compelling presences that drive meaningful customer engagement. Current clients include real estate development companies, lifestyle brands, and international fashion labels. "I always say that if you can dream it, you can be it, and that goes for businesses as well. If a client has a specific vision, my team and I do everything in our power to not only make it a reality but also an incredibly successful business model."
Galli's early career began in her native Buenos Aires, where she graduated with a bachelor's in communications and a master's in marketing from Universidad de Buenos Aires. She swiftly secured a position with American Express, where she immediately solidified a reputation as a team player with an eye for finding solutions to efficiency challenges within the procurement department, effectively saving the company over $30 million in marketing costs. Upon seeing her unwavering dedication and talent, the company offered Galli a coveted position in New York, where she spent the next eight years building her impressive skillset and managing several teams, eventually moving up to a director of brand advertising and management role.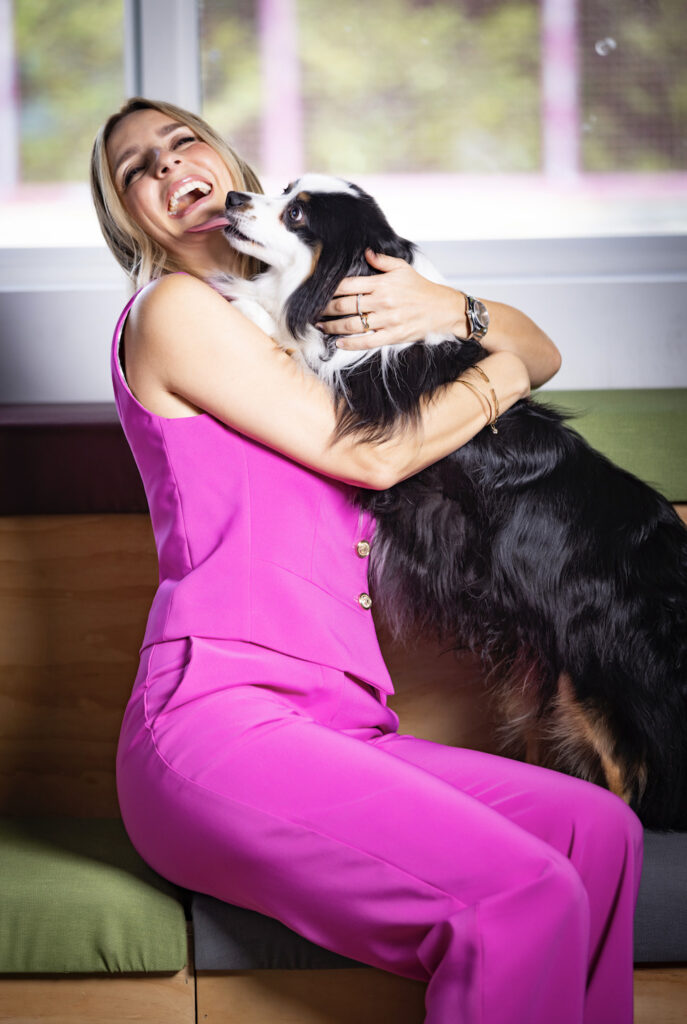 A bold personality who stays ahead of trends and anticipates market demands, Galli kept her eye on the evolution occurring across several industries in South Florida. She made the decision to move to the Magic City in 2011, where she consulted on major marketing projects and took on opportunities to turn her love of creating meaningful narratives through photography into a full-fledged part of her career. "Change isn't the enemy of stability; it's the catalyst for progress. It's the art of reinvention that keeps us relevant and ensures our business continually thrives. For me, embracing my longtime love of photography provided yet another creative outlet that allowed me to continue to evolve as an entrepreneur and grow my business in a way that felt authentic."
Galli is firm in her belief that an effective leader is a well-rounded one, engaging in both analytical and creative pursuits. In 2018, she officially launched Pink Coconut, which now boasts offices in Miami and Buenos Aires and employs an ever-growing team of innovative thinkers and designers that Galli says is a vital aspect of her success story. "Building a successful business is like creating a masterpiece," sha says, "and just like an artist needs a diverse palette of colors, a good entrepreneur needs a team with varied skills and perspectives to truly bring their vision to life. A lone wolf can only go so far. The real magic happens when you assemble a team that believes in your mission as passionately as you do. Together, there's no limit to what we can achieve."
When she isn't managing projects from her offices in the trendy Midtown Miami neighborhood, Galli dedicates her time to mentoring underprivileged women, as well as promoting awareness of migraines, something she has suffered from since her childhood. For her, true influence isn't measured in clients or followers, it's measured in the positive impact one can create by helping shape the business landscape and inspire change. "As entrepreneurs, our influence isn't just about our ventures; it's about leaving a legacy that motivates generations to come."