By Jenny Starr Perez. Photography by Jason Nuttle.
In the vibrant landscapes of South Florida, there's a pizzeria that's not just about the art of baking, but the art of dreaming. With more than 13 locations across South Florida, Texas and even an international presence in Spain and Saudi Arabia, Mister O1 Extraordinary Pizza is a dream turned into reality by founder and chef Renato Viola, whose story is as remarkable as the name of the successful brand he created suggests. So, what is in a name? The 'O1' isn't just a random moniker. It reflects the distinctive visa granted to Viola by the United States, reserved for those with extraordinary talents. In Viola's world, that talent is crafting the most delightful, authentic Italian pizzas.
"I always had my eyes set on the American dream," says Viola, "I loved American films, music and culture. After winning an award for creativity and taste at the world championship of pizza in Monte Carlo, my dream became a reality. All my experience traveling around Europe as a pizza chef helped me gain a reputation in the industry as a gifted chef, which helped me get a VISA-O1 to come to Miami and open a restaurant, that would later become Mister O1 Extraordinary Pizza."
Born into a family where food was the cornerstone of their culture, Viola's culinary journey began in Agropoli, a town renowned for its rich gastronomic heritage. Here, he developed a deep appreciation for the traditional flavors and techniques of Italian cuisine. Inspired by his family's love for cooking, Viola embarked on a lifelong pursuit to perfect the art of creating the perfect pie. "I truly fell in love with pizza-making because it felt so creative, and I loved the movement with my hands."
After being granted the 01 Visa, Viola opened the first Mister O1 location in South Beach with his business partner Umberto Mascagnia in 2014. Since then, Mister O1 has grown to 11 locations in the United States and three locations overseas. If you haven't tried the brand's signature "Extraordinary Pizzas", for which the brand has become synonymous, you've likely seen a popular content creator or blogger digging into the menu's ooey-gooey, award-winning Star Luca: a star-shaped pizza filled with ricotta cheese, spicy salami calabrese, mozzarella, Italian tomato sauce, and basil. A slice alone is a food-lover fantasy: a delicious and eye-catching dish seemingly made for a place on an Instagram feed.
Through selections like this, the brand has built a reputation for a unique and innovative approach to pizza-making, which also includes touches of local flair in the recipes used at Mister O1's locations.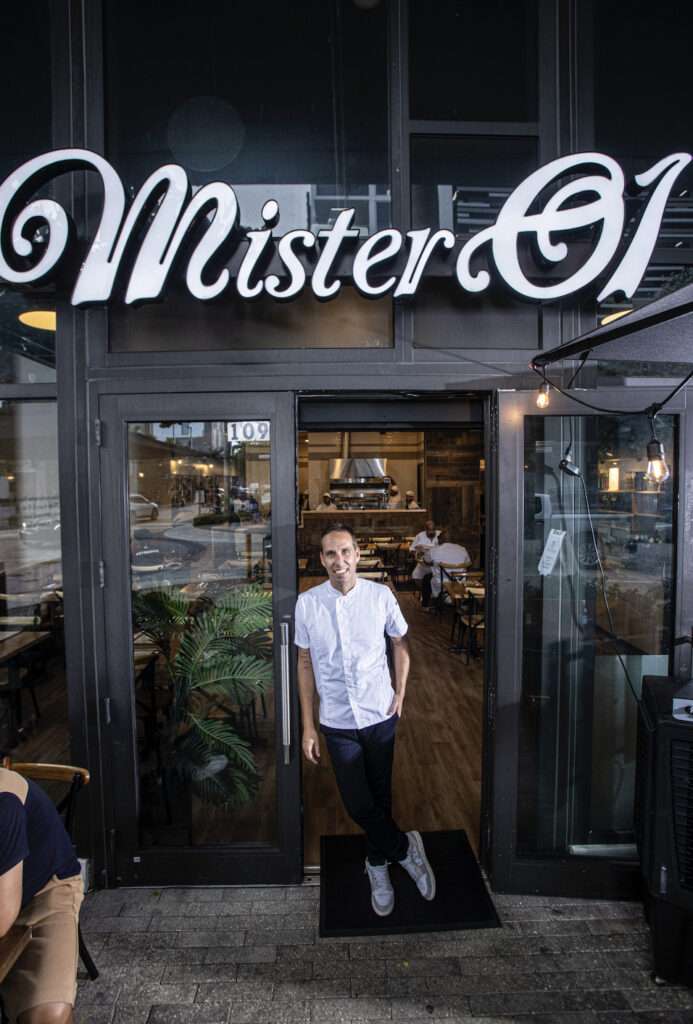 "Cultural influences that can be found all over Miami, South Florida and even Texas influence my creations," says Viola. "Many of our pizzas have ingredients that have been inspired by the region they are in. For example, at our Miami locations, we feature the Matteo 305 with chorizo sausage while in Texas our Matteo 2.0 features Jimmy's Italian sausage which is a popular sausage in Texas. Most of Extraordinary and Signature pizzas have been named and/or created by some of our Mister O1 friends and family. For example, the Star Laina was inspired by our Naples and Fort Lauderdale franchise owner, while the Fabio was inspired by my longtime barber in Miami."
The menu features 13-inch traditional and specialty pizzas, calzones, salads, and an antipasto and burrata bar. Signature pizzas are served as 13-inch pies and include standout flavor selections such as the Coffee Paolo made with Italian tomato sauce, mozzarella, gorgonzola blue cheese, natural honey, coffee, and spicy salami calabrese; and the Claudio, made with Italian tomato sauce, mozzarella, fresh burrata Stracciatella cheese, white truffle oil, and basil. Gluten-free crust and vegan cheese options are also available.
"I think what sets us apart is how we try to always be consistent with our pizza and the way we serve it. Our artisanal pizza is different from others around town because it features a delicate, thin, and crispy crust made with a light dough, prepared daily and undergoes a maturation process of 72 hours before being served."
If quality and consistency are the hallmarks of Mister O1, Viola's commitment to providing guests with an inclusive and inimitable dining experience is the heart of the brand, which is set to open new locations in Bay Harbour Islands, West Boca Raton and other Florida and Texas cities later this year. "We stay true to our mission to always be consistent with our food and service – always providing an extraordinary experience so that every time the guest comes back, it is just like the last time."