By Melissa Puppo. Photography by Eduardo Schneider.
Walking through the doors of The Chic Beauty Bar in Little River, a larger-than-life pink and gold leaf–decorated giraffe head mounted on a soaring wall greets guests. Dangling from its mouth is a pink Chanel flap bag glistening from chandeliers. This might be an opulent sight at another nail salon, but it embodies the luxury concept fashioned by Mary Yasol. "It's a statement," says the Miami resident with a smile.
Yasol is no stranger to glamor. During her formative years in the Philippines, she entered beauty pageants, what she describes as "the Olympics" in her country. For weeks at a time, she would train daily, working on her posture, walk, and how to eloquently answer questions. "By the final night, you're exhausted," remembers Yasol.
She continued with pageants until she arrived in the U.S. at 21 with her then-ex-husband. But her new life in Nashville didn't live up to expectations. "I was stuck in the relationship, in a place where I didn't know anybody, and I didn't have a job," she says. She endured her struggles a few years longer before deciding to get back into real estate — a career she had pursued while in the Philippines.
Drawn to Miami for its similar lifestyle and diverse culture to her hometown Manila, Yasol left her toxic relationship behind in 2014 and built an entirely self-made real estate career in the Magic City. "Miami has these amazing real estate towers, and every time I visited here, it's always been so inspiring," she says.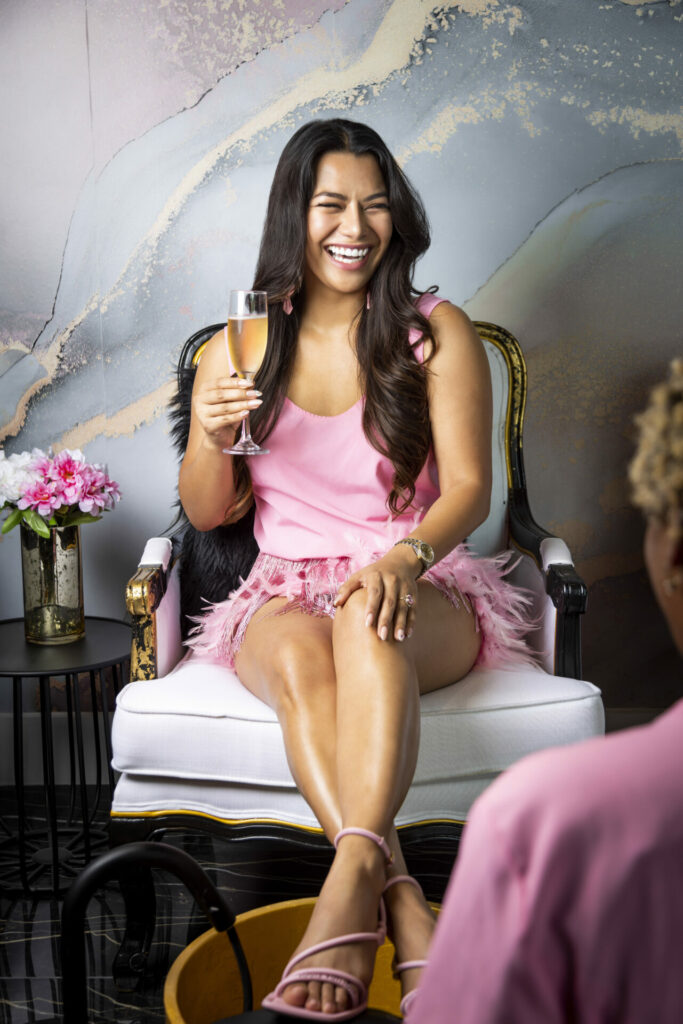 Little did she know her pageant days would come full circle when she began entering contests in the U.S., to expand her social network plus build skills and confidence to help her as a businesswoman. To her advantage, she won numerous titles, including Ms. International World Global 2019, representing The Philippines, and got invited to the hottest parties in South Florida. She became a top seller at companies, including The Agency Florida, and now focuses primarily on luxury homes and commercial developments for ultra-high-net-worth clients at Coldwell Banker. 
Yasol attributes the idea to launch a nail salon to one of her real estate developers, who suggested she open one during the pandemic. With sales slow and people hesitant to start new ventures, Yasol began ideating how to open a business of her own. She chose the up-and-coming Tarpon River Entertainment & Design District (TREDD) in Fort Lauderdale, where she was a realtor. While she had no retail experience, she certainly loved the art of pampering. "I love going to the best spas all over the world," she says. "It's part of my lifestyle."
And she knew she could offer what she found other salons in South Florida to be lacking: superior customer service. Determined, she created The Chic Beauty Bar in Fort Lauderdale last year, bringing the once under-the-radar but now highly sought-after Apres X Gel nails to locals. It took a year-plus to outfit the salon with design-apropos elements such as plush pink seating, golden accents, and marble.
"The vision was to have a pretty space where girls can have fun, get pampered, get their nails done, have wine, and take pictures," says Yasol of her concept that has been welcomed by women and men. "We've seen [the success] in Fort Lauderdale so far — everybody loves it and appreciates the space. I'm very proud of that."
With one salon down, Yasol welcomed a second locale in November, her two-floor sanctuary outfitted with everything a pampered princess could want — including that fancy giraffe dubbed "Chicraffe." Here, guests can achieve the ultimate nail goals, get eyelash extensions, receive IV therapy, and host festive fetes.
Her beauty pageant ideals haven't diminished along the way to a successful career. While she once used her platform to help underserved communities in the Philippines, she now uses her role to build opportunities in the salon for nail artists and aestheticians. "I give them a safe space to practice their craft, market them the way they should be marketed, support them with additional skills and talent, and really just give them a space to grow," she says. "I realized that's more valuable. I believe that when people enjoy what they love to do, they serve the clients better." thechicbeautybar.com