By Angela Caraway | Photography by Meghan Sepe
No matter where in the world Kimberly Pucci is, she easily blends in—yet distinctly stands out—for what she's carrying. Maybe it's a juicy, orange-hued bag reminiscent of the fiery sunsets she soaks up from her villa in Tuscany. Or perhaps it's a duffle bag with sporty stripes that portrays the nautical vibes of her hometown, Newport, Rhode Island. Or maybe it's an elegant metallic clutch that's perfect for a night on the town.
With residences and business dealings around the globe, bouncing from cars to planes to yachts is part of Pucci's nomadic daily life. Like most avid travelers, she wants to arrive in style, with as much ease as possible. As the designer behind her eponymous luxury lifestyle brand, Kimberly Pucci Atelier + Vault, she's crafting bespoke goods that make a statement while also addressing common travel woes, like bulky bags you can't stow under plane seats or bag straps that dig into your shoulder. "It's luxury without limitations. My bags are soft with no structure to them, so they easily fit everywhere," Pucci says. "The largest tote can even be used in economy, where it can be folded over and stuck under the seat."
Her designs are less about a label and more about her New England sensibility and devotion to craftsmanship. "We call it 'quiet luxury.' We're whispering instead of shouting at you. My goal is to create an American luxury-goods brand that's crafted like European heritage brands," she says. Pucci—whose business is unaffiliated with the more fashion-famous Pucci family—has the background and connections to accomplish that ambitious feat. She grew up in Rhode Island, but at age 19 moved to Florence where she was hired by a family of jewelers whose lineage dates to the 1300s. She'd regularly grab two cappuccinos and race up the stairs of a nearby palace to sit for hours with the artisan who customized jewelry for clients. "I'd sit with him, and he would show me exactly how it was crafted, or he would pull out a 10-karat emerald to show me. His passion stayed with me," she says.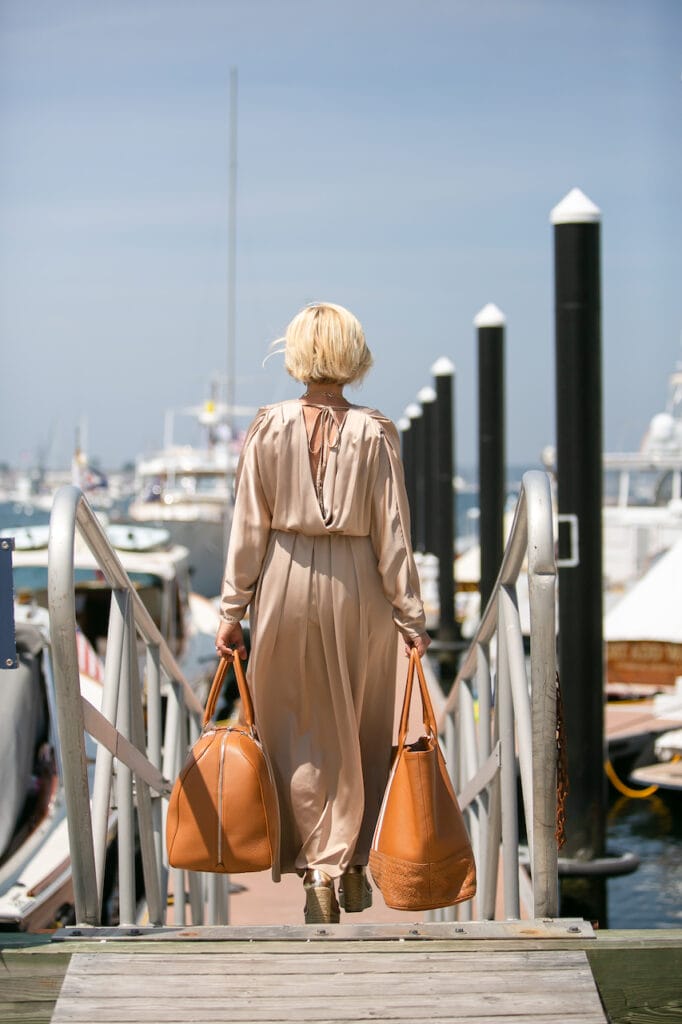 Fast-forward to 1998, when Pucci released her first jewelry collection. With access to the world's most elite jewelers and diamond sources, she began fashioning wearable art featuring precious and semi-precious stones. By 2008, she expanded into creating leather goods, combining her usual tailored approach with the personal relationships she had established with Tuscany's finest leather artisans. "Craftmanship is very important to me. What comes out of Tuscany is second to none," says Pucci, who works with an Italian tannery with a U.S sustainability approval.
Her bags are constructed of buttery-soft leather and hand-woven metallics, and the bags' interiors are lined with the same indulgent leather. Every detail is customizable, including color, stitching, hardware, handles and straps—which, she swears, hugs your shoulders and can be measured to fit your body.  "My strength is color," says Pucci, who offers more than 250 colorways. "Colors can be created from scratch. If someone wants two shades lighter than Tiffany Blue, my tanner can make it. It allows my client to wear luxury that fits their lifestyle, and it may look different depending on where they live or where they're traveling."
The idea behind her travel line is to invest in a single handbag that can be used every day or to build a suite of options for every destination. Recently, Pucci made 130 pieces for a destination wedding matching her client's colors along with individual monogramming for each person's name. Pucci's must-have travel essentials include the Isabella Weekender, a large duffel that easily fits three nights of clothing. The signature Aurora Mini-Purse can zoom through security lines with necessary airport documents; upon landing, the cross-body strap can be popped off, transforming the purse into a fancy clutch. Those with a penchant for wine can scoop up the Caterina Wine Tote, which is spacious enough for six bottles of wine, a cell phone and wallet.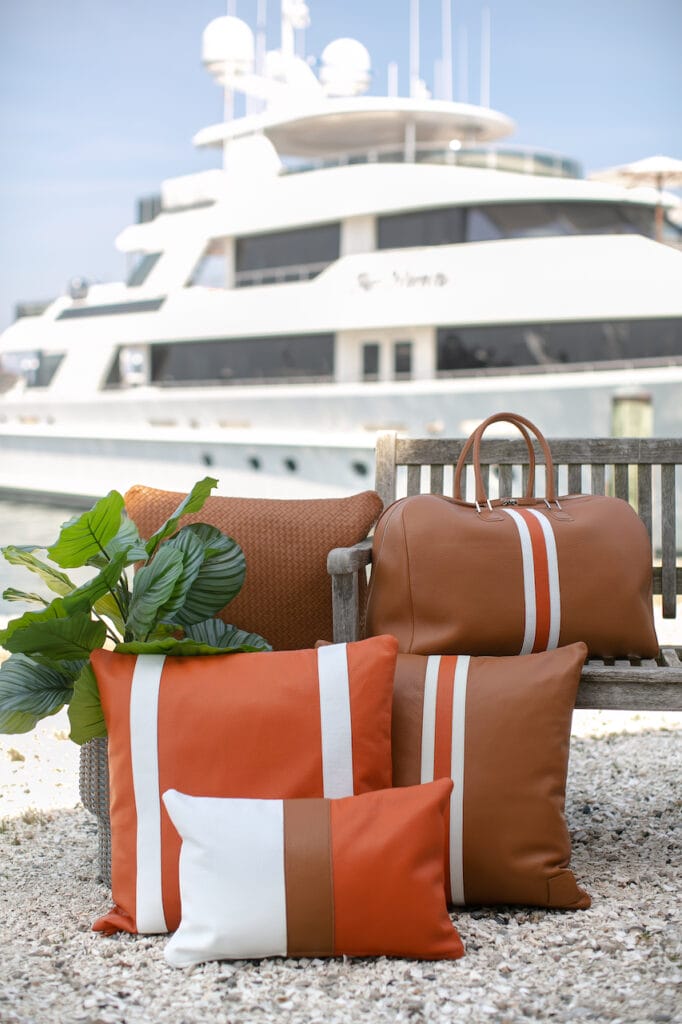 Adding to that sense of continuity, clients can now go from plane to yacht to car with her branded, yet unique-to-you selections. She's designed a vast collection of soft goods for Pershing Yachts, collaborating on the decor selection process both at the Pershing factory in Mondolfo, Italy, as well as their Fort Lauderdale showroom. The collection includes bedding, pillows, cashmere throws, placemats, napkins and runners for the table, as well as high-performance outdoor pillows. "It's a complete turnkey package of decor that really elevates the lifestyle," Pucci says. "What I'm finding is that clients are begging for a more personalized feel on these boats. I create spaces that make them feel at home wherever they are." That means bedding backed with washable silk, materials that don't require ironing, exquisite handwoven statement pillows that are miniature works of art, and a program where clients can add weight to their bedding depending on their sleep preferences. "The result of Kimberly's expertise in producing decor that is both visually stunning but also maintains extremely high quality, durability and lush feel to the touch, has invigorated our guests at boat shows and exceeded all expectations for the private owners she has worked with," says Jamie Torrealba, brand manager for Pershing Americas.
Pucci is currently negotiating with high-end hotel executives about crafting signature bags for their guests. She's also partnering with luxury car manufacturers, as well as reupholstering vintage cars and the interiors of private planes. For Pucci, the sky's the limit. "One day, I want to fly into the airport in Rome, and see travelers crossing each other in the terminals with a Kimberly Pucci bag," she says, adding, "And I'll relish in the excitement of where those bags are going." kimberlypucci.com