By Christie Galeano-DeMott    Photography by Felipe Cuevas
From the moment you stride down the iconic Brickell steps and through a candy-apple red threshold, your senses are highjacked. Your eyes are still adjusting to the dimly lit space as you're led into the Jungle Bar that's vibrating with the hum of the Bee Gees. Taking in the fully draped tropical scene complete with banana-leaf pendants, plush leopard-print stools and an exquisite gold-leaf ceiling, it's fair to say that the Ken Fulk-designed Dirty French Steakhouse delivers vintage Miami Vice vibes in all their excessive glory. Dirty French's version of a steakhouse is extra, and even that's an understatement.
When Major Food Group (MFG) partners Rich Torrisi, Mario Carbone and Jeff Zalaznick decided to bring their Manhattan-based Dirty French concept to Miami, they looked to the former Morton's Steakhouse location for inspiration. The chophouse hosted numerous socialite lunches, business dinners and lively happy hours in its heyday, so the team embraced its reputation and decided to look at it through that steakhouse lens.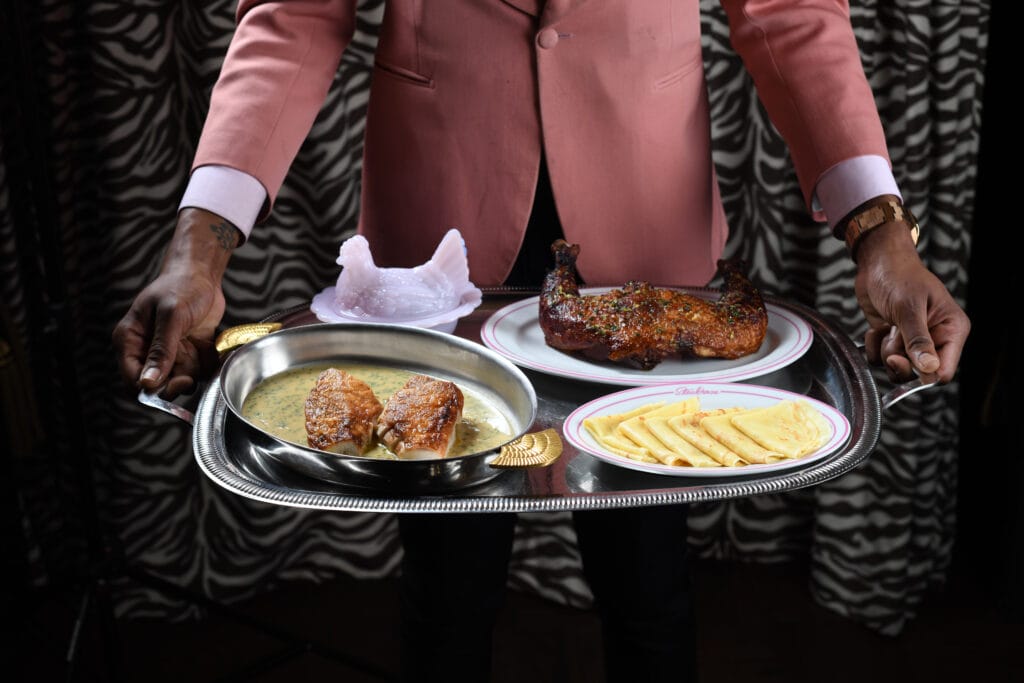 But why duplicate when they could innovate? For Torrisi, who reigns over MFG's culinary domain and develops the menus for each restaurant, it was a chance to blend his love for French cuisine with his passion for creating uniquely stellar dishes. Classic steakhouse dishes you'd expect to see like shrimp cocktail, tuna tartare, wedge salad and an array of prime-age cuts are peppered around signature Dirty French selections that fit into that canon like the delicate mushroom millefeuille in a zesty green curry. While dishes on the steakhouse's menu seem to exude a sense of effortlessness, that couldn't be farther from the truth. Torrisi spends months, if not years, curating each of his menus. It took the team two years from inception to opening to bring Dirty French Steakhouse to life.
"There's a very diligent, sophisticated preparation behind these dishes, but we look to simplify them in the way we talk about them," Torrisi explains.
Born in New Jersey and raised about 20 miles from Manhattan in the Hudson River Valley, Torrisi spent his adolescence exploring the NYC food scene with his dad, a state Supreme Court officer. At home, his Italian-American grandmother ensured he was exposed to family recipes from manicotti to escarole soup, which shaped his childhood passion for cooking. While his first love was Italian fare, his schooling at the Culinary Institute of America nurtured a new appetite for French haute cuisine. He trained for several years in France and worked with celebrated chefs like Daniel Boulud and Andrew Carmellini. It wasn't until he reconnected with his schoolmate, Carbone, that he considered opening his own restaurant. Proud of his Italian-American heritage and with Carbone by his side, Torrisi knew their new concept had to be Italian. Torrisi Italian Specialties on Mulberry Street was a 450-square-foot deli, "like a large closet," with 16 seats. That's where they met restauranteur Zalaznick and founded MFG.
MFG's overall focus for its concepts is gourmet dining without the stuffiness, and it nails it once again with Dirty French Steakhouse. Here, remarkable service is met with high-quality food in a see-and-be-seen setting. While the setting is dynamic, it's the little things that standout. Water glasses are always full, waiters don fanciful pink tuxedos and silverware changes between each course comes complete with logoed neon steak knives. There's a level of attentiveness rarely seen in vibey restaurants. And Dirty French Steakhouse knows how to party. Carbone curated the lively music list to take diners on a journey from disco through the 80's Cocaine Cowboy decade. At this restaurant you can dance at your table in the zebra-themed main dining room, sway to DJ tunes in the elaborate disco room that boasts floor-to-ceiling mosaic walls and mirrored tables reflecting multihued glass chandeliers, or dine with a bit more privacy in the plum-colored dining parlor's plush private booths.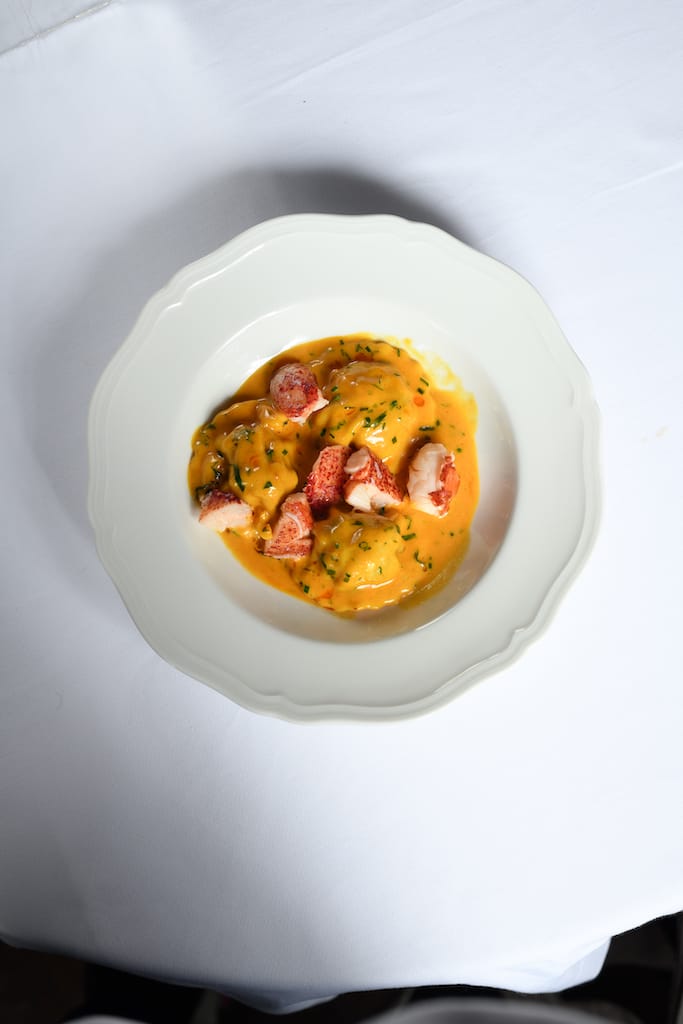 "The place speaks to you and should get your senses going," Torrisi says. "We try to create these idealistic, fantastical scenarios that can boost your mood." Once you've taken in the ambiance, spirits continue to brighten as your senses can now focus on Torrisi's recherché collection of dishes. Some of his favorites include the creamy lobster ravioli appetizer in a classic French Nantua sauce and duck a l'orange. When dealing with Miami's humidity, it took him quite some time to develop the right process for dry aging to ensure tender meat without chewy, rubbery skin. "We strive to create something excellent," Torrisi says. "We never say it's done unless we feel proud of it." Another fan favorite continues to be the chicken and crêpes that Torrisi describes as a "fun adventure packed full of flavor". Prepared in a classic mustard sauce with shallots, the chicken is complemented with delicate crêpes and a selection of herbs that invite you to create a handheld treat. While the menu says it's for two, the dish could easily be shared among four (or more), especially if you're also opting to try a steak and saving room for one of the restaurant's celebrated soufflés or flambéed desserts.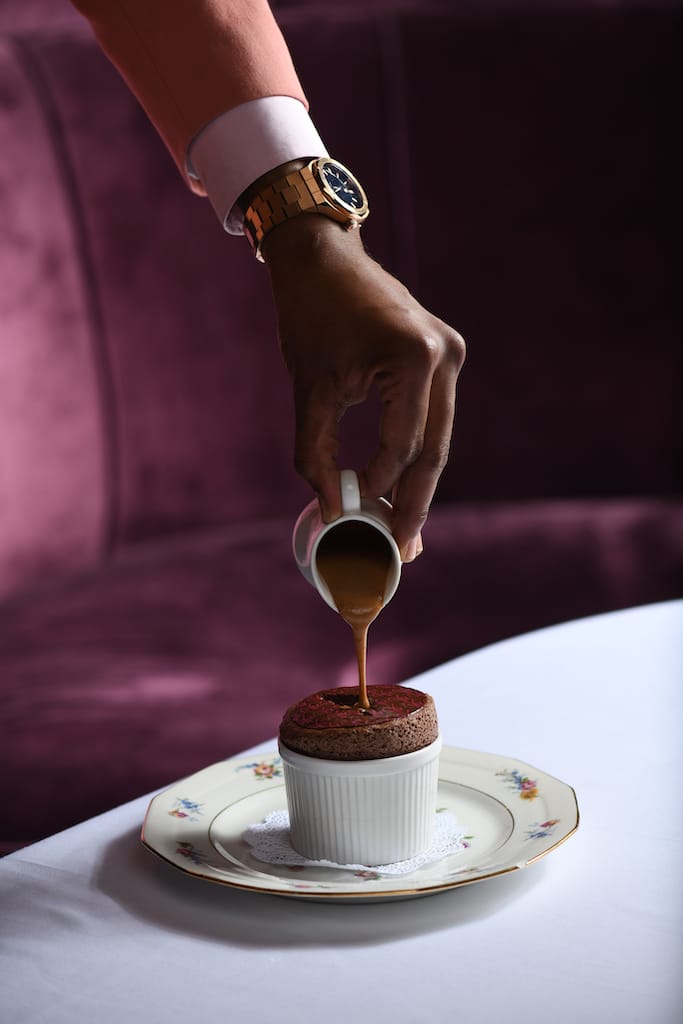 Torrisi points out that while opening the Dirty French Steakhouse doors this past May was "a really satisfying experience to see a manifestation of something that was only in your head now alive," his counsel to new restauranteurs may sound conflicted but it comes from experience. "If you're not obsessed with owning a restaurant and hospitality, and you don't 100 percent love it, run as far away from this business as you can. It's really tough."
Thankfully for MFG, it has cemented itself in the international dining scene with more than 30 concepts spanning the globe from Las Vegas to Hong Kong, a slew of stars from The New York Times and three from Michelin Guide. Closer to home it has conquered South Florida from Coconut Grove to Boca Raton and now Brickell. As the empire continues to grow, Torrisi looks forward to continuing to share his passion and excitement. "When you have that energy and people are sharing that energy, it feels like home."