By C. Isaiah Smalls II
Photography by George Kamper
Udonis Haslem had zero plans to speak at the May press conference. He wasn't even supposed to be there due to a family portrait session likely to eat up most of his day. But as the threat of violence loomed in downtown Miami on the second consecutive day of protests over the killing of George Floyd, he found himself on the phone with then-city commissioner Keon Hardemon trying to figure out how to help. Hardemon mentioned the City of Miami police had scheduled a rally later that day and while Haslem initially declined to attend, his family photo shoot ended early. That's how he wound up in front of a police precinct, surrounded by officers and politicians, dressed in a black hoodie that said, "You don't want this life."
He didn't have anything prepared. Nothing jotted down. No last-minute notes. So Haslem drew from his lived experience, pleading for peaceful protests and justice, at times his voice cracking in sorrow.
"I stand here right now confused, torn, frustrated," the Miami Heat veteran told the crowd of protesters and reporters alike. "… As a Black man raising Black kids in America, I'm scared as hell. Way more scared than I ever was for myself."
His extemporaneous sermon—it was a Sunday, after all, and the crowd's intermittent interruptions mirrored that of a Baptist congregation—made waves. The Miami Herald wrote about it. ESPN wrote about it. Bleacher Report wrote about it.
"When you're in a situation like that, if you call yourself a true leader, you have to get out of your comfort zone and speak for the people," Haslem says months later.
This moment, although significant, seems like forever ago considering what happened over the ensuing months. In July, Haslem and the Heat traveled to Lake Buena Vista for what would be a 97-day stay inside the NBA bubble. Surpassing even the most astute basketball fan's expectations, the Heat came within two games of an NBA championship, losing to the Los Angeles Lakers in six.
Despite not registering a minute in the playoffs, Haslem's impact was undeniable. The personification of Heat culture, he had ample opportunities to show why his presence on the bench was integral to the team's success, none more significant than the viral clip of him laying into his teammates after a particularly lazy stretch during Game 2 of the NBA Finals. He speaks like a grizzled war veteran when discussing life inside the bubble.
"I went into the bubble understanding that it wasn't a comfortable situation, we're never going to be comfortable, so let's get comfortable being uncomfortable," Haslem says. "A lot of guys lost the bubble mentally before they stepped on the court. My job was to make sure my guys didn't lose to the bubble."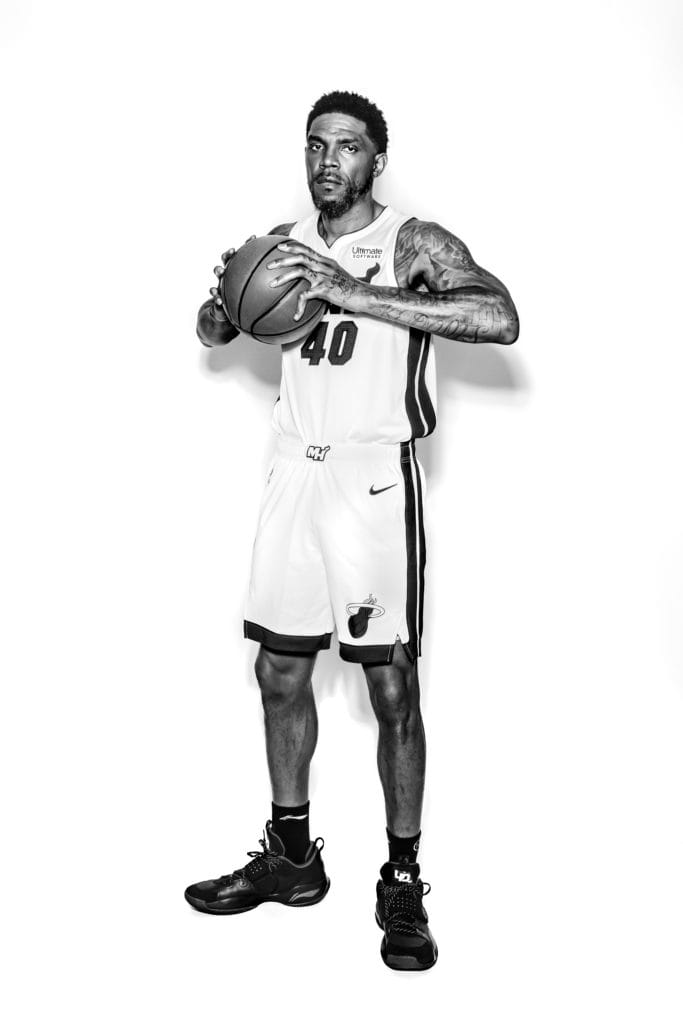 A month removed from that finals loss, Haslem is, in his own words, "miserable." That misery is by no means visible; he's currently inside a beachfront resort in Fort Lauderdale where, in preparation for yet another photo shoot, a makeup artist touches up his face. A few days earlier, the 40-year-old announced he would return for his 18th season with the Heat. It's difficult for the average person to be miserable under these circumstances but, as Haslem explains, there's no other feeling after taking a L.
"When you're winning, it's the most amazing thing in the world," Haslem says. "And when you're losing, it's miserable. It's not because the Heat make it miserable. It is because we make it miserable because losing is miserable."
This obsession with winning, Haslem says, was learned from former Heat coach Pat Riley. Before stepping into the front office, Riley drilled the importance of winning into the heads of a young Haslem and Dwyane Wade.
Winning, however, didn't always consume Haslem's every waking moment. Before Haslem could even imagine hoisting the Larry O'Brien, he was just a kid growing up in the Liberty City neighborhood of Miami. He had a tough upbringing but learned life lessons along the way, one of the most important being the power of the present.   
"It was just a day-to-day process," Haslem says. "I learned at an early age to never get too high or get too low because you never knew what the next day was going to be."
Deemed undersized and overweight by NBA scouts, Haslem went undrafted in 2002 after four years at the University of Florida and played professionally in France. There, legend has it that he kept his watch on Eastern Standard Time as motivation for returning stateside. In 2003, the Heat signed Haslem, who had shed 50 pounds and whose ferocity during one of his early workouts resembled a "cage fight," coach Erik Spoelstra says.
"His level of intensity and desperation far exceeded what should be normal," Spoelstra, then an assistant coach with the team, told The Ringer. "It was borderline dangerous. We were saying, 'This guy is a Miami Heat player. We can't let him out of this gym.' Then the next day, the conversation turned into, 'We may have to shut this guy down. He's going to hurt people.'" 
Haslem wasn't the only new addition in 2003. The Heat had also drafted Wade, who garnered much of the attention as the shiny, top-five pick. That gave Haslem the chance to excel at the dirty work: hard-fought rebounds, diving on loose balls, defending opposing teams' best big man.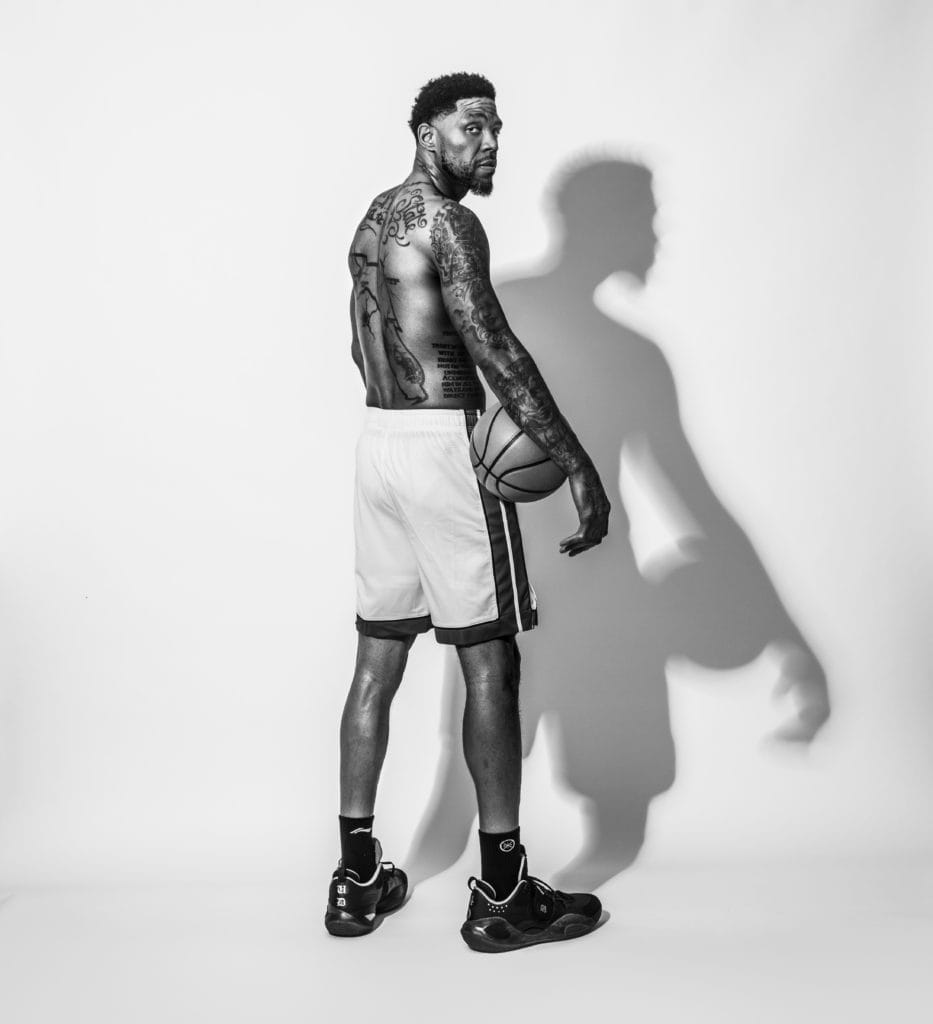 "He is the epitome and the embodiment of what Heat culture is," says Michael McCullough, the Heat's executive vice president and chief marketing officer. "The ultimate sacrificer, the hard worker, the one who sheds the spotlight, the one who doesn't care for the adulation and does whatever it takes for the team to be successful."
In Wade, the Heat found its future star. In Haslem, the Heat found its heart and soul.
"Udonis is just that guy who brings his lunch pail in a city that everybody thinks isn't a lunch pail kind of place," McCullough says. "Everybody sees Miami and they see South Beach; he is what the real Miami is."
Wade and Haslem would amass three championships during their 15 seasons together. Bolstered by the addition of Shaquille O'Neal, the Heat won its first title against the Dallas Mavericks in 2006. Then came the back-to-back rings in 2012 and 2013 thanks to the Big Three of LeBron James, Chris Bosh and Wade.
A competitor in the truest sense of the word, Haslem welcomed each and every change—even if the later ones came at a significant cost to his playing time. If a teammate competed and worked hard, they had no problems. All that mattered was having the team once again standing at the mountaintop, being crowned the best in the world.
In the post-Big Three era, Haslem's commitment to the team never wavered. With James in Cleveland, Wade in Chicago and Bosh's career in jeopardy due blood clots, Haslem stepped into a more prominent role. He was always the anchor, someone who players relied on to put situations into perspective. But with the Heat on the cusp of a full-blown rebuild in 2016, he was needed more than ever.
"He's here to give his knowledge to young players like Kendrick Nunn, Bam Adebayo and Tyler Herro," Heat teammate Goran Dragic says in late August. "And I mean, he could already go to the, how you say? Sunset? He won championship rings. But he's still here, man. He's here for others."
Despite being quick to push back on assumptions that he can't play, Haslem knows his role doesn't translate to tangible stats. He essentially serves as an assistant coach who practices, suits up and occasionally gets some PT just to show the kids how it's done. "The job requires what it requires," he says, whether that means running the timeout or traveling to a teammate's house at 12:30 a.m. just to check on him.
"This is a 24-hour job for me," Haslem says. "Watching film with guys in the offseason, after practice, before practice. Hanging out, Spending time with these guys and spending time with their families. I'm getting to know them and their kids, learning what makes them tick, what they've been through."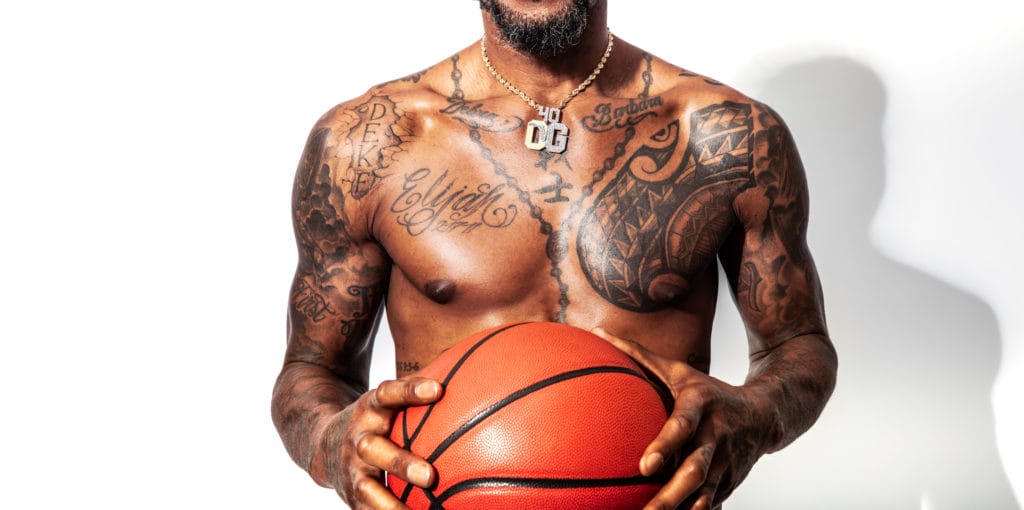 At this stage of his career, Haslem has mastered leading a basketball team. The Heat's play in the bubble can attest to that, as can his 858 games and 5,754 career rebounds, the latter of which is a franchise record. Wanting to be a voice for the Black community, particularly in his hometown, has now become a priority for him. He credits his business manager, Sylvester King Jr., with helping to build his social consciousness.
"You're talking about a positive African American role model who is very educated," Haslem says of King. "I trust him with my life."
King met Haslem in 2006 and a friendship soon blossomed, with King serving as mentor of sorts. The two have had hours of conversations on topics ranging from American history to politics so that Haslem can be comfortable speaking out.
"Just like he's been a student of the game, he's a student when it comes to everything he does," King says, adding that when Haslem speaks up, it comes "from the heart."
It's Haslem's ability to always say what's on his mind that made him one of the most revered athletes in South Florida. He wasn't as prolific as Dan Marino. He didn't have Wade's flash or Don Shula's perfection. But his authenticity, coupled with his commitment, places him in a class of one.
"There are certain conversations within the Black community that only certain people can have and have credibility," King says. "He's always had credibility in the community."
Knowing this, Haslem carefully chooses when to speak up or who to support off the court. He's steadily growing his ownership portfolio, which now includes several Subway restaurants, a couple of Auntie Anne's Pretzels locations and a few 800 Degrees Woodfired Kitchen eateries. He dismisses politicians who don't know him yet seek his endorsement. He's excited about using his real estate company, Haslem Housing Venture, to help combat the effects of gentrification by creating more affordable housing in Miami-Dade County.
These ventures will ensure that Haslem remains part of the South Florida community for decades to come, though it's not like he wants to be anywhere else. Toward the end of his May speech, he reminded onlookers that his commitment to Miami extends far past wearing a Heat jersey.
"My impact in this community is not going to stop just because I ain't shooting the ball as much as I used to," he says. "Just 'cause I don't get the minutes that I used to get don't mean I'm just going to fade away and y'all ain't going to see me or hear from me. I'm going to figure out a way to master the role I have." 
***
Photographer: George Kamper
Stylist: Kirk Bardole
Groomer: Leslie Munsell
Grooming assistant: Sherryl Kamper
Digital tech: Orlando Noa
Production assistants: Miguel Mori and Jose Arizmendi
Gear & lights: Vortex Production
Retouching: Christine Johnson
Shot on location at Lago Mar Beach Resort & Club.
This article originally appeared in the Winter 2020-2021 Issue.