Written by Christie Galeano-DeMott Photography by Eduardo Schneider
In an era when nearly everything is automated and digitized, when at the push of a button or the stroke of a key, orders arrive to your doorstep, Gran Forno continues to make bread the same way it's been done for centuries—by hand, without any machines. Well, except for the bakery's four massive ovens that run for 18 hours a day.
Combining flour and water to make bread may sound like a relatively simple process, but the Las Olas bakery owner Leone Padula, who's built a bread empire centered on the humble ingredients, will be the first to tell you it's not easy.
"If you don't have that passion, you're not going to make good bread. It's really, really, really hard," he says.
That zeal is what wakes head baker Rocky Roman before sunrise, especially during the winter season, when he's at the bakery hours before dawn to start the day's orders. Seminole Hard Rock Hotel & Casino orders about 600 dozen brioche buns every day. That's only one of his 140 accounts, which range from posh beach hotel restaurants to Fort Lauderdale staples like Café Martorano and Shooters.
According to Padula, it's rare to find artisanal bread makers, like Gran Forno and Zak The Baker in Miami, because of the laborious skill that goes into it. Gran Forno mans more than 5,000 pounds of dough every single day. Known for its sourdough and ciabatta, the bakery naturally proofs its bread that's made with unbleached Ohio flour. In addition to the untreated ingredients that ensure the bread is natural and organic, the bakery only uses real butter and real milk in its buns.
"I don't use chemicals because I don't want to harm people," Roman says.
A third-generation baker, Roman has been at Gran Forno for 16 years. His hands, coated in flour, manipulate the dough like an artist working on his next masterpiece. Strolling from one station to the next, he oversees his team of seven, leaving a trail of white powder wherever he goes. He's also the one who feeds the 32-year-old sourdough mother every day. When asked if the age of the starter is the secret ingredient to the bakery's famous bread, he replies, "No, it's because of the love. You have to do everything in life with love."
Given the daily amount of bread these artistes produce, one would imagine a vast, industrial kitchen, but instead Roman's quaint workshop is tucked into Gran Forno's retail space on the east end of Las Olas. Padula purchased the now more than 30-year-old business and building from the original owner, Sal Annino, about 15 years ago as a tribute to his late father, Vincenzo, who loved the bakery.
Padula visited South Florida on his honeymoon, fell in love with it and decided to move here from Italy. Starting from scratch as a dishwasher, he accomplished his American dream of becoming an entrepreneur as the owner of several businesses, including eight restaurants on the beach. That's how he met Annino, his bread supplier. Vincenzo, who frequently visited from Italy, would pitch in by driving to Gran Forno to pick up the bread for his son's restaurants. He could easily be spotted whizzing around town with 3-foot ciabattas poking out of Padula's convertible Porsche.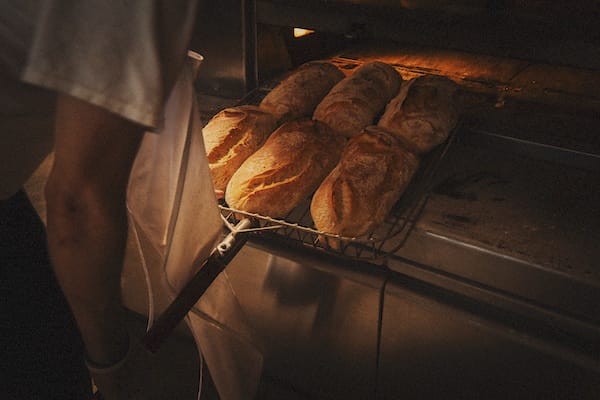 Apart from its hospitality accounts, the bakery also supplies its two sister locations: Gran Forno Pronto and Gran Forno on the Beach. Pastry chef Stefano Rigobello, a third-generation patissier, recently revamped the company's pastry and prepared-food menus with his family recipes from Italy. The tiramisu's and zeppole are made with his grandmother's secret ingredients, as are the pizza, lasagna, stromboli and parigina.
Alex Variu, the general manager who's sometimes covered in flour because the bakery needed extra hands, looks forward to greeting his morning regulars who will stand in a line that snakes down Las Olas, waiting for their coffee and bread. When they're ill, he happily delivers their orders to their homes because as he says, "If I can do it, why not?" He also routinely donates gift baskets and gift cards to local charities, schools and churches and, in a true Italian fashion, sponsors the Florida Brothers semi-pro soccer team.
If Padula were to take his business to the next level, he says he would need to invest in a facility with machines. But then he'd become like every bread factory that's done away with tradition. Rather, his focus is on keeping the artistry.
"It's all about the product and if you change that, you're done," he says. "This is a mom-and-pop place, and we're going to keep it that way."
Founder of Few and Far Women, Meme, poses in front of the group's Wynwood mural.