Google "world's best beach clubs" and up pops global hot spots in Capri, Croatia, Mykonos and Mallorca. South Florida is conspicuously absent. Though long held in international esteem as a beachfront playground, few sandy spots exist in South Florida to dine, disconnect and reconnect over bottles of rosé. Until now. Joia Beach, a hidden waterfront restaurant and lounge that will open next to Jungle Island on Miami's Watson Island, is positioning itself as a sexy, sophisticated destination. The 150-seat restaurant whispers luxurious relaxation with its shelled and palm-fronded lamps, white-sand beach views and woven tepee daybeds. Sporty guests can swim, paddleboard and play volleyball; boats can anchor offshore.   
It's all part of Jungle Island's multimillion-dollar transformation by Aventura-based ESJ Capital Partners, which acquired the eco-park in 2017 to maximize its potential. The purchase included one acre of pristine waterfront land. ESJ Capital Partners knew the hidden cove—with the Venetian Causeway directly across from it, the South Beach skyline to the east and downtown Miami to the west—could have a gravitational pull with the right concept.
"With its unique location in the heart of Miami, Jungle Island has one of the only private beaches in the city," says Curtis Crider, Jungle Island's president and managing director. "It is a selling point that had not reached its potential. Joia Beach will attract a younger crowd of movers and shakers who are looking for a relaxed hangout spot on the water—away from the hustle and bustle of South Beach."
Liquid Hospitality's Chris Paciello and Mio Danilovic won the contract to construct and operate Joia Beach. Anyone familiar with Miami in the '90s will remember Paciello, whose celebrity friendships and Midas touch transformed South Beach nightlife with clubs, such as Liquid and Bar Room and scenester restaurant Joia. When past crimes—think getaway driver in a botched home robbery, bank heists and alleged mob activities—caught up to him, Paciello left Miami for a stint in prison. After serving as an FBI informant, Paciello returned to Miami Beach's welcome embrace. There, he connected with Danilovic, a Swede who grew up in his family's Stockholm restaurant before running hotel and nightlife operations in Los Angeles and Las Vegas. The two formed Liquid Hospitality in 2017.
With decades of experience between them, Paciello and Danilovic visited beach clubs, intending to open a similarly inviting oasis in Miami. Their vision matched former SBE Entertainment Group vice president of operations for nightlife ESJ Capital Partners' intentions, and Liquid Hospitality began creating a chic beachfront playground that's open daily from noon to 11 p.m. Paciello and Danilovic named it Joia Beach as a talisman of past glory.
"We thought it was a great name with great history and that it would work perfectly," says Danilovic, former SBE Entertainment Group vice president of operations for nightlife. "It was a place that attracted the 'who's who' in its day, and we hope to draw the same sort of people here."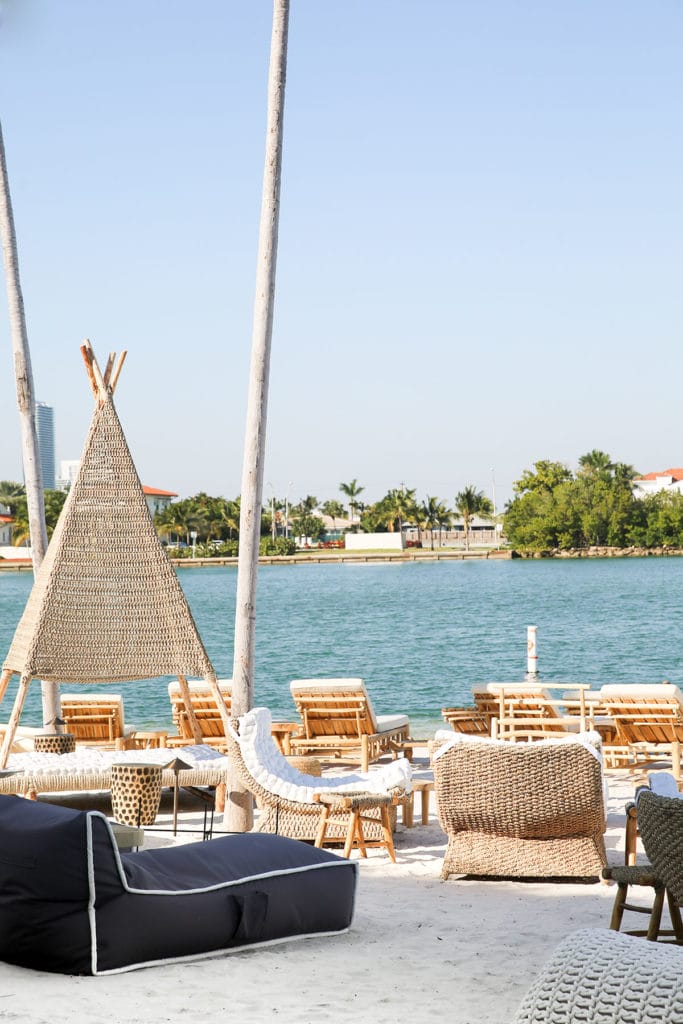 To design the outdoor oasis, Liquid Hospitality selected longtime collaborator François Frossard to create a Mykonos-meets-Tulum atmosphere. He sourced light woods, woven fabrics and handcarved accents from Indonesia, Greece and Mexico to complement the natural surroundings. Turkish chef Erhan Ozkaya (formerly of Mandolin Aegean Bistro and The Bazaar at SLS South Beach) helms the open-air restaurant, complete with a wood-fired grill for skirt steak, chicken and whole fish. The Mediterranean-inspired menu includes ceviche, paella and locally sourced seafood. For ambiance, Danilovic says Buddha Bar and Café del Mar-style music will set the scene. "Visiting artists from Spain will bring a chill vibe and play instruments you would hear in India and Asia that mix with European house music," he says.
Within a few years, Danilovic and Paciello hope a web search for "world's best beach clubs" will include Joia Beach in Miami. "I think we'll satisfy all the things people want in a beach club," Danilovic says. "You can enjoy great music and atmosphere, jump in the water and sit and have lunch at a tiki hut. I think we've covered all the bases."
This article originally appeared in the Spring 2020 Issue.