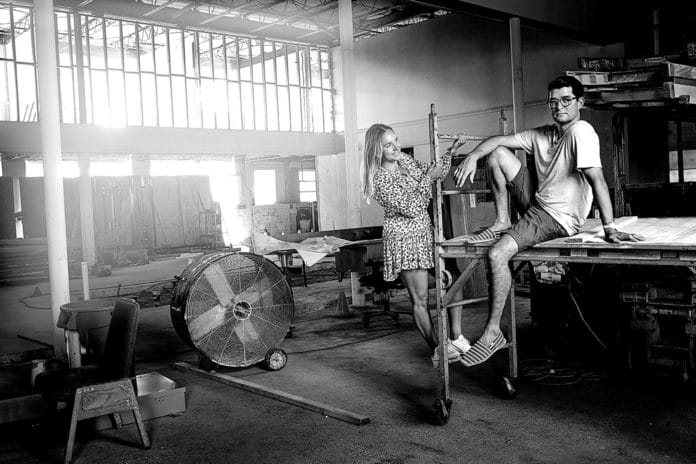 By Nila Do Simon
Portrait by Eduardo Schneider
What was the appeal of opening the upcoming venue The Abbey in an abandoned church?
I've been in the hospitality industry for around 20 years. Everybody always says it's about location, location, location, which I think is true. But the opportunity to take the former First Evangelical Lutheran Church in downtown Fort Lauderdale—a 100-year-old building that looks so authentic—and transform it into a modern space was a chance I couldn't pass up.
Makes sense. After all, you opened downtown Fort Lauderdale's The Whole Enchilada location inside an old gas station.
We always want to make sure we're doing something unique. People get pigeonholed into certain designs and trends, and we stay away from that as much as possible. When I opened the first location of The Whole Enchilada in 2006, I did a lot of stuff that others were doing, like installing Edison bulbs and barn doors. I won't do that anymore. The newer Enchiladas have different looks. When we created Rhythm & Vine, we wanted a Los Angeles-meets-Brooklyn look. With The Wilder, we wanted an aesthetic that was a throwback to the Hugh Hefner days with the Playboy Mansion in Chicago. Roxanne's Liquor Bar & Kitchen is that little old rock 'n' roll joint, that image of people being belly up to the bar, getting bombed.
What can we expect at The Abbey?
When it opens in early 2021, it'll be broken up into two components. About half of the facility will be the restaurant. We're still working on the concept, but initial talks are pointing toward having a chill vibe with prices that won't make people's hearts skip a beat. The food selection will be a "best of" menu that's focused on the best cuisine we can offer, regardless of genre. If you're comparing it to music, it'll be like a mixtape of history's greatest hits. The other half of The Abbey will serve as the entertainment venue, bringing large entertainment acts and weekly activations. Guests can expect an energized lounge with a good vibe.
Sounds exciting. But we heard rumors about additional venues being added to your portfolio.
We're opening Florida House, a restaurant and bar with an outdoor section, behind Rhythm & Vine in about a year. The building will be reminiscent of an Ernest Hemingway-like house, and the restaurant will likely feature lobster and clambakes. We want it to feel like you're in a backyard with all your best friends hanging around. We are also planning to open the first The Whole Enchilada with a drive-thru in six months at the corner of State Road 84 and Andrews Avenue in Fort Lauderdale. In addition, we're collaborating with hospitality group Tallac Hospitality to open a boutique hotel in Winter Garden, Florida, complete with two restaurants and two bars.
How did your Silicon Valley days influence your hospitality work?
After I graduated college, I worked with Roy Speer, who founded HSN, and helped him create a tech startup called Marlin Logistics. Then I moved to Silicon Valley and worked with Jim Clark, who founded Netscape and what would become WebMD. I collaborated with some great people there, but the more I worked for someone else, the more I realized I should be working for myself. I eventually got hired to head sales and marketing at beach club Nikki Beach in Miami, where I was given some rope to either work with or hang myself with. We were able to create so much, including Nikki Style Magazine. I also saw how addicting it was to create and cultivate a hospitality scene, and I loved that challenge.
What drives you?
Creating. There's no better feeling than seeing people enjoying themselves at one of your venues on opening night.
These days, what's a fun night out for you? My wife, Vanessa, and I now have a 3-year-old son, Conrad. So, I'm probably the wimpiest nightlife venue owner ever. I get hangovers easier now more than ever.
Six restaurants, three venues and more in the works is a lot. How do you keep your ambition to move forward?
We're doing a lot, but we're having fun. That's really what matters. When it stops being fun, that's when we know we need to rethink our focus.
This article originally appeared in the Summer 2020 Issue.