By Julie Baumgardner
Photography by Chris P. Leidy
"If you get scared around a shark, you're likely to flutter around, so the shark gets more inquisitive and comes closer," says photographer Chris P. Leidy. "It's great for photographs, but then you have the chance of losing a limb."
The 38-year-old's subject is the sea, as observed deep in the blue. On dives. Deep dives, down hundreds of feet, at night, in the Arctic and the Atlantic and every ocean in between. "The open ocean is an unforgiving place," he says. "It's a place that, when treated right, can offer you the most soul-shaking and nourishing experience; or when treated with hesitation and disregard, your life can be taken in a blink of an eye."
Now he's brought publisher Assouline down into his underwater world with the release of The Coral Triangle, a picturesque tome filled with 110 photographs that are less Nat Geo and more Moholy-Nagy. Leidy first went to the reefs about a decade ago to dive just as he was honing his photography craft, a skill he dedicated himself to entirely only a couple of years before that, at age 26. A self-taught fine-art photographer, Leidy says the book pairs his two greatest loves: photography and underwater exploration.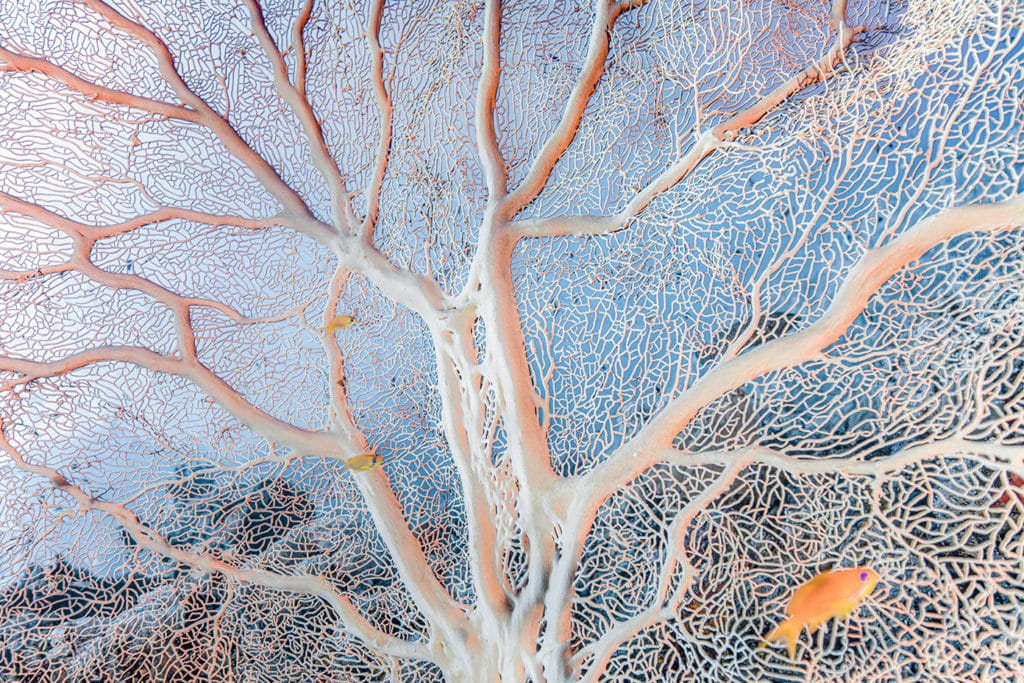 For this series, Leidy took to the reefs of the Coral Triangle, a scalene region connecting Indonesia to the Philippines to the Solomon Islands through a more than 2 million-square-mile-linked coral network. Two years ago, the Palm Beach native moved to Bali, Indonesia, to capture images of sharks at night, nursing whales and gentle turtles, and also to give himself "great ease to access all these top-shelf dive destinations of the world," he says.
Despite the lengthy move, Leidy remembers that his deep dive into photography began at home. Leidy grew up around the water, sailing on his grandfather's boat, The Sea Hunter, a former wooden shrimp trawler that was converted into an expedition vessel. The family would explore the ocean waters in the south Bahamas for three months at a time, equipped with dive tanks and fishing poles.
Those experiences created a fluency under the sea. Brushing up against marine life is, oddly enough, natural for him. "Photographing humpback whales was one of the most spiritual experiences I've had while being in the ocean, doing it with nothing but a mask, snorkel and fins—and of course my camera that I never go in without," Leidy says.
The titles of Leidy's photographs, like Keith Haring Coral, Spaghetti Vortex, Cabbage Wall and Sweet Lips, aptly describe his works—though they aren't exactly named for the things themselves. He views his work through more of an artistic lens, shying away from super-factual, straight-forward underwater photography. With that freedom, Leidy has the space to over and under accentuate colors and images, as if he's using a paintbrush to manipulate hues.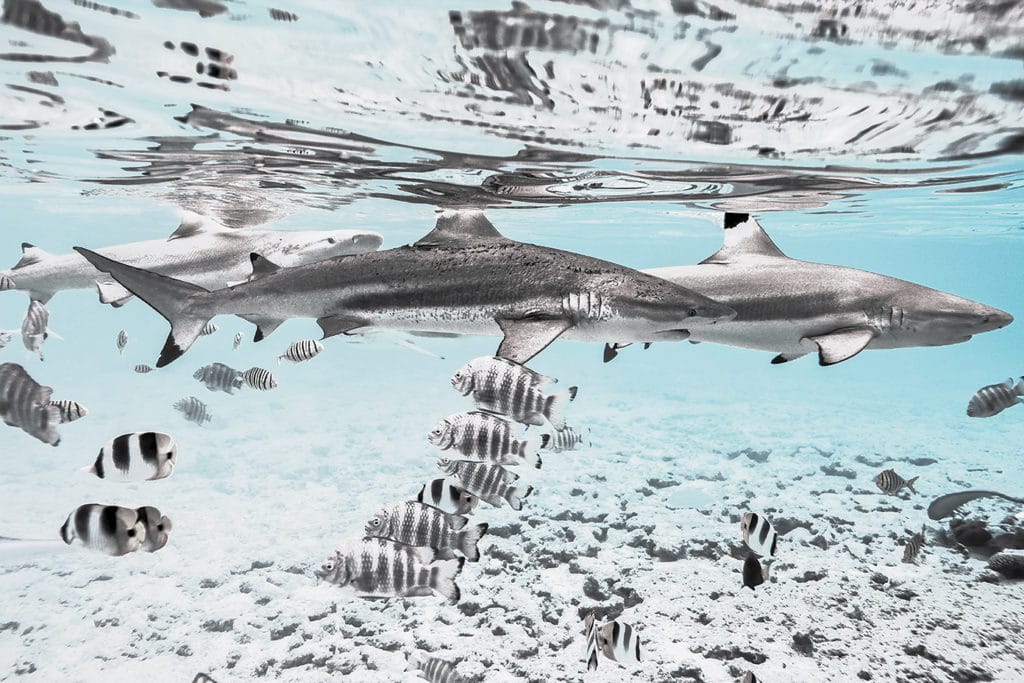 His abstractions zone in on the patterns of the marine ecosphere, nature's own tapestry gently evoking the motifs of ineffability and spiritual yonder that derived from having a grandmother who introduced him to bold colors, textures and patterns. And one could say Leidy's grandmother, fashion iconoclast Lilly Pulitzer, was somewhat of a pattern pro.
"We bonded over so many things, from her tucking me in on the sofa in a blanket while watching Wimbledon to discussing new patterns or textures of my work and hers, and the correlation between the two," says Leidy, whose lineage also includes great-great-grandfather Joseph Pulitzer, the newspaper publisher in whose memory the Pulitzer Prize was established in 1917.
The sense of greater world and familial ties runs deep in Leidy's blood, much like for his friend, ocean conservationist and filmmaker Fabien Cousteau. The grandson of maritime pioneer Jacques-Yves Cousteau, he authored Leidy's book introduction, which the photographer says brings a scientific awareness that incites people to put words into action.
For all the excitement that his line of work entails, Leidy is wildly aware of how precious and fragile life is in the ocean. The past 10-plus years have taught him that moments shouldn't be taken for granted—whether on land or in water.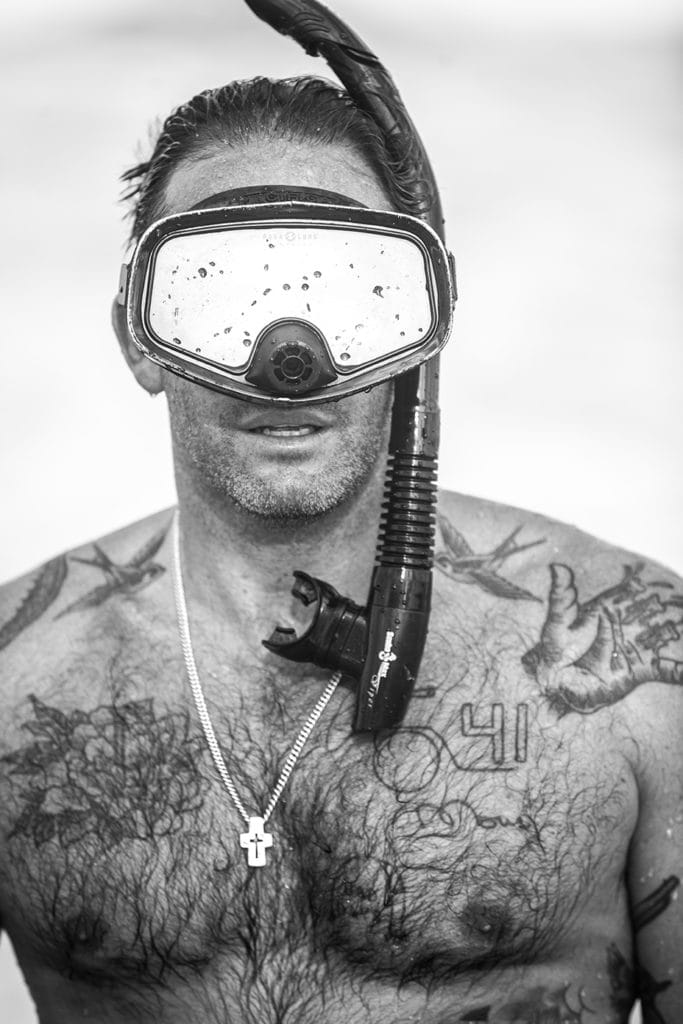 "Something I find very rewarding about working underwater is that you have these moments that are fleeting," Leidy says. "You can't say, 'Yo, Mr. Shark, come back and let me reshoot you.' At the end of the day, we're in its territory. You have these beautiful opportunities to photograph what God has blessed you with the opportunity of seeing, and now it's your duty to capture it as you want, as you feel, as you see it."
The Coral Triangle is published by Assouline and is available at assouline.com.
This article originally appeared in the Summer 2020 Issue.