By Chelsee Lowe
Photography by Stewart Shining
Styled by Venetia Kidd & Juliana Vargas
Photographed at One Gun Ranch, Malibu, California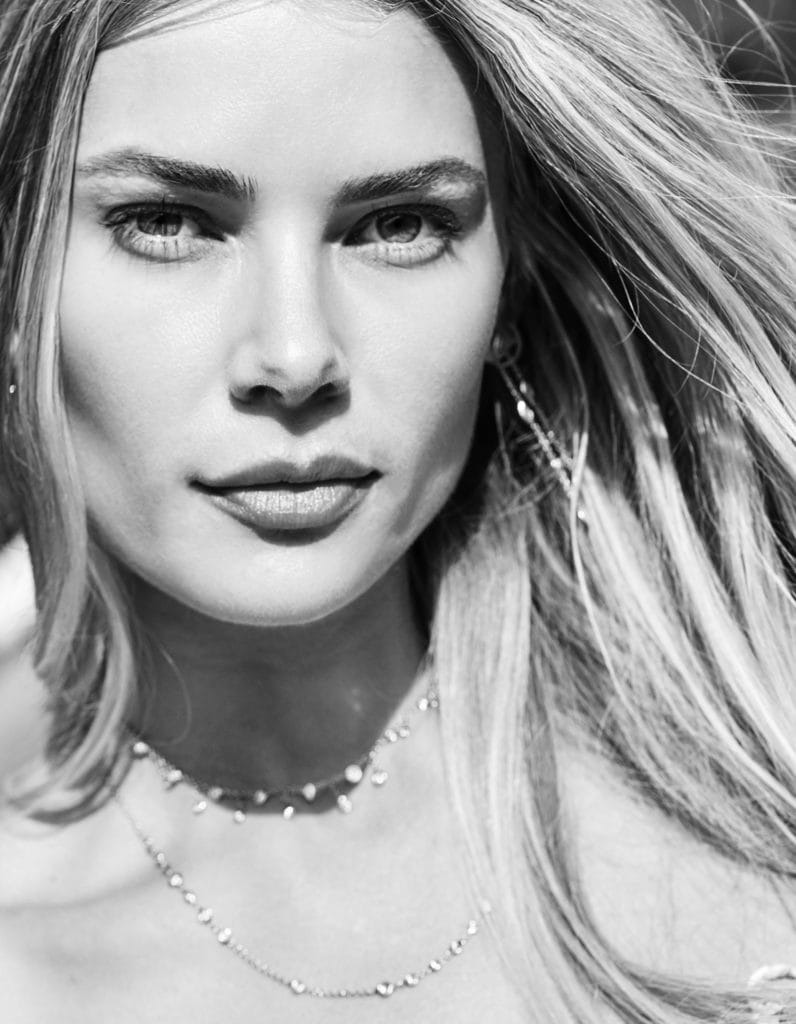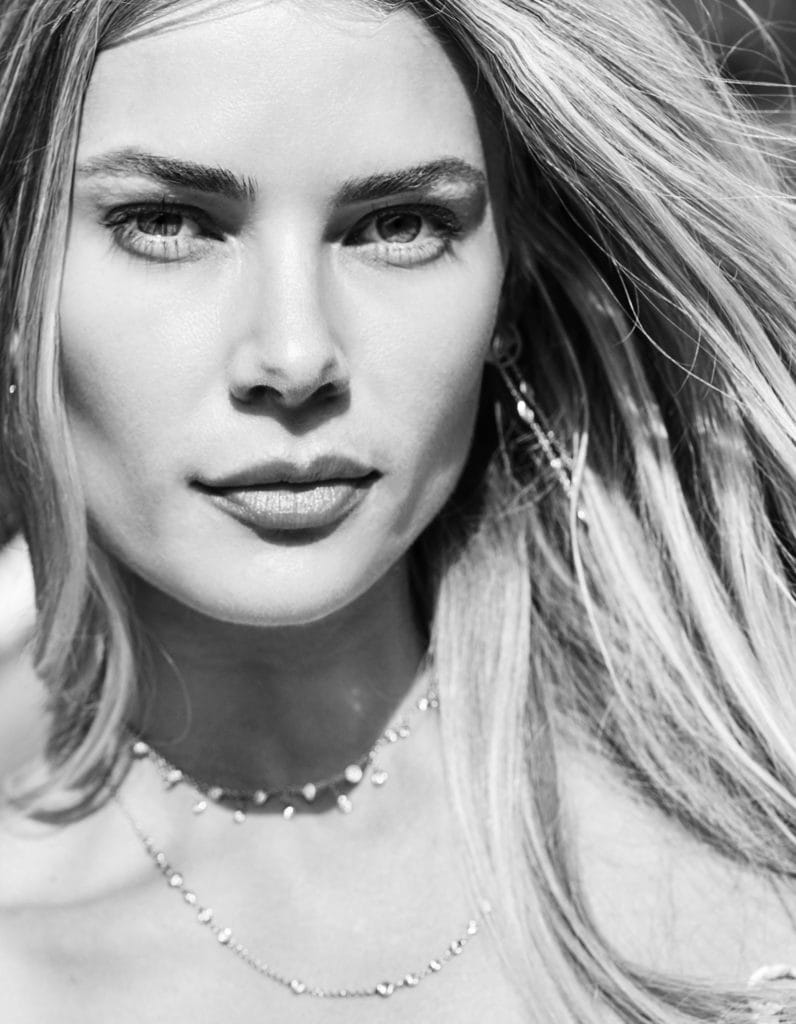 You may not guess it from her high energy, but Tori Praver is in the thick of motherhood. When I offer her an early evening latte at a Beverly Hills, California, coffee shop, she declines.
"I've already had so much caffeine today," she says. "I cannot have any more."
It's a running joke among parents—that the day-to-day drama of diapers, meal planning, snack packing, play dates and chauffeuring is fueled by the coffee bean and all of the delightful concoctions that come from it.
Praver is tackling parenthood with grace so far, caffeinated or not. She has a 6-year-old daughter, Ryan, and a 3-year-old son, Phoenix, and she's had more time as of late to spend with them. For that, she's thankful.
"My son is potty training and starting to become more independent," she says. "It's a really cute stage. The kids play with each other and keep each other company. I love that they're buddies now. I've been waiting for that moment."
The 32-year-old licensed her company, Tori Praver Swimwear, in 2017. She has been at the helm of the business since she was 20 years old. She was modeling for Sports Illustrated then, and editor Diane Smith questioned Praver's aspirations beyond being in front of the camera.
"I did have swimsuit design in mind," Praver says, "and she was like, 'What are you waiting for? Why don't you just do this?'"
Praver took Smith's encouragement to heart and started sketching her first swimsuits. At the time, she was dating her future husband, professional surfer Danny Fuller. She accompanied him on a surfing trip to Bali, Indonesia, and as fate would have it, she met a woman who owned a local swimwear factory. Praver took that as a sign to move forward with her business plan.
Next came the collecting. Praver filled baskets with vintage swimsuits that inspired her, as well as off-the-rack pieces that called to her in some way. She collected eye-catching cloth, too. A batik fabric from Indonesia and a handwoven textile from Israel are examples of her many travel purchases. A destination might inspire a whole collection, including swimsuits for little girls, but the line represents her as a designer at the same time.
"When I started the company, I had this checklist," Praver says. "I wanted everything to be seamless with no hardware. We use this ruching technique that I think makes a suit look special and fit really well. That was my signature."
Time brings change, though, and perhaps no one knows this as well as parents, who watch their children morph before their eyes. So, Praver has been more flexible with her designs lately. With the licensing came more designers, and therefore different creative ideas. Buyers will see some hardware in her swimwear now. But she's OK with how things are evolving. She's evolving, too.
For one, she's learning not to spread herself so thin. She's had a long enough history of that. Praver was 13 when she signed with IMG Models. It was an opportunity that brought a specific set of challenges—namely, not getting to feel like a kid. Her teenage heart wanted to play soccer and go to prom rather than model at photo shoots in New York. She eventually took a break from work, returning home to Maui to finish high school and traveling around Europe. When she officially moved to New York at age 18, she felt more ready. But two years later came her company, and a familiar sense of feeling overwhelmed.
"I was modeling, traveling a lot and trying to be a businesswoman," Praver says. "It was a lot at such a young age."
Praver's mother helped keep her afloat by running the business side of Tori Praver Swimwear. That way, Praver could focus on the creative components. She says she couldn't have made it work without the support of her mom.
"I trusted her, and that's the hard thing when you have your own company—when you have others working for you, you don't really know what's going on," Praver says. "I didn't have to worry about any trust issues."
At 25, she had her daughter, and at 28 her son came along. Altering her pace came with the territory. She has managed to find harmony, but not without a little "mom guilt," she says.
Though they no longer live in Malibu, California, Praver and her family hit the beaches there regularly and hike trails near their canyon home in Beverly Hills. They travel to Hawaii, too. Praver and Fuller divorced in 2017, but they all visit him when he's surfing during the winter months, and the kids get to experience the natural beauty of Praver's home state.
"As long as we're outside, we're good," Praver says.
Another adventure on the horizon—a familiar one for her—is Miami Swim Week, which takes place July 11-16. She has been attending the event for a decade, but her enthusiasm for it hasn't dwindled.
"I have so many good memories of debuting collections there," Praver says. "There is this energy in South Beach that week that's hard to explain. It is the most important weekend for our industry."
Praver's company will show a new collection at this year's event. Praver will also hold meet-and-greets with buyers, do interviews with media and attend fashion shows. With her kids along for the ride, there is sure to be ample pool and beach time in the schedule.
Praver says it's possible that her brand will expand its resortwear reach in the future—more cover-ups perhaps, plus sandals and sunglasses. But she's also considering a new path for herself.
"I'm really into home birth right now, and I'd like to do something that makes a difference," she says. "I had my son at home, and while that's not for everyone, I'd like to spread the word that birth is natural and normal and not a medical condition. It bothers me how birth is portrayed as scary in the media."
Praver has taken birth courses and believes that the more women know about labor, the more empowered they feel around the experience. She's inspired to move in this direction and hopes to possibly become a doula one day.
"With two small children of my own, I don't think I'm ready to take that on full speed just yet," she says. "But at some point, I want to. I think this is my new journey."
TORI'S PICKS
The daily edit
"I'm a jeans and a T-shirt girl.
I think I have 30 pairs of jeans. I have a real problem."
Denim brands she can't live without
Redone for vintage jeans, plus Mother and Citizens of Humanity
Dream designers
Zimmermann for the feminine florals; Isabel Marant for the versatility
Beaches she loves
Tunnels Beach in Kauai, Hawaii; Tulum, Mexico; any stretch of sand in Malibu, California, or Bali, Indonesia
Photographer: Stewart Shining
Stylists: Venetia Kidd and Juliana Vargas
Hair and Makeup: Melissa Rogers/The Only Agency using Augustinus Bader and gamma plus
Location: One Gun Ranch, Malibu, California
Special thanks to Doria Biddle
This article originally appeared in the Summer 2019 Issue.