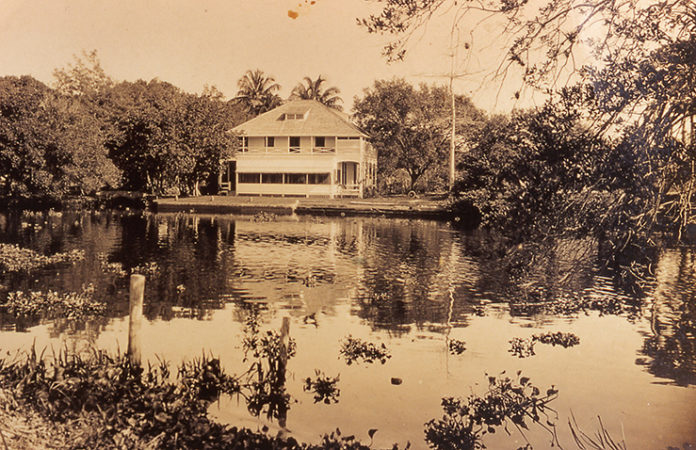 By Deb Wood
Frank Stranahan's trading post was the heart of the small pioneer hamlet that settled along the New River in the late 1890s. It was the place where folks came to buy supplies, collect their mail, share the news of the day, vote, conduct business and gather for community get-togethers and celebrations. Seminole Indians were equally at home at the trading post and camped there for extended periods. Their buying and selling trips were social outings as well as commercial excursions; and after Stranahan married Ivy Cromartie, Fort Lauderdale's first schoolteacher, the trading post became an informal classroom for visiting Seminole children.
Community building was an important aspect of Frank and Ivy Stranahan's life together. While towns to the north and south were established metropolises, early 1900s Fort Lauderdale was just beginning to evolve from mostly wilderness into a small village. The Stranahans had a hand in many of the earliest civic, commercial and educational undertakings in the growing community, donating land, money and their considerable talents to help bring about the modern city of Fort Lauderdale. The home they built in 1901 stands today as a testament to their legacy as the First Family of Fort Lauderdale.
Stranahan House is Broward County's oldest surviving structure and is on the National Register of Historic Places. The two-story wooden-frame house, with its graceful wraparound porches, remains at its original location on the scenic New River. After Ivy's death in 1971, the house was restored and opened to the public in 1984 as the Historic Stranahan House Museum.
The museum is as active a place as it was back in the day. Tens of thousands of visitors of all ages annually take part in a variety of tours, field trips and special programs. The museum is also a popular rental venue, welcoming hundreds of guests to weddings, celebrations and parties throughout the year. Stranahan House is proud to be a community anchor of the downtown area, serving as an unofficial welcome center, directing visitors to local restaurants, shops, attractions and other cultural institutions.
At the core of all the action, however, is the museum's mission to share the story of the Stranahans, their home and their legacy. Guided tours of the meticulously restored house provide visitors with a trip back in time to the turn of the 20th century in South Florida. Led by engaging and trained volunteer docents, the tours are offered daily at 1, 2, and 3 p.m.
Originally appeared in the Summer 2015 issue.