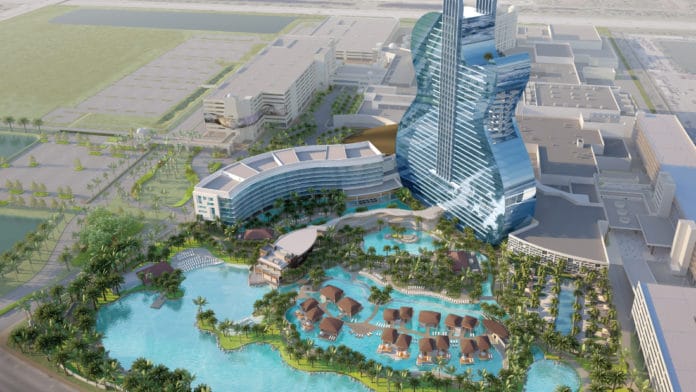 By Ryan Pfeffer
Portrait by Navid
Maybe you heard about it from an article you saw on Facebook or a quick TV sound bite you caught while making breakfast. You probably don't remember. But then one day, you were driving along the turnpike for the first time in a few months—or perhaps flying into Fort Lauderdale-Hollywood International Airport—and you saw it. That, you remember.
It was massive. It was a triumph of modern engineering. It looked like Zeus himself could slide down from the clouds on a bolt of lightning at any moment and rip a sweet guitar solo.
What you were staring at was Seminole Hard Rock Hotel & Casino Hollywood's new hotel, a 450-foot glass building that's shaped, with stunning accuracy, like a guitar. And you were not the only one staring. The building is visible for miles and miles, and can even change colors at night. It has 638 guestrooms inside of its body, and it's just one part of a $1.5 billion expansion debuting in fall that, when completed, the Hard Rock Hollywood hopes will make it as recognizable of a destination in Florida as Las Olas Boulevard or Ocean Drive or even Walt Disney World. And things are already off to a good start. The guitar hotel has already been booked for almost 22,000 nights, and it only began taking reservations on July 24.
Words truly do not do this structure justice. In 1,000 years—if Florida has been overrun by alligators and abandoned—scientists will excavate this building and be confused but no doubt impressed.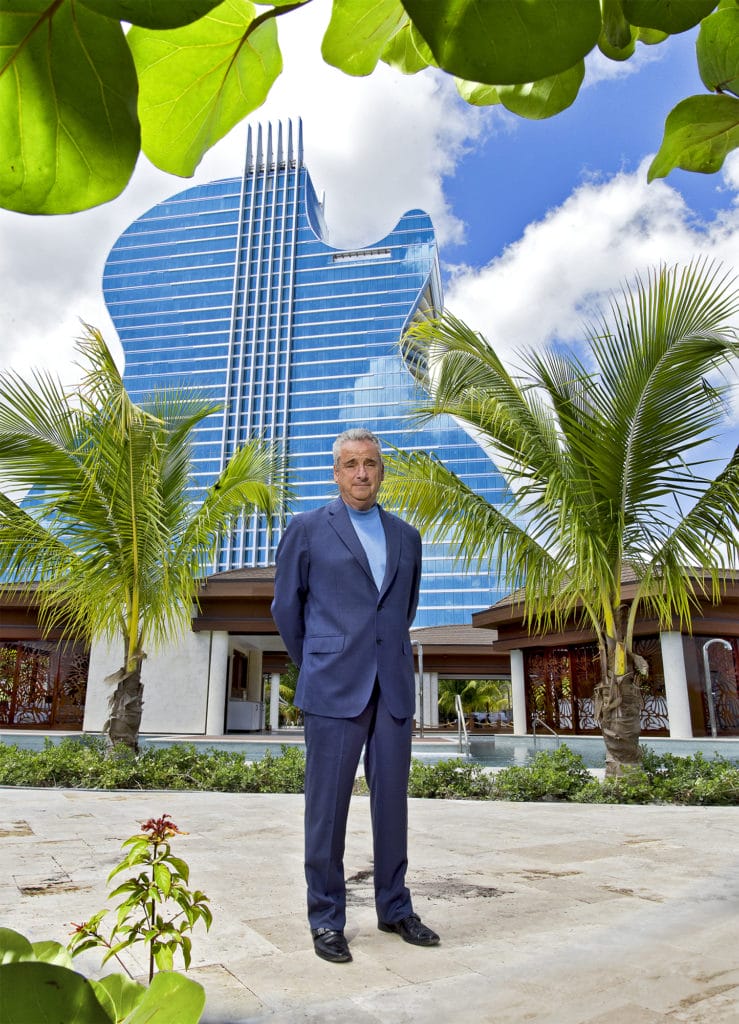 "I think it's always important to keep one's ego in check, but I do understand that this is starting to be described as an iconic structure, so hopefully it'll continue to have that perception 20 or 30 years from now," says Jim Allen, chairman of Hard Rock International and CEO of Seminole Gaming.
The idea to build a giant guitar in the sky came from Allen. He remembers suggesting it in one of his early conversations with an architectural firm about the expansion to test the waters. When they met again, the architects came with a sketch of a building that resembled a guitar. But that's not quite what Allen had in mind.
So, he got out some paper and drew it himself. He didn't want it to just resemble a guitar or simply remind someone of a guitar. Allen literally wanted it to be shaped exactly like a guitar. He wanted it to be unmistakable, even from an airplane.
"The structural engineer, a legendary guy named Vince DeSimone, called me and humorously told me I was crazy," Allen says. "Vince passed away in 2016, but in his memory, it's built, it's up, and we're ready to go."
The guitar hotel is what everyone wants to talk about, but it's still only one part of the expansion, a yearslong project slated to be completed and opened to the public this fall. To list all the Hard Rock Hollywood's new features in one breath would require the lungs of a sperm whale: When it officially opens the doors, guests will be able to enjoy a new seven-story tower with "swim-up suites," a bigger casino with over 200 table games and more than 3,000 slot machines, a 13.5-acre pool area, an 18,800-square-foot nightclub, a man-made lake the size of three football fields with paddle boarding and kayaking, a new spa and gym, a 120,000-square-foot convention space, 26,000 square feet of retail space, and an entertainment venue that can seat 6,500 people and will be broken in by none other than Maroon 5, who you may recognize from this year's Super Bowl halftime show.
When all is said and done, the Hard Rock Hollywood will have 20 bars and 19 restaurants, ranging from a 24-hour restaurant to a high-end sushi spot. To see and eat it all would take weeks, or maybe even a month if you're a particularly slow eater or if you happen to get distracted in the sauna.
It's an ambitious overhaul, but one you might be questioning if you've been to the Hard Rock Hollywood in the last few years and witnessed the place packed with people as usual. Even before all this construction started, the property already housed a 12-story hotel with amenities including 465 rooms, 140,000 square feet of gaming space, a 3,500-seat theater that drew acts like Jerry Seinfeld and Pitbull, and a 4.5-acre pool. The Miami Herald reported that the Hard Rock Hollywood earned more than $579 million in fiscal year 2016—before any of this debuted—which was still more annual revenue than eight competing South Florida casinos combined. A little facelift every now and then is part of any good business, but did they need all of this?
It's a no-brainer for Allen. "If you do not reinvest in your business, then you will wake up one day and find out that you no longer have the business you once thought you had," he says.
Seminole Tribe of Florida Chairman Marcellus Osceola Jr. agrees but also envisions the expansion's impact on the entire state. "I hope more people come to enjoy the guitar hotel expansion and all of the great entertainment it will offer, but I also hope people realize what an important economic impact it will have on our region, as it will attract new visitors from throughout the nation and around the world," he says.
Even though the finish line is in sight, and years of construction are finally coming to an end, Allen sees this as the beginning of the race, not the end of it. "Creating the building is only one part of it," he says. "Financing it, building it, staffing it, creating the marketing plans, and then doing the business—that's the complete picture. We're obviously in the early steps of that process, so I don't look at this as any milestone at this point.
"If we get a year or two in and it's meeting or exceeding its financial goals, and we continue to hopefully enhance the lifestyle of the members of the tribe, then maybe there will be the ability to reflect."
This article originally appeared in the Fall 2019 Issue.