By Rebecca Cahilly-Taranto
Portraits by Felipe Cuevas
Within the two-story showroom at 4367 N. Federal Highway in Fort Lauderdale, the chimes of a deco-style wall clock signal the hour. The atmosphere is elegant but homey—a juxtaposition of yesterday and tomorrow, where stately grandfather clocks and antique mantel pieces guard their secrets amid luxury watches and fine jewelry. In a back office, the steady hands of a master watch and clockmaker orchestrate a symphony of minuscule parts and mechanisms that perform in perfect harmony. Here, the final touches are being executed for a new Josef & Joseph signature series of limited-edition watches, to debut during the holidays. Each tiny piece, each interplay between the mechanisms, each casing, each face, has been painstakingly designed, crafted and assembled by hand.
Like most talent that finds its way to South Florida, Josef Hirzinger turned up "under a palm tree" one afternoon in the late 1980s. Little did anyone know that his arrival brought one of the world's master craftsmen—as well as a link to the finest artistic traditions of the Old World—to the Sunshine State.
Born in post-World War II Austria and fueled by native traditions that embraced the arts, culture, architecture and craftsmanship, Hirzinger was originally fascinated by gold and metalworking, not horology. His mentor advised that before Hirzinger could pursue a goldsmith apprenticeship, he must first study what was considered among the highest technical professions in Austria at the time: watch and clockmaking.
So, at age 14, Hirzinger enrolled in the Uhrmacherschule Karlstein an der Thaya in Austria, a once-thriving clock factory turned technical school, and successfully completed the intensive seven-year clock and watchmaking program. He emerged with advanced qualifications in watchmaking, as well as a passion for the precision and creativity required to create and repair complicated timepieces.
The journey that brought the young artisan to the 10,000-square-foot showroom on Federal Highway began with that chance vacation in the 1980s, when, he says, the Florida sun inspired him to seek a change of scenery. Wandering through an art fair on Las Olas Boulevard, he met a watchmaker and struck up a conversation.
"What does it take to become a watchmaker in the United States?" he asked the peer. "Watch a few tutorial videos," was the response. Hirzinger scratched his head and mused on his seven years of intensive study. "I must have done it all wrong!" he joked. The watchmaker offered him a job.
Soon, Hirzinger set up a watch, jewelry and repair shop of his own—Josef Clock & Watch Shop—at the jewelry exchange in Tamarac before opening his first showroom on Andrews Avenue in Fort Lauderdale in the early 1990s.
In 1995, he also acquired a store in New Orleans. While that New Orleans location offers fine jewelry as well as watch and clock repair services, it is the enchanting Fort Lauderdale location of the Josef & Joseph company—renamed to include Hirzinger's son, also an internationally trained watch and clockmaker—where the complete repair and restoration of watches and clocks occurs alongside the creation of a series of luxury watches.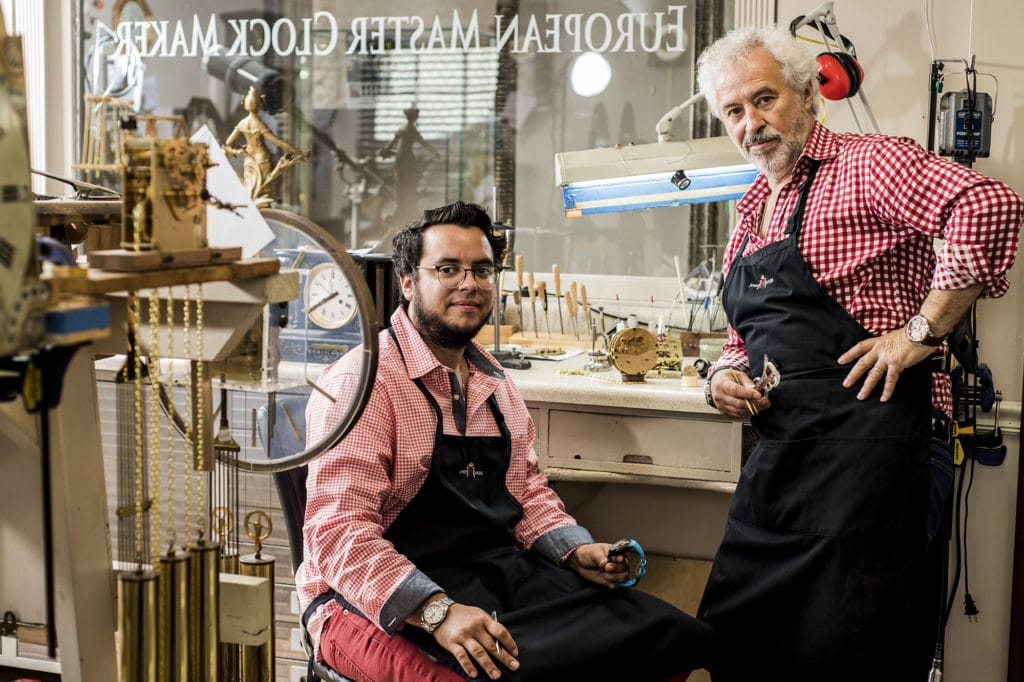 Throughout the showroom, the spirit of gemütlichkeit (friendliness, good cheer and a celebration of life's finer moments) is apparent. Visitors are greeted as friends and offered an espresso or cappuccino as they chat and peruse.
"When people come to our showroom, I want them to feel like they've entered a place where somebody cares about them," says Hirzinger, who oversees the business alongside his wife, Judith. "We want them to feel at home, have an experience they won't forget, maybe share their memories and smile."
Perhaps the most notable lesson that a visit to the store will impart is the realization that the technology of measuring time is neither antiquated nor revolutionary. Gracing the entrance to the showroom are the inner workings of a 500-year-old tower clock Hirzinger had salvaged from Austria. The functionality of this clock, he says, is not unlike that of a modern wristwatch or desk clock.
"When you look at the gear system, it's virtually the same thing," he says. "You have the main spring or the energy that drives the gears. Whether by pendulum or water wheel or balance escapement, the idea is to stop it from running down. If you look at the chime or strike system, it really hasn't changed that much over the years."
For Hirzinger and his son, the creativity involved in their craft is the fascinating part, as is the appreciation for the precise mechanisms and special finishes of new designs, alongside the challenge of restoring sentimental pieces. Repair and restoration work—including crafting missing or broken pieces by hand, carving wood, replating metal and refinishing tile—is all handled in-house, and Hirzinger makes house calls within the Tri-County area to consult on special pieces. The father and son behind Josef & Joseph are also certified gemologists, metalworkers and goldsmiths.
Whether automatic, quartz, manual or the latest—fluid propulsion—movement, the mathematics of keeping time have largely remained unchanged over the centuries, says Hirzinger, who carries an enviable selection of sophisticated timepieces from brands such as Arnold & Son, Dior, Tutima, Graham and Audemars Piguet.
From a wall of handcrafted Black Forest cuckoo clocks, a cheerful tune sounds half past the hour and a yellow bird peeks out from a tiny door while colorful dancers twirl to the melody. "There is tremendous beauty in cuckoo clocks," says Hirzinger, pointing out the intricate pieces, each carved, painted and assembled by hand.
Like the dancers who twirl to the clock's melody, the fashions of timekeeping are cyclical, according to Hirzinger. Whether it's vintage watches, post-modern desk clocks or traditional cuckoo clocks, "if you bring the old things back," he says, "were they ever really gone?"
This article originally appeared in the Summer 2019 Issue.