By Jameson Olive   Photography by Eduardo Schneider
It's been less than a month since Aleksander Barkov inked his eight-year extension with the Florida Panthers, and the soft-spoken superstar feels like the buzz has finally died down a bit. "No one talks about it anymore," he says, with his relieved tone signaling that he's perfectly fine stepping out of the spotlight. "I don't even think about it much anymore. I just know that I'm here for a really long time. That just gives me confidence and excitement to keep working every day."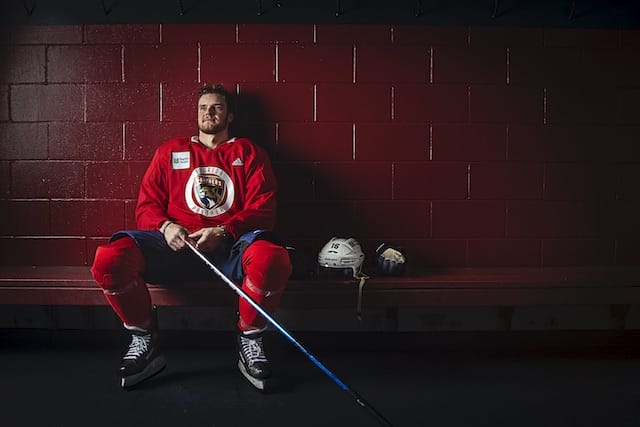 It's right after one of those long days of work at the rink in November that Barkov, known better around the locker room as "Sasha," has me on his car's speakerphone as he works to traverse through a bit of traffic around rush hour. In the background, vehicles can be heard zooming and honking around him. But just like he does on the ice, the Panthers captain is keeping his cool. As he maneuvers through congestion with his foot tap dancing on the pedal, he doesn't talk much about his extension, but rather of the first time he attempted to traverse the highways of South Florida as a fresh-faced, 18-year-old hockey prodigy during his rookie season in 2013. "I didn't want to drive anywhere when I first got here," says Barkov, who had borrowed a car from former Panthers captain Olli Jokinen after making his first trip from Tampere, Finland, to Sunrise. "I was either at the hotel or the rink, so I didn't see much stuff. I used to be scared to drive around here because the roads are so big and have lots of exits and cars everywhere." But that isn't the case anymore. Now in the midst of his ninth season with the Panthers, who selected him with the second-overall pick in the 2013 NHL draft, his comfort level both on and off the ice is higher than ever. No longer a stranger in a strange land, he's not only one of the biggest sports stars in South Florida, he's also arguably one of the 10 best players in the entire NHL. Dubbed a "cornerstone" player by Panthers General Manager Bill Zito, Barkov, who only turned 26 in September, began the 2021-22 season ranked second on the franchise's all-time list in goals, assists and points, racking up 465 points,181 goals and 284 assists in 529 career games.
Complementing his elite offensive abilities with all-world defense and exceptional character, he took home the Lady Byng Memorial Trophy in 2019 as the player who exhibits "the best type of sportsmanship and gentlemanly conduct combined with a high standard of playing ability," and then won the Frank J. Selke Trophy as the league's top defensive forward in 2021. "I'm really excited and really happy that every day I come to the rink and work hard with this group of guys," says Barkov, who is one of only five players to win both the Lady Byng and Selke trophies. "We care about each other. We play for each other. We do everything for each other, and we enjoy doing it because we like each other. We have a really good connection."
For as much of a star as he is on the ice, Barkov enjoys some anonymity off of it.
Even after making national headlines for signing his contract, he says he's still able to spend his free time as he always has. When he's not working on his game, he's usually just kicking back at his home in Boca Raton or sipping on a cup of coffee outside at a table in Mizner Park. While there are some players that probably enjoy being mobbed in public, Barkov isn't one of them.
"Nobody is staring at me or anything," says Barkov, who isn't exactly inconspicuous at 6-foot-3 and 215 pounds. "I'm enjoying it. When I go out, I don't really think about anything. In summer in Finland, people recognize me. They recognize all the hockey players there. Here it's a different story. You can just sit, enjoy and drink your coffee." When asked if Boca Raton now feels like his home away from home, he chuckles to himself before answering. "I actually can't call this my second home anymore, because I spend more time here than I do in Finland right now," he says. "It's more just a home for me now. I'm really enjoying my time here and my life here. I love all the restaurants and everything to do her
Although he admits that he does sometimes miss winters in Finland—"But I also like snow," he mentions after talking a bit about the beach—Barkov isn't lamenting the endless summer he's managed to craft for himself. Winters in South Florida and summers in Finland? Not bad at all. But for as much as he's mastered life off the ice, it's the on-ice potential with the Panthers that was the biggest factor in his decision to commit the prime years of his career to the franchise. Following a resurgent 2020-21 season in which they finished with the fourth-best record in the league before taking the back-to-back Stanley Cup champion Tampa Bay Lightning to six games during the playoffs, the Panthers have been pinned as an up-and-coming contender.
No longer a pipedream, Barkov believes the team will fight for a Stanley Cup for years to come. "That's the main goal," he says. "It was a dream for a long time, but now it's a goal for all of us as an organization. We really think we can do it. We know we can be a really good team." Just as Barkov used to feel uneasy about driving on I-95, the Panthers are no longer afraid of the road ahead. But as he approaches his destination and our call starts to wind down, I do manage to bring up one last question that makes the hair on the back of his neck shoot up. Has he thought about how old he'll be when his new contract expires in 2030? "I haven't had one thought about that yet," he says. "I'm actually scared how old I'll be. But I'm the type of guy that doesn't really think too much ahead. I'm in the present. That's how I live."