By Angela Caraway-Carlton
"Look up, and you'll always see something beautiful in Cartagena," says my tour guide and local chef, Andrea, as our eyes drink in bright-pink bougainvillea dangling from balconies and framing windows like oversized bouquets. It's my first morning in Cartagena's storied old town, a cultural treasure that's a designated UNESCO World Heritage site, and I've joined a culinary-history tour that winds through the walled city's cobblestone streets and plazas. With buildings dripping in vibrant colors, towering wooden doors adorned with intricate knobs and door knockers shaped like sea creatures and lizards, and the hypnotic clip-clop sound of horse-drawn carriages parading the streets, the city's irresistible magic has already cast its spell on me. Listening to stories about Spanish settlers, pirate invasions and slave trading that shaped the port city's past and present along the Caribbean Sea, we pause at street stalls to sample arepa de huevo, a crispy corn pocket stuffed with ground beef and egg, and patacones con queso, smashed and fried green plantains crowned with slivers of salty cheese. "Here, no matter how rich you are, we all eat the same foods," Andrea says of the foods influenced by the unique melting pot of Spanish, African and indigenous cultures. We join a line of people waiting for lemonade to reinvigorate in the salty, humid air, and watch as the Palenqueras, Afro-Colombian women in bright traditional dresses, balance bowls of fruit upon their heads and pose for pictures with passersby.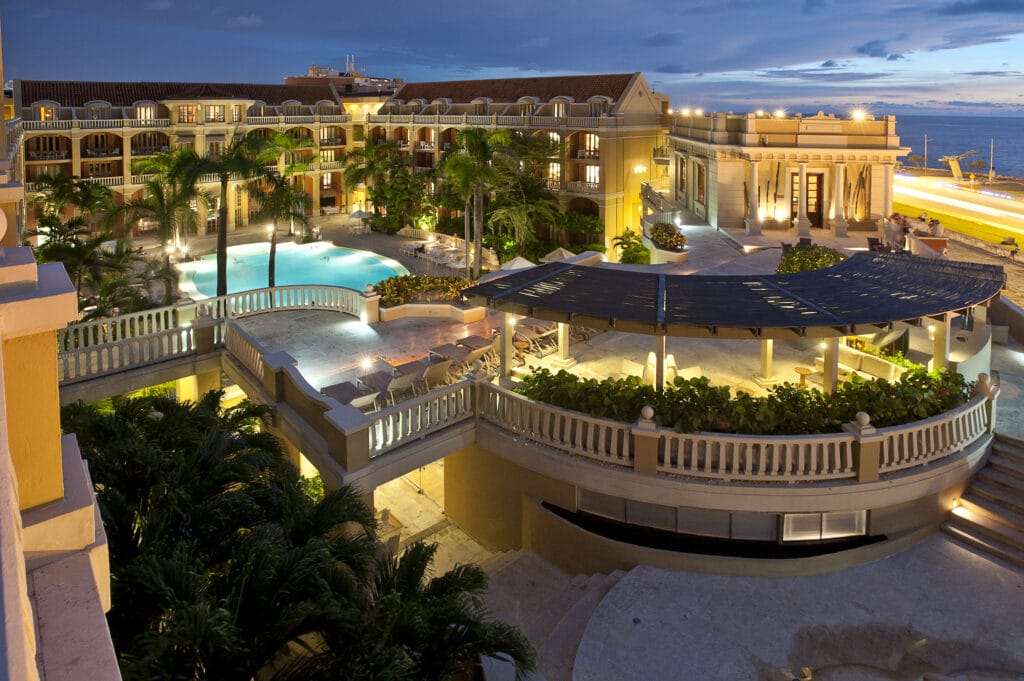 With a full stomach, I walk back to the Sofitel Legend Santa Clara Cartagena, where staff dressed in crisp white suits and top hats eagerly greet me from the terracotta-hued hotel's entrance. Like everything tucked behind the city's walls, the luxury hotel chain with a French pedigree possesses its own historical significance and fascinating stories. Housed in a former convent built more than 400 years ago, the hotel's original wooden beams and ornate archways instantly stir a mystical nostalgia that's interwoven with movie-star glamour—the kind that regularly draws celebrities, jetsetters and politicians (and maybe a few ghosts). While guests can enjoy modern luxuries like an on-demand team of butlers, cushy suites with balconies that survey the Caribbean Sea, gourmet cuisine and the biggest pool in town, it's the remaining pieces of the property's enigmatic past that captivate me. Like a treasure hunter, I wander the property to discover a candle-lit chapel replete with confessionals, as well as an underground crypt that sits beneath the El Coro Lounge Bar, which, ironically, comes alive with music, dancing and cocktail shakers at night.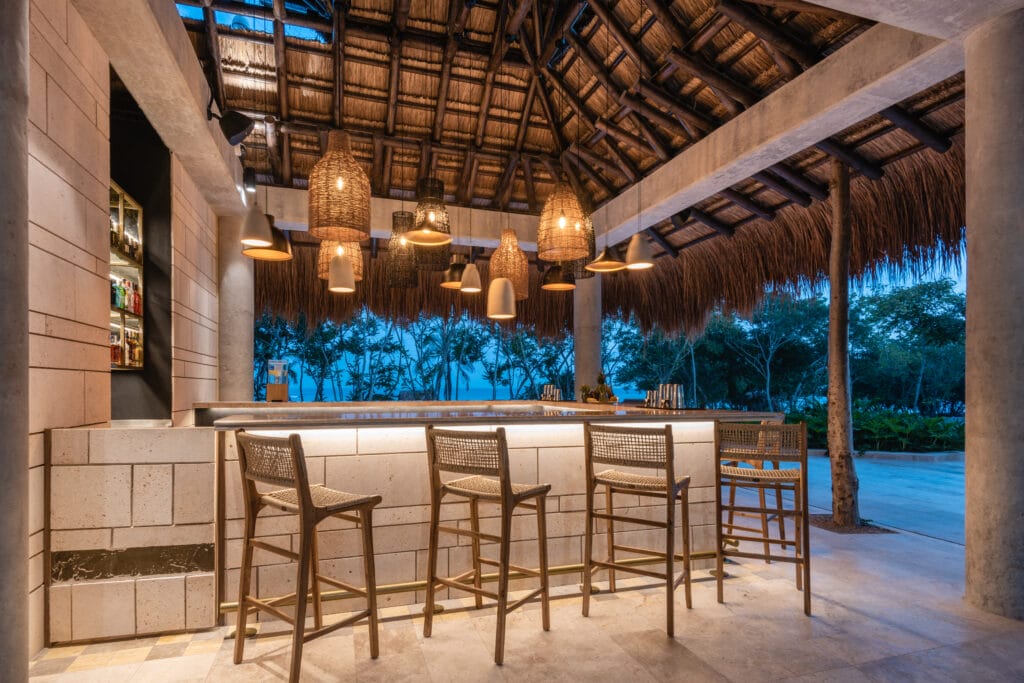 My few days there are spent dipping my toes in the grand, palm-lined pool, and dining in the lush courtyard where birds chirp and flit through the trees and well-dressed groups binge on coffee or tropical cocktails depending on the time of day. I also sign up for one of the hotel's curated experiences, where I tuck away in the intimate wine room of swanky 1621 (which used to be the nun's dining room) to sample locally made chocolates and young Colombian rums. And while locals and tourists flock to the city's walls to catch Cartagena's famous fiery sunsets, I watch from the hotel's soaring Botika bar that overlooks the sea, and then move to Jardín restaurant's fairy-lit courtyard to dine on fresh ceviche made tableside and a decadent Beef Wellington that could feed an entire family.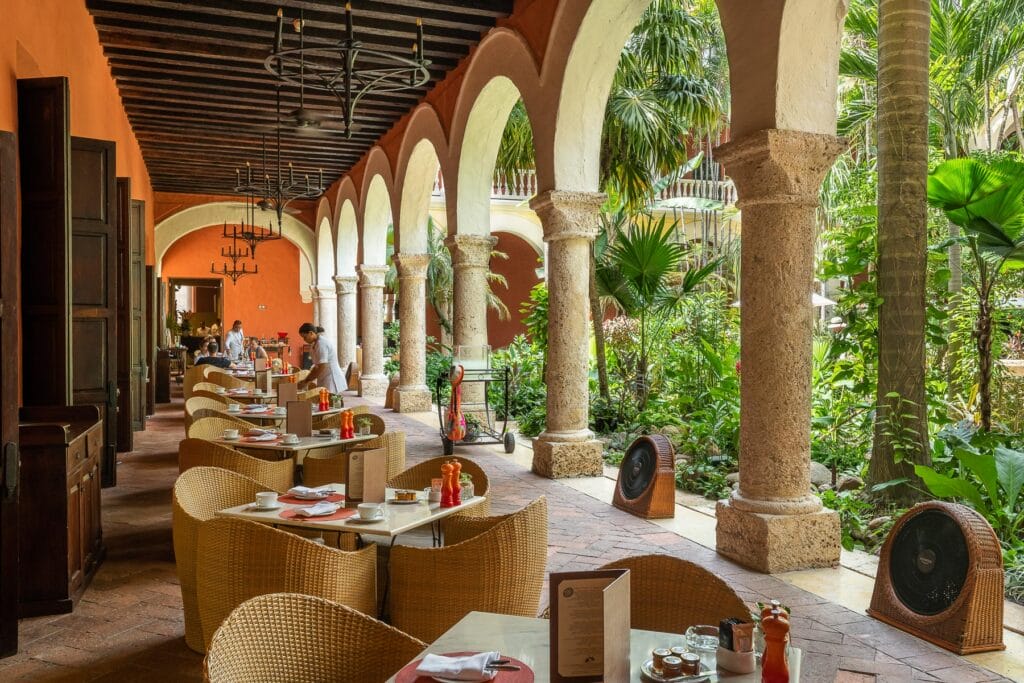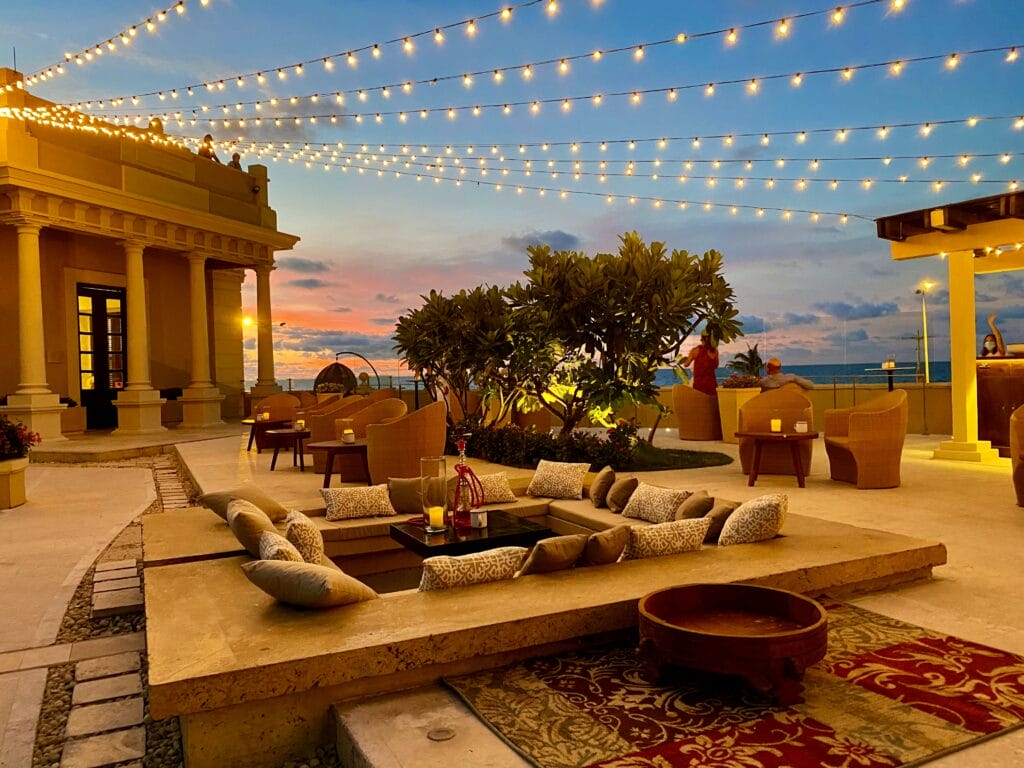 After two days in Cartagena, I follow the lead of locals who often flee the bustling city life for the quieter, picturesque islands situated off Cartagena's coast. Hopping on a chartered catamaran, we slice through the bay and make the 40-minute journey to the small island of Barú, where dark blue waters soon dissolve into crystalline shades of aquamarine.
Arriving at the dock of the Sofitel Barú Calablanca Beach Resort, the newly-built sister property of the Sofitel Santa Clara, I'm immediately struck by the natural surroundings. Trees with pastel pink blooms offer a stark contrast to the turquoise water that laps the scallop-white sand beach, and—other than the crashing waves and squawking birds patrolling above—silence envelopes the air. It's such a dramatic departure from the impressing colors and noise of Cartagena, that it takes a moment to adjust.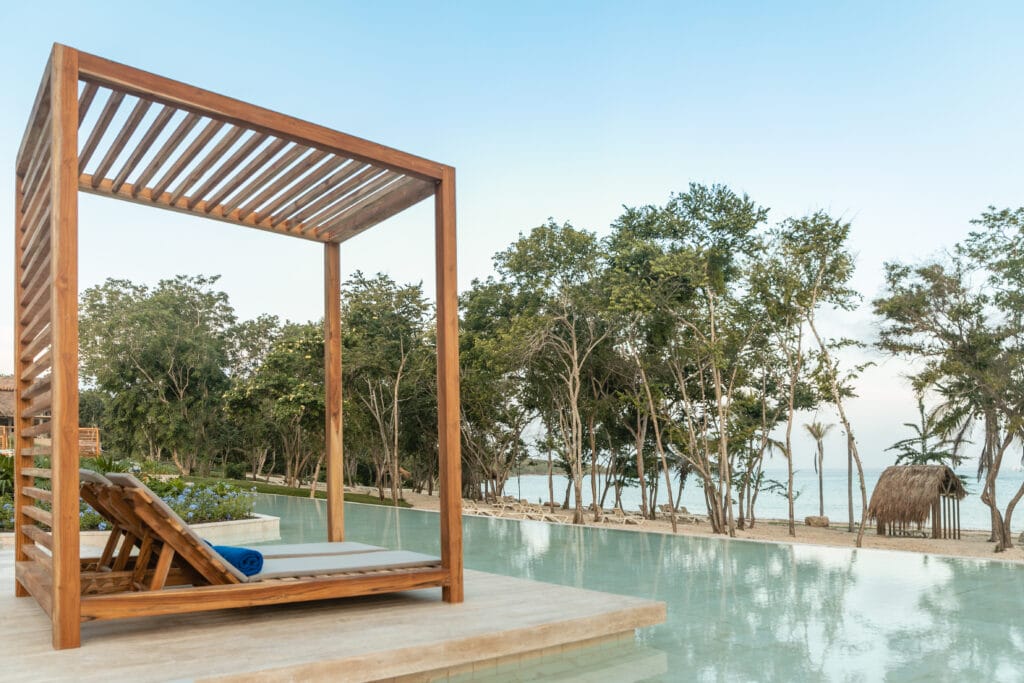 An awaiting golf cart whisks me up the hill to the lobby where I'm welcomed with the resort's signature drink, a sparkling coffee touched with sugar cane, honey and soda. As the first luxury international chain hotel on Barú, and the only hotel in the Colombian Caribbean to have a LEED certification, the resort was built to not only blend in with nature, but to preserve it. The string of buildings is intentionally perched atop sloping hills, so every guest room has an unobstructed view of the shimmering sea below. While there are different room categories, I'm staying in one of the 23 expansive suites which boasts a separate living room, a freestanding tub nestled near a comfy king bed, and an outdoor hot tub, where one morning I enjoy breakfast served on a floating tray while soaking in the warm, bubbly bath.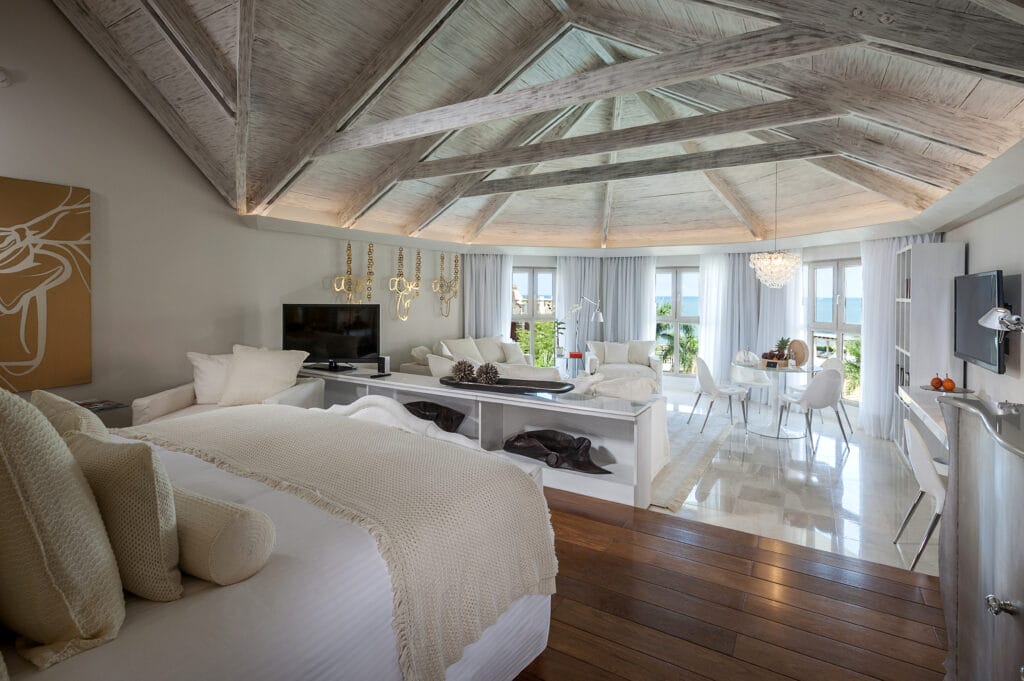 I quickly sink into a blissful regimen of dipping in various infinity pools sprinkled along the beach, lounging in cabanas outfitted with gauzy drapes that billow in the wind, and dining at the property's three restaurants that present a diverse range of options from Caribbean- and Japanese-inspired foods to traditional Colombian dishes. The resort places importance on the biodiversity of the area with snorkeling trips in the clear waters teeming with more than 500 species of fish and 60 species of coral, mountain-bike tours through the forests and night swimming through bioluminescent plankton. But what drew me to the resort is its purposeful programming which connects guests with the surrounding Afro-Colombian communities through immersive experiences from learning the art of braiding to painting straw hats with images of flowers or exotic birds that inhabit the island.
One afternoon, I head to the beach for a turban workshop with Gina, who's part of a local co-op of women in the neighboring town of Santa Ana that makes and sells artisanal goods like jewelry, handbags and hats. "Color gives life and happiness to your face," she says, while soaking the fabric in vivid plant-based dyes from the Amazon. As we chat, Gina shows me how to fashion the turban in different emblematic forms that can signify anything from a relationship or social status to a celebratory occasion. "This hotel partnership gives me the chance to teach about these traditions so we can keep our heritage alive," she says.
When it was time to return home to Fort Lauderdale, my bags are overflowing with painted hats, handbags and jewelry handcrafted by locals—colorful reminders of all that I experienced.