By Christie Galeano-DeMott Photography by Felipe Cuevas
Safe is boring, and in the hospitality business, it may even be fatal. Fortunately, David Cardaci knows how to curate intrigue and excitement within each of his hospitality venues. The Knallhart Management Group founder creates alluring concepts you want to hang out in. A massive shipping container-turned-bar sits inside Rhythm + Vine. A dilapidated downtown gas station has been revamped into a quirky, fast-casual Whole Enchilada taco outpost. And now he's converted a 100-year-old church into a nightclub and its refectory into a swanky restaurant. It took nearly three years, several million dollars and a complete gut remodel to launch the twofold, 11,000-square-foot concept.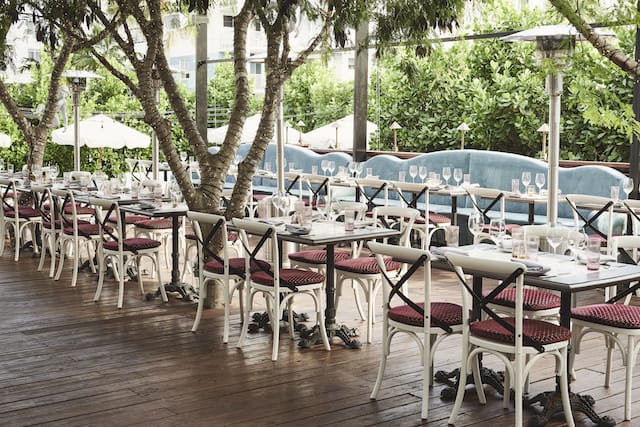 It went through several iterations, including a 24-hour diner and a food hall, before the stunning final product came to life. Looking to strike a balance between the feminine and masculine, Cardaci and his wife, Vanessa, configured the church into The Angeles, a dark, sultry 450-person nightclub. They kept the original stained-glass windows and added three bars and an upstairs VIP area. Conversely, the adjacent restaurant, Holly Blue, is a sun-drenched, airy space complete with a coral-hued dining room, glitzy chandeliers, plush velvet seating, vibrant wallpaper, an expansive outdoor terrace and even a whimsical hippo.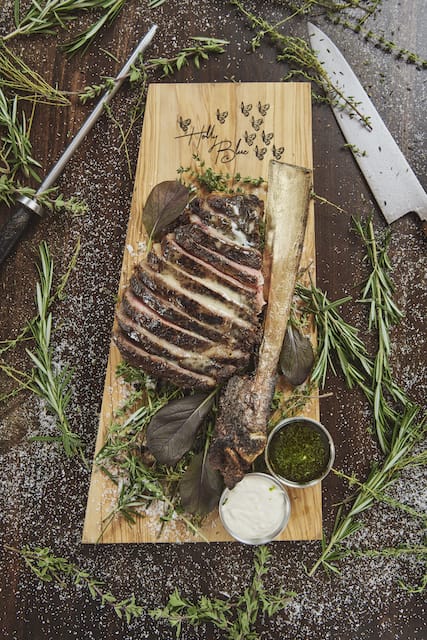 Cardaci confesses that charming Giovanni Rocchio out of retirement was the catalyst that pushed him to elevate the 220-seat restaurant and its cuisine. "There's no one better in Fort Lauderdale," Cardaci says. "Quite frankly, [Giovanni's] reputation in the market is incredible." The former celebrated chef/owner of one of Fort Lauderdale's most beloved restaurants, Valentino Cucina Italiana, has fashioned what Cardaci calls a "best of menu." Just as the restaurant's Holly Blue butterfly namesake lives across continents, the globally influenced, concise menu features dishes for every palate. Start with a creamy local burrata, beef tartare, charred octopus or a wahoo tiradito that effortlessly strikes a balance of sweet and spicy with a hint of citrus.  Entrées range from an impressive prime tomahawk steak to roasted red snapper to cavatelli ossobuco. While Cardaci believes his price points are reasonable, he reveals more affordable items will be debuting soon as a way to welcome Flagler Village locals in during the week without beating up their bank accounts. The cocktail and wine menus are showpieces in their own right. There are more than 200 wines in Holly Blue's collection, carefully assembled by Stef, aka The Silver Fox, a Valentino alum. Beverage director Tamara Javanovic created the cocktails, which are anything but basic. Captivating ingredients like mascarpone, aloe vera liqueur and gochujang are infused within the menus of the dining room and Marvin's Room, the quaint cocktail bar inspired by Drake's 2011 single that's adjacent to the front door. The Champagne Poetry is a fluted gin drink with Italicus Bergamot liqueur, raspberry, lemon and champagne presented with a petite QR code that takes you to a passionate poem that Vanessa wrote. Share it with the table or keep it to yourself, it's up to you.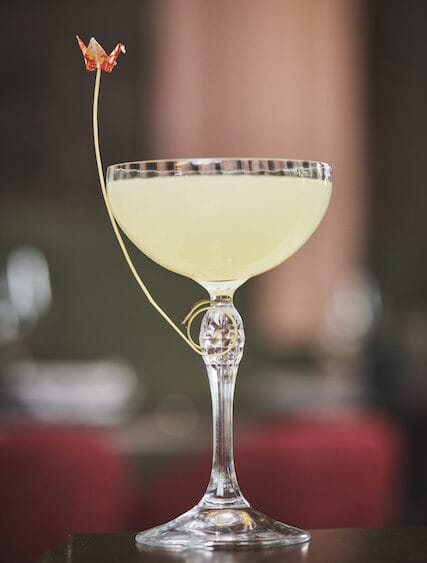 Cardaci, who worked in tech before hospitality, brought that Silicon Valley "there are no short cuts so work hard" mentality he  brought to the Whole Enchilada's first location. Together with his brother, Drew, they leased the Federal Highway space with a loan from their grandfather in 2006.  Fortunately they replaced their initial remote-control car-store idea with a casual, healthy-eats Mexican joint. It took the brothers a painstaking year to get the business up and running, and by the end of this year a fifth outpost will debut on State Road 84 and Andrews Ave. It will be the first location with a drive-thru.  Cardaci met Vanessa, his wife of 8 years and mother of their 5-year-old son, Conrad, a few years after opening the Whole Enchilada.  He reminisces about their first date at Timpano on St. Patrick's Day and even remembers the jacket she wore that day. The couple married at Miami's Vizcaya Museum and Gardens, but serendipitously did their pre-marital counseling inside the historic First Evangelical Lutheran Church of Fort Lauderdale that they've now converted into a nightclub. "If it weren't for [Vanessa] we would have failed by now," Cardaci explains. "She pays attention to all the details that I don't catch. She's always there to pick up the pieces. Whenever something starts falling apart, she always has a solution." As if operating three bars, seven restaurants, a nightclub and an events catering company wasn't enough, the dynamic duo is continuing to invest in Flagler Village with the opening of The Florida House at the beginning of next year. "Slowly but surely the epicenter of Fort Lauderdale is shifting into Flagler Village," he says.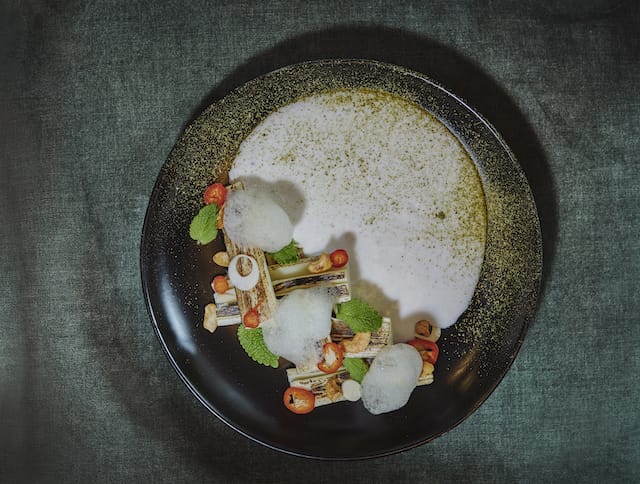 Connected to Rhythm + Vine, Cardaci likens the outdoor bar/restaurant to an extension of his patrons' apartment living rooms. It's a relaxed backyard with a 5,000-square-foot old Florida wooden house and a 20-foot grill perfect for lobster bakes and juicy burgers. The couple is also starting construction on their first partnership hotel (yet to be named and opening in approximately 20 months) in David's hometown of Winter Garden, where they will run five on-site food and beverage concepts.
For Cardaci, it's all about the grind. He has a trailblazing passion for crafting funky concepts that evoke their own electric vibe. But once the crowds start lining up and the music's humming, he's happiest at home playing with his son. And that's absolutely praiseworthy.