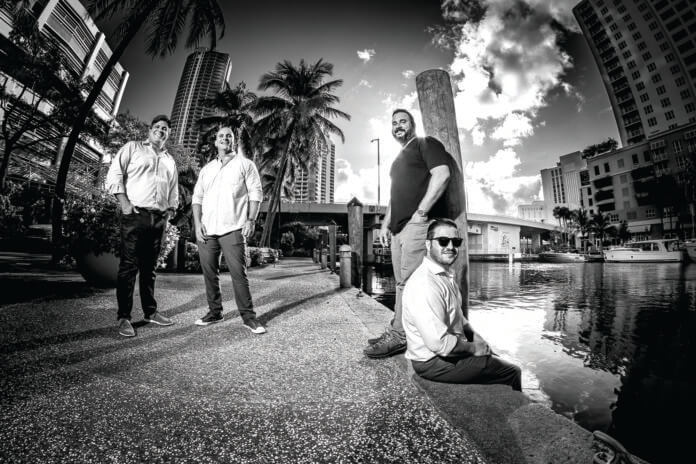 By Rebecca Cahilly-Taranto
Photography by Eduardo Schneider
The light at the intersection of SW 2nd Street and SW 1st Avenue in downtown Fort Lauderdale brings a lone BMW to a halt, its turn signal mutely tapping a rhythm. From the shadows, an unkempt man appears and begins a profanity-laced argument with a lamppost. His mutterings are quickly diluted, as the echo of purposeful heels clicking their way around Las Olas Boulevard blends into a vibrant scene, where DJ beats and tantalizing scents fill the air and the line of beautiful people extends well beyond the light-bulb marquee that spells out THE WHARF. The long-awaited rebirth of the Las Olas Riverfront has begun. And it can be credited largely to four players for whom the stars aligned to provide the ultimate trifecta.
Maybe it was the parking. Maybe it was greed. Mismanagement. Poor development. The economic crisis. Maybe it was because nobody lived there. Maybe it was cursed. Speculation as to exactly why the original Las Olas Riverfront development rose and fell within a single decade is wide and varied.
The original Riverfront development plan was conceived as part of the city's cultural renaissance efforts of the late 1980s. Eager to disengage from the bawdy spring break party town reputation, Fort Lauderdale residents voted in 1986 for a $7.4 million general obligation bond that would develop the one-mile stretch of land from the Stranahan House west along the New River to the Broward Center for the Performing Arts. A 260,000-square-foot entertainment zone section was sold to a Hollywood-based developer and the $55 million Las Olas Riverfront complex opened to grand fanfare in 1998. The complex offered a dozen bars and restaurants including China Grill Café, Aztec World Café, Max's Grille, Hooters and Dan Marino's Town Tavern sports bar, as well as high-end retailers, a 23-screen Regal Cinemas movie theater and adult-oriented entertainment center, The Escape. The weekend scene was hopping, and the Marlins hosted one of their World Series championship celebrations there in 2003. For a time, the Las Olas Riverfront was the place to be.
The party would be short lived, however. By 2006, Dan Marino's Town Tavern had disappeared. Hooters, too. Some of the escalators had stopped working and were blocked off by oversized flower pots. One by one, businesses shuttered their doors and moved on. The tower clock stood frozen at 11:10.
Behind the scenes, the buzz about this prime waterfront site continued in real estate circles. The original developer sold the area in 2005 for $31.9 million to a firm called Boca Developers Inc., which defaulted on its loan in the late 2000s. The defaulted mortgage was transferred in 2008 to a New York City-based private equity firm, and in 2011, Las Olas Riverfront LP—an affiliate of Fort Lauderdale-based real estate development and investment firm Merrimac Ventures—purchased the property for $16.7 million. But for the last eight years, the Las Olas Riverfront has sat nearly vacant, an eerie shadow of its former self. All that began to change with these four businessmen.
DEV MOTWANI, MERRIMAC VENTURES
Merrimac Ventures President & CEO Dev Motwani is a charismatic entrepreneur with a sixth sense for development. He grew up in a motel, after all. Motwani's parents, Bob and Ramola, ran a spring break motel—the Merrimac—on the beach in the 1980s. They shared the local government's vision of transforming Fort Lauderdale into a world-class resort destination and began acquiring and redeveloping hotels along Fort Lauderdale Beach, eventually growing their firm into the successful development venture it is today.
"It was an eyesore when we bought it," Motwani says of the Riverfront acquisition. "I had a lot of pressure because people were nostalgic about it." But Motwani was aware of the speculation behind the failure and was determined that, this time, the waterfront space would live up to its potential.
He would take his time to find the right partners. "One challenge people talked about was the lack of residential to sustain the businesses," Motwani says. Fort Lauderdale's residential developments were booming; he knew the Riverfront would need its own niche. He came across Ryan Shear and Brian Koles at Property Markets Group and liked what they were doing with X Miami, a 464-unit "multifamily social community" off of Biscayne Boulevard. The development offers studios, single units and multi-bedroom rentals with shared living spaces, large communal areas and co-working spaces. Targeted as an attainable urban living option for a younger generation, X Miami opened in July 2018.
PMG had plans to expand its social living concept into other cities and had its sights set on Fort Lauderdale. The Riverfront area was a perfect fit.
A partnership was struck and in early 2017, PMG purchased 2.38 acres of the 3.67-acre waterfront property from Motwani for $29 million. Motwani retained ownership of the retail element of the property and brought in Tricera Capital—known for its work in Wynwood and Miami's Design District—to bring in tenants to occupy the 17,000 square feet of restaurant and retail space. In October 2017, wrecking balls and bulldozers cleared the way for the 34-floor residential tower that would become Society Las Olas.
BRIAN KOLES, SOCIETY LAS OLAS
"When we looked at Fort Lauderdale, we saw a lot of luxury oversupply, which is out of reach for many people who want to live and work downtown," says Koles, PMG's director of brand and human experience. "This area of the Riverfront has been a dead spot in a city that has seen amazing growth. We knew we had a great opportunity and we needed to get this right."
Mimicking X Miami's social community concept, Society Las Olas will offer traditional studio or one-bedroom units as well as rent-by-bedroom options. It will have co-working spaces, modern gyms and fitness studios, communal kitchens, dog parks and bike storage, along with modern technological conveniences.
Koles cites a "total value shift" in the younger generation for the rise of the social community concept. "Home ownership is no longer as glorified as it once was," he says. "Many people view that as being tied down; they want to spend their money on experiences versus stuff, and they put their resources into living their best life. Co-living might sound crazy at first, but it works. People are doing business together in the
co-working spaces, and our networking and wellness event programming helps people break the ice."
A joint venture between PMG and Greybrook Realty Partners, Society Las Olas project will provide the critical mass of people needed to sustain surrounding businesses. Slated for completion in Spring 2020, phase one will include a 34-floor residential tower with 639 units and more than 900 beds, with more than 100,000 square feet of communal amenity spaces and 30,000 square feet of ground floor retail space along the New River waterfront.
Meanwhile, in November 2017, one month after the Riverfront was demolished, an outdoor bar and pop-up restaurant space on the Miami River dubbed The Wharf Miami opened to immediate success. "I visited The Wharf Miami, and it quickly became my favorite place to go," Motwani says. "I called my brother, Nitin, and said I wanted to do something similar in Fort Lauderdale. He introduced me to Emi."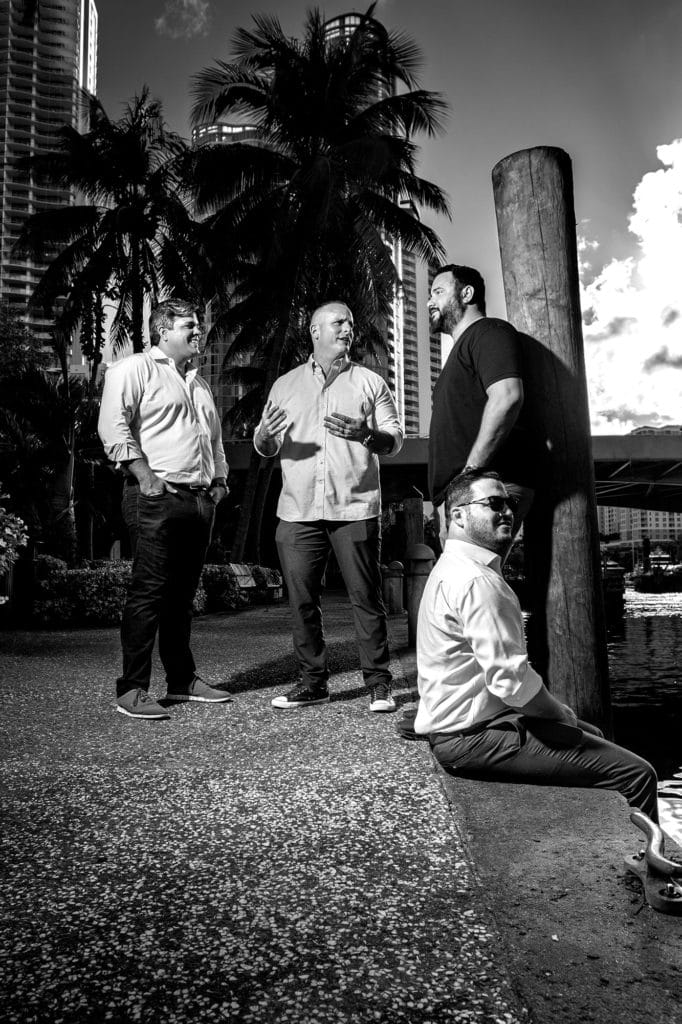 EMI GUERRA, THE WHARF FORT LAUDERDALE
"Out of the blue, Dev gave me a call," says Emi Guerra, founder of Breakwater Hospitality Group and creator of The Wharf concept. "And here we are."
Exactly two years after The Wharf Miami opened on the Miami River, The Wharf Fort Lauderdale celebrated its grand opening weekend with throngs of South Florida's gorgeous people gathering with their fashionable babies and fluffy dogs to sip rosé, nibble donuts and dance to the DJ beats in the riverfront, open-air space.
Encompassing 1.25 acres of Motwani's Riverfront property—adjacent to the Society Las Olas complex—The Wharf Fort Lauderdale emulates The Wharf Miami with its weekend events, open-air setting, gracious bottle service, DJ booth and pop-up food stands. The intention, Guerra says, is to enhance the community by inviting local restaurateurs to share the space, and in turn offer a varied selection of dining options.
Said dining options include seafood from chef/restaurateur Dean James Max's Even Keel, classic American fare from be nice restaurants' Lunchroom, Asian cuisine at Hou Mei from Temple Street Eatery's chef/owners Alex Kuk and Diego Ng, and pizza from Chef José Mendín's The Piefather. The Wharf's signature donut dessert is again provided by Miami-based Mojo Donuts.
An exciting cocktail program is underway as well, featuring an extensive rosé list, specialty cocktails, fresh fruit mojitos and one of the largest rum selections in the country. Family-friendly until 6 p.m., The Wharf also invites well-behaved canine family members to join in on the fun. And, as befits a dining option on the water, The Wharf offers 400 feet of dock space and a dockmaster.
There is one more piece to the Riverfront trifecta, and it came together just as the deal to develop The Wharf Fort Lauderdale was signed. "We had just signed the deal and went for a celebratory drink at Briny Irish Pub," Motwani says of the classic Fort Lauderdale bar on whose land The Wharf Fort Lauderdale now sits. The deteriorating condition of the riverside tavern couldn't be ignored. He suggested to Guerra that they purchase it.
"The location was perfect, but I knew we needed a real restaurateur with real food," Guerra says. "I immediately thought of chef José because I'm a fan of his."
CHEF JOSÉ MENDÍN, RIVERTAIL
Mendín remembers Guerra's phone call. "I was surprised when he called me about it," he says. "We've talked about coming to Fort Lauderdale for a while. To have a successful restaurant you have to deliver on food, service and atmosphere. I saw the space and the renderings and knew there was great potential."
Born and raised in Puerto Rico and based in Miami for the last 21 years, Mendín is a five-time James Beard Award semifinalist whose culinary background includes the famed Pubbelly, which closed in October, and his new Pubbelly Sushi concept. For Rivertail, he envisioned a chef-inspired menu with an emphasis on coastal dishes, fresh Florida produce and local seafood—all enhanced by his passion for global flavors.
Mendín says he's most excited about the crab donuts—brioche donuts stuffed with blue crab meat with citrus and glazed with spicy Old Bay honey. Then there's the shrimp al ajillo served on Texas toast, steak tartar sliders, chicharrón calamari and the list goes on. Recently opened, Rivertail serves lunch and dinner as well as late-night dining with Riverfront happy hours and a raw bar.
"Fort Lauderdale has truly evolved into a dining destination," Mendín says. "Rivertail is the first opportunity I've had for a seafood-centered restaurant that will give guests a memorable meal with a touch of Florida flair."
THE REBIRTH
Of their partnerships, woven out of mutual respect and passion for creating something unique for Fort Lauderdale, these River Boys say the focus is on recreating the excitement that used to permeate the corner that marks the start of Las Olas Boulevard.
"Growing up, this corner was a destination for locals and tourists," Motwani says. "We all remember the heyday, and we want to recreate that vibe for today's generation."
"It's my hope that everything we are doing will spark activity in and around the Riverwalk," Guerra says. "With our concepts and all of the other developments in the area, it creates a destination. There will be a lot of energy for this corner."
His hope is already coming to fruition, as Menin Hospitality recently announced plans to open Broward's first Bodega Taqueria y Tequila, a popular fast-casual taco joint in Miami with a late-night speakeasy-style lounge, at the historic Bryan building at 21 West Las Olas Boulevard.
"The area always brings back a sense of nostalgia, and it is special to be part of the team who is reviving the district for future generations to enjoy," says PMG Managing Partner Shear.
Motwani received some pushback for waiting as long as he did to move forward with development after purchasing the Riverfront in 2011, but he's secure in his decisions. "It wasn't just about doing another project—it was about doing the right project, with the right vendors, and getting the right operator and concept," he says. "I had opportunities to develop the whole property a lot earlier and it never felt right. I went with my gut. I grew up here, I live here, and I knew what was missing."
Welcome back, Riverfront. 
This article originally appeared in the Winter 2019-2020 Issue.