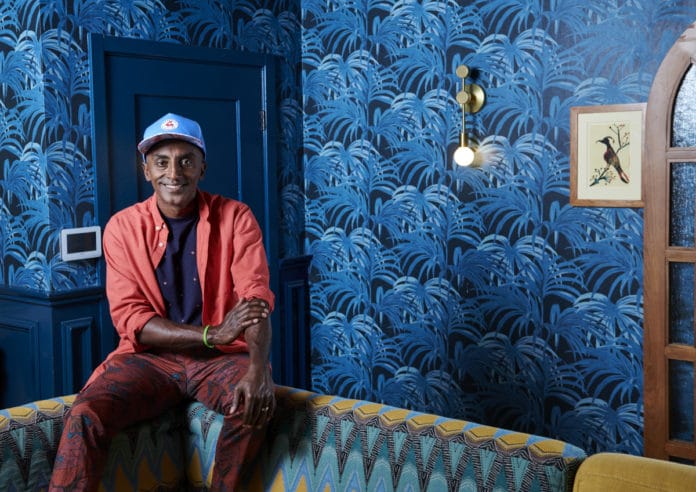 By Evan S. Benn
Photography by Felipe Cuevas
Photographer's assistant is Federico Velez
There is no easy formula for opening a restaurant. But if you're an internationally acclaimed chef, you might consider a turnkey space in a South Beach hotel—and pack your New York menu with you.
Not Marcus Samuelsson. The James Beard Award-winning chef and his partners—including community developers Derek Fleming and Michael Simkins, as well as the Miami-based Grove Bay Hospitality Group—chose to open the Florida outpost of Red Rooster, Samuelsson's renowned Harlem restaurant, in a historic space in Overtown. And they did it during a pandemic, without replicating a single dish from Red Rooster Harlem.
"I love South Beach, but we look toward African American neighborhoods for our restaurants," Samuelsson says from the dining room of Red Rooster Overtown, wearing a palette of blues in his hat, shirt and apron that match the space's enlivened decor. "In Overtown, the Harlem of the South, we found a home that feels like it fits who we are."
While the restaurant officially opened in December, Samuelsson and his team have had a yearlong runway to get to know their new home. Red Rooster Overtown was originally set to open after the 2020 Food Network & Cooking Channel South Beach Wine & Food Festival—an event capped by Samuelsson being the guest of honor at the festival's signature Tribute Dinner. However, the coronavirus forced Samuelsson to delay opening Red Rooster Overtown in the traditional sense, prompting a pivot that forged an indelible connection with his new neighborhood. Red Rooster Overtown opened its doors last March to World Central Kitchen, chef José Andrés' nonprofit effort, and cooked thousands of meals over several weeks to feed those who lost their jobs or were otherwise affected by the pandemic. The experience, Samuelsson says, brought his staff closer to the community they were preparing to serve.
"Being part of World Central Kitchen gave us a little street cred in Overtown," says Tristen Epps, Red Rooster Overtown's chef de cuisine. "We came in here with a fancy building, a big name, TV cameras. You have to back that up. We were able to show we care about serving the community. We got to know a lot of people, learned their names and faces, and some of those people eventually became our staff and our regulars."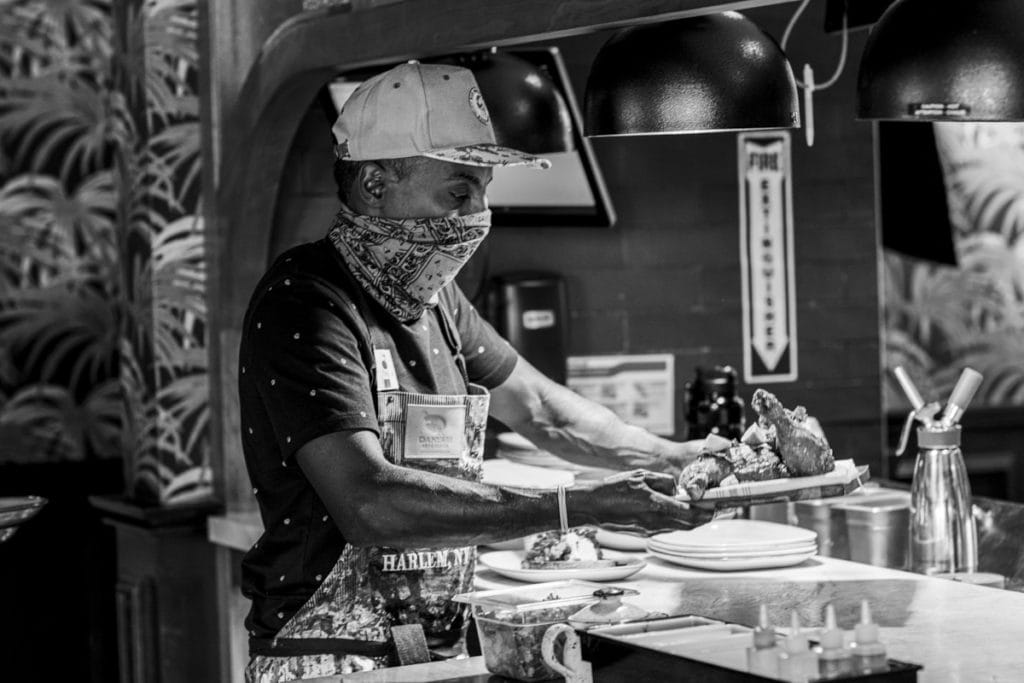 Patrons include Dwyane Wade, who celebrated his 39th birthday at Samuelsson's restaurant in January, and A Tribe Called Quest founder Jarobi White, who has guest-DJed the Red Rooster turntables. Along with food, live entertainment has become a draw for the two-story, 13,000-square-foot space with an expansive patio that proved essential for distancing during the pandemic. The restaurant building was once home to the Clyde Killens Pool Hall, where some of the country's top Black entertainers, like Patti LaBelle and Count Basie, performed in the 1950s and 1960s, playing there late at night after performing in Miami Beach, where they could work but not sleep due to Jim Crow laws.
Overtown's renewal began about 10 years ago with a large investment by the community redevelopment agency, Simkins says, which paved the way for the construction of new housing and the renovation of important cultural venues, including The Historic Lyric Theater, Ward Rooming House and the Dorsey House.
"The groundwork for Red Rooster Overtown to welcome the entire community and its visitors to celebrate life, friends and family has been in the works for some time," Simkins says. "We're excited to contribute to the continued revitalization of this historic neighborhood."
Samuelsson and his partners are working to reignite Overtown's creative and artistic spirit and to amplify its lasting importance to Miami's culture. That includes creating nearly 100 local jobs—about 70 of which have gone to Overtown residents—between cooks, servers, managers, valets and other positions.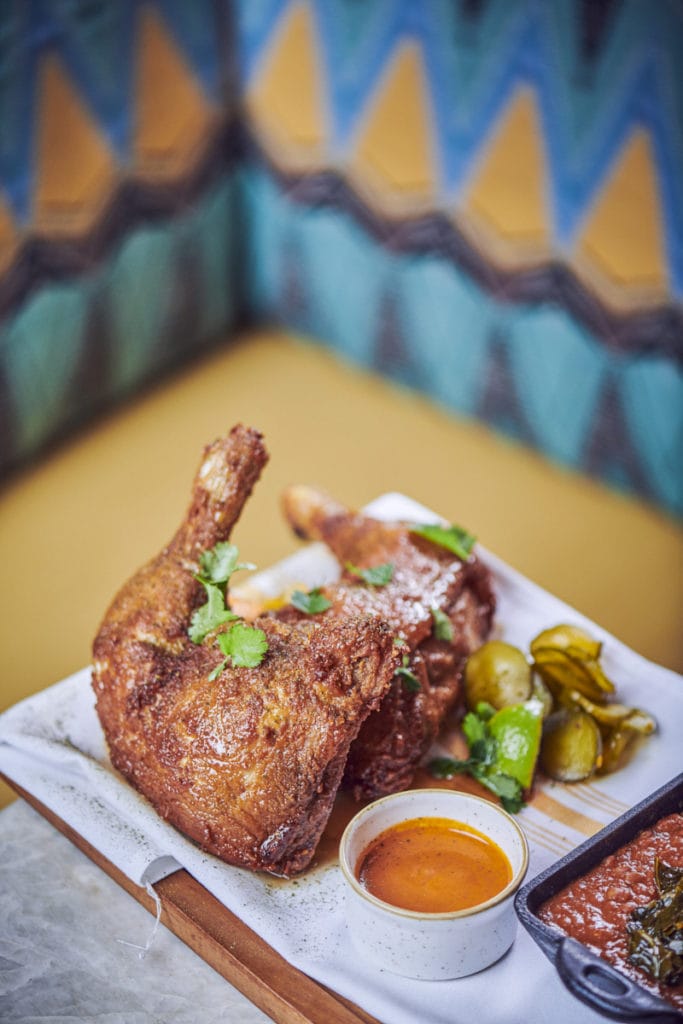 "This is a historically and culturally significant part of Miami, and we take pride in not just being here but also being part of what's happening," Samuelsson says. And you can't be part of Miami by just plopping a New York restaurant here.
"It is a luxury to draw inspiration from so many communities and cultures that are represented in Miami," Samuelsson says. "Cuba, Haiti, the Bahamas, Jamaica—these are all places that inspire us. And that's part of what it means to be local in Miami. We're not taking our New York menu and putting it here. Of the 25 or so things on our menu right now, I think four are based on dishes from New York. The rest are all Miami."
Even those signature Red Rooster Harlem dishes, Epps says, have Magic City twists. Deviled eggs that are topped with crispy onions in New York are garnished instead with chicharron at Red Rooster Overtown. Corn butter on cornbread in Harlem becomes rum butter in Overtown. Corn grits served with shrimp up North are substituted with rice grits and local Florida shrimp down South. And Red Rooster's famous Fried Yardbird has a lighter batter for Florida's climate and a double dose of citrus—a sour orange hot honey and zest on top of the whole thing—for a subtropical touch.
To Epps, though, who hails from Trinidad, the large-format wagyu oxtail dish says the most about the uniqueness of Red Rooster Overtown.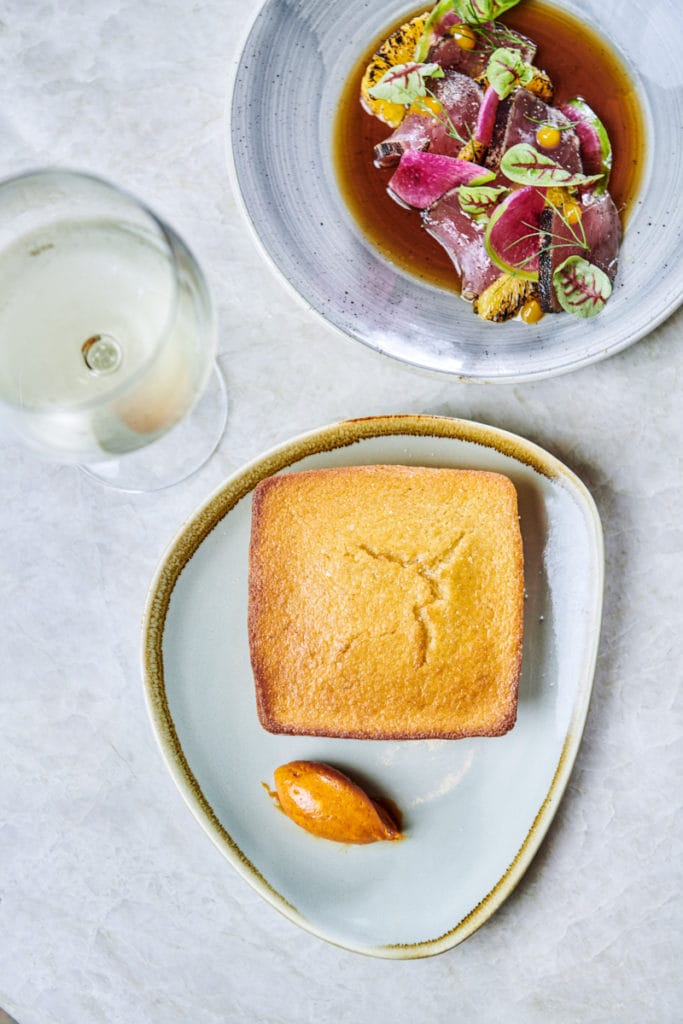 "It represents the story of what we're trying to do in Overtown," he says. "Oxtail is sort of this throwaway cut, but there's a history of people who put love into it and turned it into something luxurious and delicious and sustaining. We represent oxtail here in its highest form: It takes us three days to make, we have truffles on there, we serve it with bibb lettuce from a local farm.
"Elevating and highlighting oxtail is similar to the way we're trying to elevate Overtown and put its history front and center," Epps continues. "It triggers memories for people who come in. You could have a huge porterhouse on the menu, but that's not going to resonate as much with a Black and brown community. But we see a whole oxtail on the menu? That's our childhood. That's Grandma. That's Mom and Dad."
This article originally appeared in the Spring 2021 Issue.