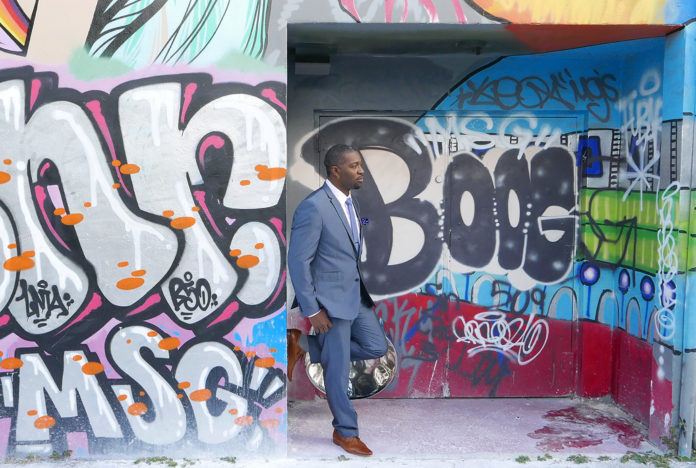 By Bob Weinberg
Portrait By Joe Gato
Leon Foster Thomas is a mesmerizing performer. On stage with trumpeter Etienne Charles' sextet in November, Thomas worked his magic on the steel pan, an instrument more frequently associated with tropical seaside resorts than with auditorium jazz concerts. But here he was, at the Rose and Alfred Miniaci Performing Arts Center in Fort Lauderdale, nearly stealing the show from fellow Trinidad and Tobago native Charles. With speed and precision, the 35-year-old Miami resident coaxed chiming notes from his instrument, a benevolent wizard conjuring sunny spirits from a gleaming cauldron. Charles, perched atop a wooden frame drum, beamed at the pan player, reveling in the signature sounds of their homeland. Kicking off the 2016-2017 season of the South Florida JAZZ concert series, they set a high bar for the monthly performances to follow.
Thomas had reason to be inspired. He had recently learned his third recording, Metamorphosis, was being considered for the Grammy ballot in multiple categories, including Album of the Year and Best Instrumental Jazz Album. Although the recording didn't make the final cut, it certainly merited consideration. On nine original compositions and one cover—a heartfelt read of Procol Harum's "A Whiter Shade of Pale"—Thomas and an A-list crew of South Florida jazz talent meld calypso and Afro-Cuban rhythms with jazz harmony. The opening "Kai-Fusion," which spotlights dazzling solos from saxophonist David Palma, guitarist Fernando Ulibarri and the leader himself, provides the perfect introduction.
"'Kai' is short for 'Kaiso,' the first lineage of calypso and soca," Thomas says. "I wanted to take that and have it be groove-oriented. It's a party, but with the sophistication of the jazz elements."
Thomas—"Foster" to his friends—came to South Florida in 2001 to study at Florida Memorial University, later earning a master's degree from Florida International University. He's now among a vanguard of young pannists transforming the instrument's role in jazz. Peers such as Jonathan Scales and Victor Provost have also been gaining critical acclaim, following in the footsteps of pioneers Othello Molineaux and Andy Narell. Molineaux, who recorded with bass player Jaco Pastorius, remains a venerated figure in the jazz world—particularly in South Florida, where he's lived for decades. Thomas hadn't heard of him until he moved here.
In fact, Thomas says he faced a considerable learning curve when it came to jazz. His friend, drummer Andrew Atkinson, turned him on to recordings by Keith Jarrett and Miles Davis. He also dived into the area's abundant Latin music. "It wasn't foreign to me," he says. "But coming to Miami, it was like, 'OK, there's a difference between Puerto Rican clave and Cuban clave.'" With the help of pianist Martin Bejerano and percussionist Sammy Figueroa, Thomas peppers Metamorphosis with Afro-Cuban sabor, or flavor.
On tracks such as "Midnight Refrain," Thomas also explores bluesier hues. "'Midnight Refrain' is all about that speak-easy," he says. "Sweaty, moonshine, what have you, in the middle of New Orleans. I had a chance to go to Bourbon Street to conceptualize some of these things. There's a correlation with New Orleans and Caribbean music because of the slave trade."
Thomas' recent return to Trinidad was very much a homecoming. The fourth child of seven, he caught up with kin and also worked with the Fonclaire Steel Orchestra. One of the island's premier steel bands, Fonclaire played a pivotal role in Thomas' development. "I had to go back to the drawing board because the other guys just outplayed the shit out of me," he says. "I was talking to the band, and we've decided to invest in the youth—we're investing in the future."
Raised in humble conditions—with no plumbing or electricity for years—Thomas understands the importance of providing a hand. Fortunately for him, what his home lacked in amenities, it made up for in music. Thomas' father was a celebrated drummer; his mother, a singer. And then there were the neighborhood pan yards, rehearsal spots for steel pan players.
"The pan yards are where you go to see the pan orchestras," he says. "There weren't really any buildings allocated for steel pans, so everything happened in someone's backyard."
From festivals and competitions in Trinidad to rehearsal rooms at FMU to sharing stages with stars such as Hugh Masekela and Dolly Parton, Thomas has awed listeners in both hemispheres. In May, Thomas led bands at the Virginia International PANFest and at the Jacksonville Jazz Festival. In July, he and vibraphonist Drew Tucker headlined a show at the Arts Garage in Delray Beach. And in August, Thomas and his trio will play club dates in London.
Wherever he travels, Thomas brings the sound of South Florida with him. He describes how he went to visit his friends Atkinson and saxophonist Tivon Pennicott at a club in New York. "People were like, 'Oh, that's the Miami crew,'" Thomas says. "We have a certain sound, and we're not going to get away from it. Anywhere we go, you can tell, 'These cats are from Miami.' You can tell by the mixture of cultural elements in our playing. We're very sharp."
Originally appeared in the Summer 2017 Issue.