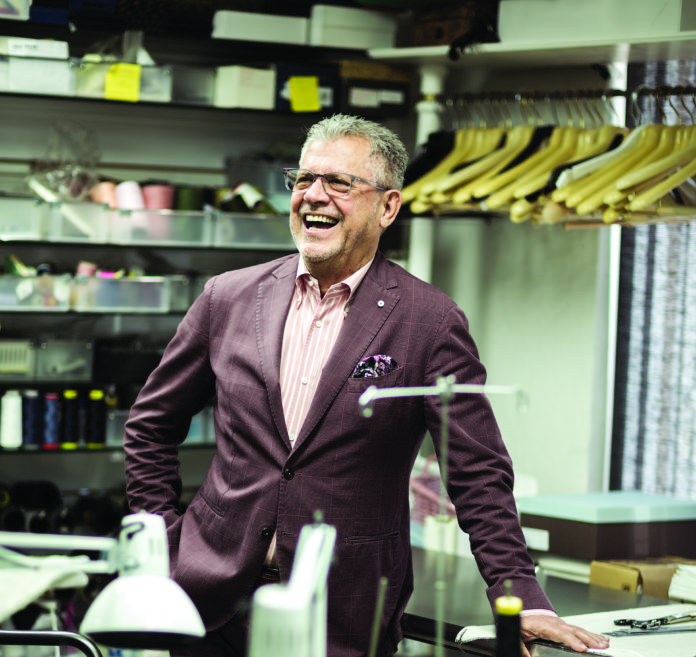 By Charlie Crespo
Portrait By Gary James
"Most of my repeat clients call me the 'doctor of fashion,'" Mario Argiro says. "When I look at a person, I can tell them how they should wear their clothes."
Don't believe him? Wander into Moda Mario, Argiro's flagship bespoke fashion boutique on East Las Olas Boulevard, and he'll be able to pull clothes off the rack from his personal label that not only fit you better than your favorite jacket or pair of slacks but also look better—a lot better.
If you think that impressive feat is beginner's luck, then you don't know Argiro. Born in the small town of Maida, Italy, Argiro spent much of his after-school time in a tailor shop owned by his father's friend. After his family moved to New York, his love of fashion and clothing only grew.
"I lived in a little town called Nyack, and I would go into the city," the 71-year-old says. "The first paycheck I got from my part-time job, I spent it on clothing. Those were my happy moments."
While working as an art director for the advertising agency J. Walter Thompson, Argiro discovered his eye for fashion didn't only apply to himself. After repeatedly being asked where he shopped by executives, he started storing Italian, French and English clothing in his office—effectively creating his own private shirt line. When he later learned of a space that was for sale, he left the advertising world to open Dickens, his Upper East Side boutique in New York City.
After starting a family and growing weary of the fast-paced New York lifestyle, Argiro moved to South Florida in 1975. That same year, he opened the initial incarnation of Moda Mario at 1301 E. Las Olas Boulevard. While the store's location and layout have changed over the years, Argiro's guiding principles and commitment to his clients have remained steadfast.
"I'm there to listen to people; I don't just throw things at them," he says. "It gives me the privilege of making a friend first."
In addition to developing close relationships with his clients—many of whom send their children, grandchildren and great-grandchildren to his store—he seeks to educate them on why clothing is important.
"Clothing is not a uniform; it's a part of you. It has to fit your style, your looks and your body shape," he says. "If you are buying just for [the label], you're a sponsor of the label. You're not yourself. You don't have your own identity."
It is here that Argiro's nickname holds true. He is able to diagnose a client's problem, educate the person on the issue and find a remedy by pairing his or her personal style with exceptionally well-crafted and well-fitting clothes—the kind of clothes one seldom sees in this age of mass production.
It's a technique that has made him successful throughout the years and one that, even as he approaches the late stages of his career, he doesn't plan on changing anytime soon.
The doctor will see you now.
Originally appeared in the Summer 2017 Issue.