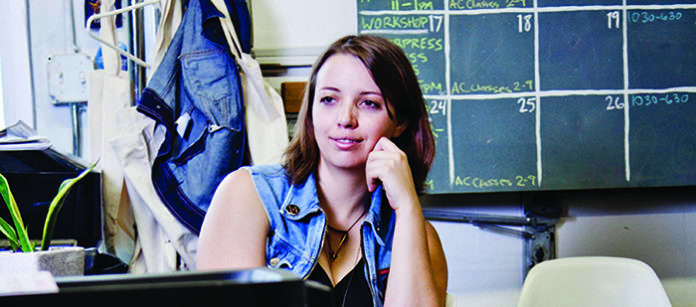 By Malischa Oge
Photography by Eduardo Schneider
Print. Sleep. Repeat. Those three words encapsulate Ingrid Schindall's work mantra. When the creative entrepreneur opened her collaborative printmaking and book arts studio, IS Projects, in FATVillage Arts District in September 2014, letterpress printing was experiencing a revival. Along with her two other businesses—Nocturnal Press and Existent Books—the 26-year-old Schindall has become somewhat of an ambassador to the medium. Here, she talks about how IS Projects has become an open forum for South Florida artists.
How would you describe the evolution of letterpress printing?
Letterpress printing used to be primarily lead and wood-type printing, where individual pieces of type letters were pressed into a piece of paper. Johannes Gutenberg actually coined the term "movable print," which some say was the most important invention in human progression since fire. Now, letterpress has evolved to using photopolymer printing. Although IS Projects does use photopolymer, we also pride ourselves in practicing the original letterpress technique.
How did your love for printmaking develop?
It started in my sophomore year of high school when our teacher had us work on a linoleum carving project. I instantly fell in love with the art form. I began using it as a mark-making tool, and from then on, it was love at first typesetting. It was such an exciting medium that I decided to go to university at Maryland Institute College of Art because it had a great printmaking program.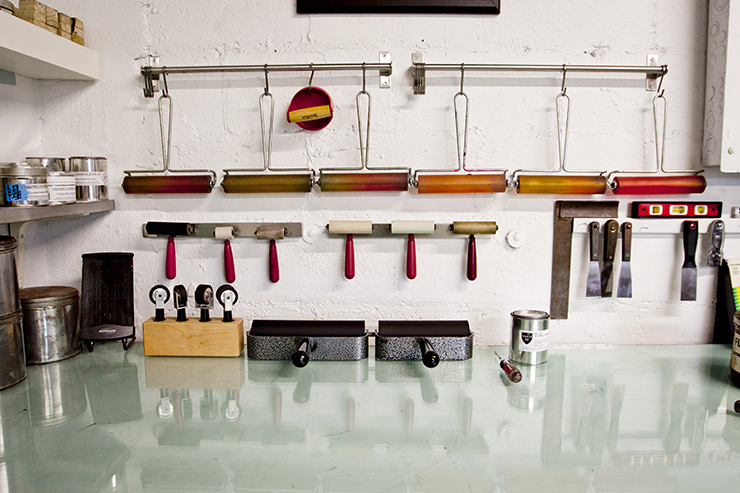 How rare is letterpress printing in today's world?
It is very rare in South Florida, but it's slowly gaining traction. Letterpress printing is most common and known in places that have a long history of printing, such as the Midwest, where it played a major role in America's industrial history. My shop is one of the very few in South Florida, and it is the only local studio that actually teaches the art of letterpress printing. I wanted my shop to be a place where you can learn print media without having to sign up for a degree.
What inspires your letterpress work?
I will get this sentence that sticks in my head, and I'll end up writing a long story around it and distill it down from there. Sometimes it starts with a concept, but most of the time, it begins with a singular story, and then other stories will come around it. I do my writing, then I craft a housing for it. It's not just putting words on a page; it is figuring out what kind of page those words need, and then what kind of binding the whole story needs.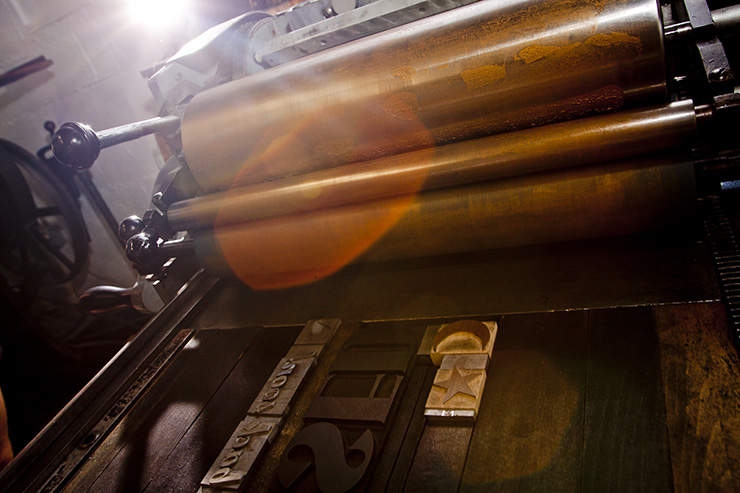 How has South Florida influenced your shop?
I think that being a part of FATVillage is really interesting because it's still relatively small and growing, and IS Projects can become one of its staples. People who come here during the monthly Art Walk ask what's new and inquire about some geeky new typeface that I bought. Seeing the light in people's eyes go on is amazing.
What's in store for the future of IS Projects?
We are in the process of expanding, which will be completed in the spring. I see this shop becoming South Florida's printmaking resource. I want it to be a place where people can learn, practice and rub elbows with other artists beyond the weekly workshops we host. I want to move toward fine art publishing and bring more artists here. The main thing that we are working on is getting more of a foothold in the community and trying to become a name that people recognize.
Originally appeared in the Spring 2016 issue.