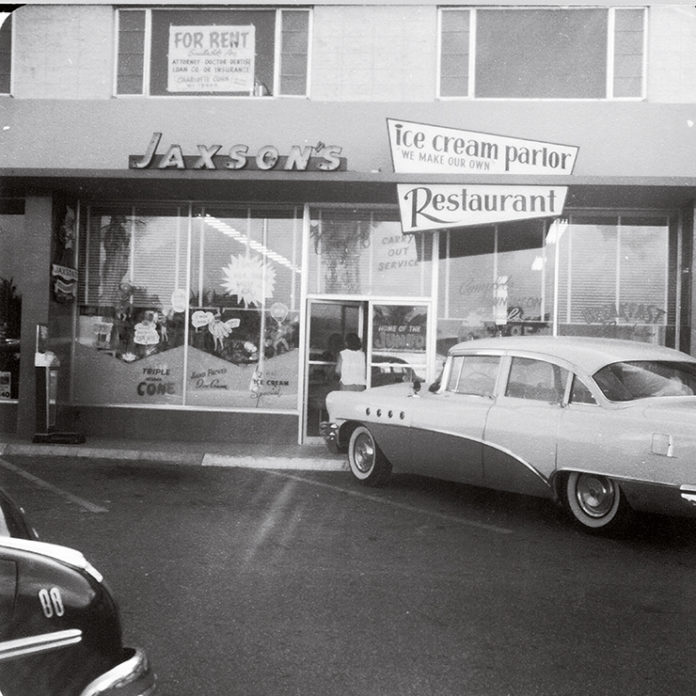 By Ana-Christine Cook
Today,  Jaxson's Ice Cream Parlor and Restaurant's storefront looks like a step back in time. An old-fashioned marquee sign flashes red lights to draw in patrons. Nostalgic emotions run high as you step into the restaurant adorned, floor-to-ceiling, with expired license plates from different states.­ Less than a year after founder Monroe Udell's death, his legacy still lives at the ice cream parlor he opened 59 years ago.
At Jaxson's, visitors are taken back to a time when Dwight D. Eisenhower was president and milkshakes cost less than a quarter. Udell started Jaxson's in 1956 backed with the knowledge and experience of growing up in a family of restaurant owners, including his father, who owned Jack's Fine Food.
Since the beginning, Jaxson's has been making its ice cream in-house, including the dry ice needed to make it. Originally, Udell would make the ice cream in small batches—in the same machines that churn today's ice cream—on an as-needed basis. As the demand for the ice cream and hot food grew, so did the need for more space. In 1974, the restaurant doubled in size to its present 3,000-square-foot location.
Ask anyone if they have ever been to Jaxson's, and their response will almost always mention the famous dessert entrée, The Kitchen Sink, an ice cream dish that is served in, you guessed it, an actual sink. Sparklers and sirens included. There are a few "rules" to remember when ordering this dessert—a trademark of Udell's—that cannot be broken. A minimum of four people must order the 12-scoop dessert. However, it should be noted that on four separate occasions, a single person ordered, ate and paid for The Kitchen Sink on his own.
"There is literally nothing like Jaxson's. From your first step in the door, you see what [Udell] created is genius," says Jerry Smith, general manager of Jaxson's since 1997.
Until his death on June 1, 2014, Udell was a constant presence at his ice cream parlor and restaurant, working six days a week. Of the days that Udell could not be there, Smith jokes, "He wasn't with us in person, but in surveillance." Between laughs he recalls an occasion when he was cooking himself a hot dog on one of the kitchen's grills, when suddenly it rolled onto the floor. Before he could even reach down to pick it up, Udell was calling Smith, laughing at what he had just witnessed via one of his cameras.
Originally appeared in the Spring 2015 issue.