By Jess Swanson
Portrait by George Kamper
Edward Beiner is eyeing me closely at his South Miami store. "Round face, expressive cheekbones," he murmurs to himself. "You're nearsighted, which means the lenses will make your eyes look slightly smaller than how they are now." After a few inquisitive nods, he announces his verdict: square frames and an extra coat of mascara. "Tortoise shell and black are safe, everybody goes for that, but South Florida is a sunny and wild place," he says as he picks up a glamorous pair of white frames, which he recommends for their pizazz. I can't deny that his one-minute computation is more accurate and seamless than the quizzes and virtual try-on booths of the affordable online retailers I've resorted to in the past.
That's because Edward Beiner has always had a vision. "I knew intuitively that eyewear wasn't just a medical device," he says. "Glasses are jewelry for the face." The sentiment might seem unremarkable in 2019, but when Beiner opened his first store in South Miami in 1981, glasses were considered a nerd's accessory. At 24 years old, he set out to change the "four eyes" stereotype by elevating the eyewear experience to that of a luxury retailer (think coffee served during fittings). "It's like jewelry, so you want it," he says, "but it lets you see, so you need it."
Hindsight is always 20/20, but Beiner's formula worked. Thirty-eight years and 11 stores later, he's carved a coveted niche for himself. With fashion-forward options that even include a fleet of 3D-printed frames of Beiner's own design, the founder and CEO has managed to keep his company relevant not only in the big-box era of For Eyes and Visionworks, but even today with budget-friendly brands Warby Parker and Zenni Optical. Beiner, whose glasses are a favorite among celebrities such as Dwyane Wade and have been featured on "The Tonight Show Starring Jimmy Fallon," plans to open a new store in Miami's Coconut Grove next year. "I'm a small business and I've got big competition," he says. "It's always a battle to stay on top, and staying a step ahead is a must for us."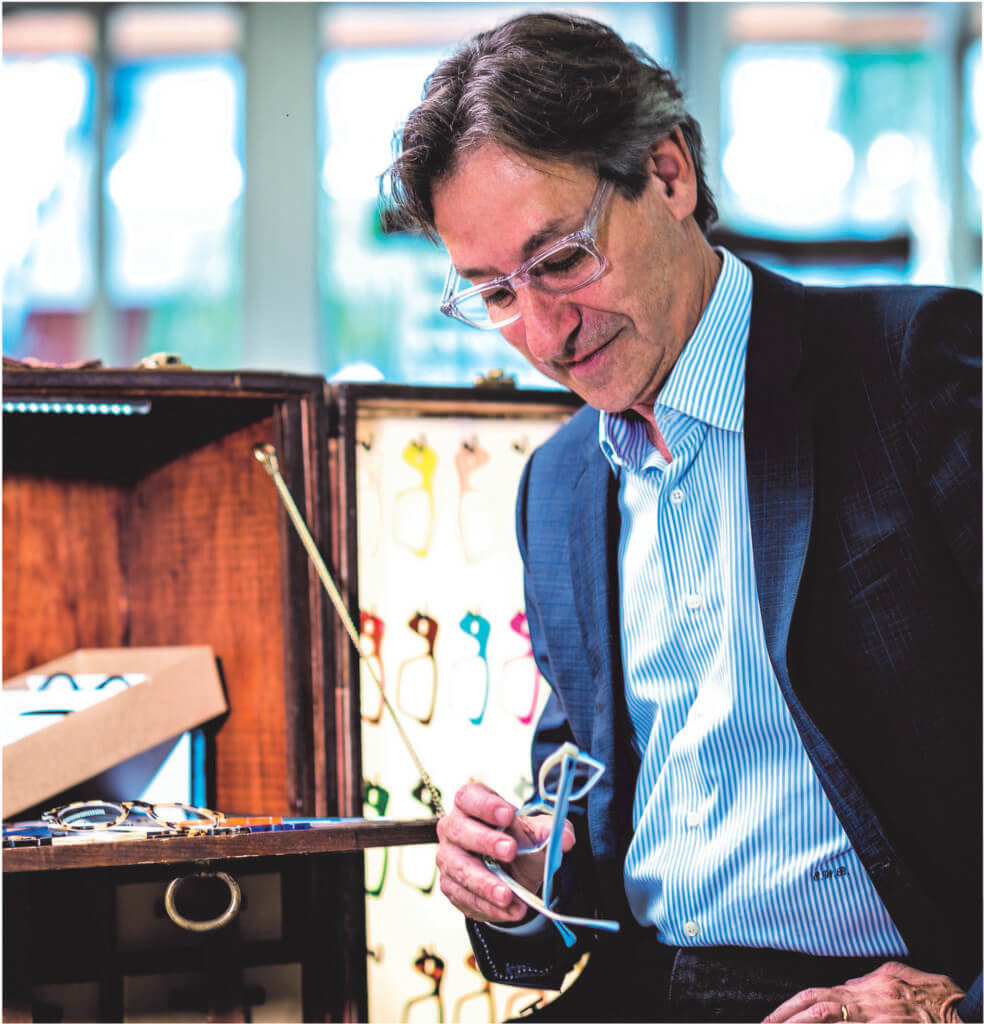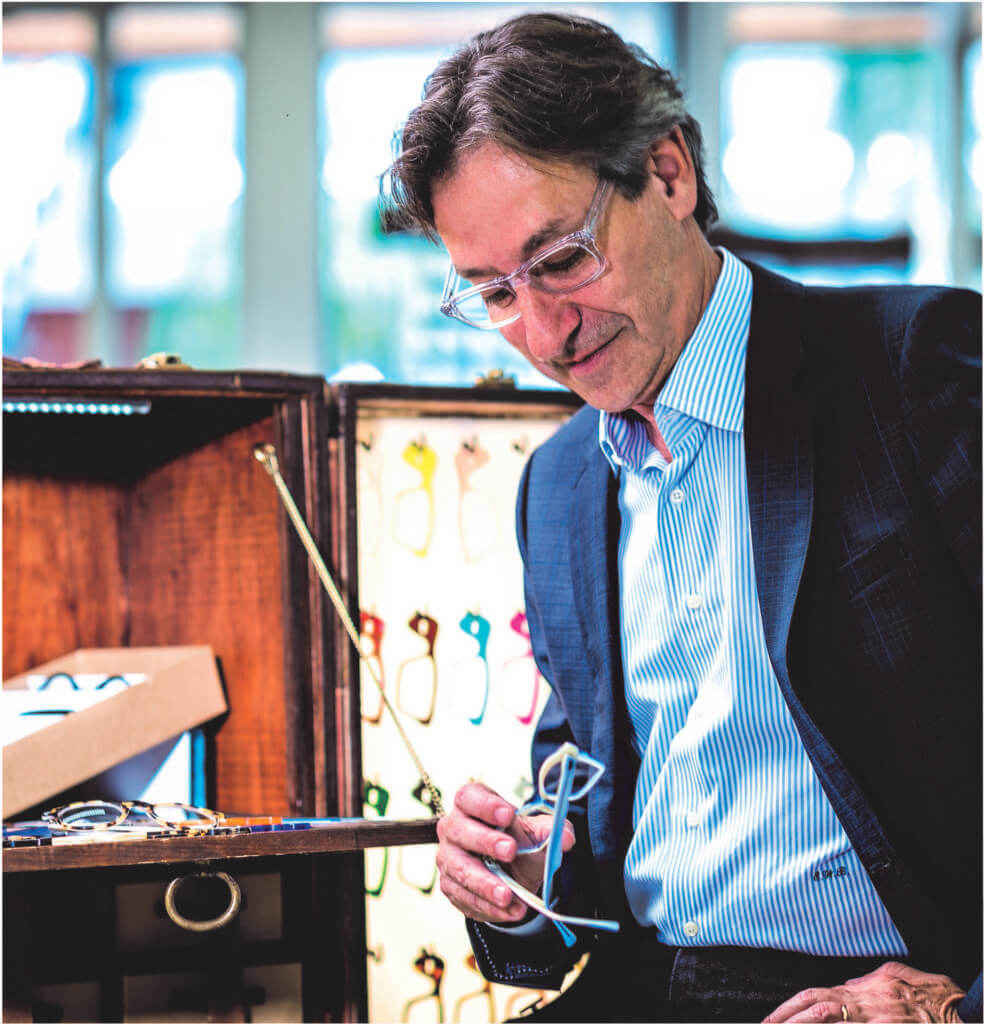 Beiner grew up in Santos, Brazil, a coastal city outside Sao Paulo. His father was a watchmaker turned jeweler whose elegant craftsmanship inspired Beiner's own. Even though Beiner didn't need a prescription, he was attracted to eyewear—and his intuition was to reshape the field. He worked at For Eyes in San Juan, Puerto Rico, and asked to be transferred to the U.S. for more opportunity. He settled in South Florida because it reminded him of his native Brazil. "It's green, it has the blue sky, the beach, the heat," he says. "The tropics are familiar."
When Beiner opened his first shop, it was hard to lure customers in. But he regularly traveled to Milan and Paris, stocking his store with designs that no one else had on this side of the Atlantic. Slowly, one customer at a time and through word of mouth, his business grew. He began opening more stores—including one beside the former Versace Mansion in the early '90s that has since closed. "We'd keep the store open all night," Beiner says, "and go for a walk in the morning." He was also one of the first retailers to partner with and elevate eyewear brands such as Barton Perreira and Salt.
Every year, Beiner donates frames to Bascom Palmer Eye Institute, considered the top eye hospital in the country, and regularly donates to schools and organizations including the Miami Lighthouse for the Blind, a nonprofit for people living with vision loss.
Most recently, his company competed against more than 50 national and international brands for Vision Expo's second annual OPTImum Retail Award, which honors independent boutique retailers, and was selected as the winner by top industry executives.
The hardest feat for Beiner when building his business was convincing new customers to pay luxury prices when discount retailers offered BOGO deals for under $100. But his logic is unabashedly convincing. "A pair of designer shoes can cost $800, a designer handbag a couple thousand," he says, framing his face. "But when you go to an event, the bag goes on the back of the chair and the shoes go under the table and the only thing that's left is this. My job is to say, 'Pay attention to your face!' It's our responsibility to sculpture people's faces."
This article originally appeared in the Summer 2019 Issue.