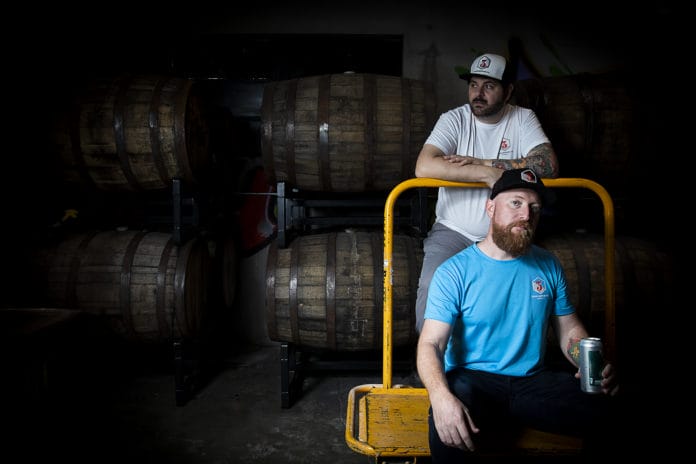 By Charlie Crespo
Portrait by Eduardo Schneider
Two things follow Corey Artanis wherever he goes: great beers and even greater expectations. The co-founder and head brewer of the newly opened 3 Sons Brewing in Dania Beach has become known for his massive, barrel-aged stouts and the difficulties people are willing to go through to acquire the brews.
The demand for Artanis' brews have led to record-breaking results. For example, the announcement of the brewery's "family membership," which gives perks to members, came without warning and, still, hundreds of beer aficionados lined up on a rainy day in May to acquire one. Also, the brewery's first release of "Hug Hug Kiss Kiss," a double-chocolate bourbon barrel-aged stout, sold out in less than 30 minutes. Too, tickets for the watering hole's inaugural festival earlier this year sold out in about 15 seconds.
The acclaim doesn't just come from local hopheads, either. RateBeer, an online platform for craft beer enthusiasts, bestowed the title of "Best New Brewer in the World" upon 3 Sons Brewing for 2018. Artanis is asked by breweries across the world to collaborate on recipes and participate in festivals, and he's recently made several trips to Chicago, New York City and Copenhagen.
You'd think the abundance of recognition for his work would yield arrogance; instead, a quiet confidence surrounds the soft-spoken Artanis. That said, he's not immune to nerves, particularly during this first year. After nomad brewing—essentially using rented space to work—for about five years and also working at Flagler Village Brewery, he's finally been able to settle down permanently.
"I was very nervous about opening and continually building all the hype," says Artanis, who named the brewery in honor of his three boys. "It took us over three years to open this place. That was definitely a concern."
Perhaps that lingering apprehension stems from what he's trying to do, which is something that South Florida—particularly the once-sleepy seaside town of Dania Beach—hasn't experienced yet. At breweries, one typically finds a rotating series of food trucks outside. One night it's tacos, the next burgers, and so on. But for Artanis, it was important to pair his award-winning beer with food worthy of accolades all on its own.
He enlisted the help of his co-founders: his father, Joseph, and executive chef Nicolay Adinaguev, whose fine dining background includes stints at Diplomat Prime, Verde and Steak 954. Artanis and Adinaguev met on the beer circuit in 2012 and have been friends since. When the Artanises approached the chef about spearheading the brewery's food program, Adinaguev didn't think twice.
"This is what makes me happy; this is what speaks to my soul," Adinaguev says. "It's simple. It goes against everything I've been taught in my career, but I love this."
So, no, you won't find the usual menu suspects like nachos or popcorn at 3 Sons Brewing. Instead, you'll do a double take when you see a watercress salad with preserved mango, marcona almonds, watermelon radish, shaved manchego cheese and a roasted-garlic vinaigrette dressing. Not in the mood for greens with your beer? Try the duck banh mi. The traditionally Vietnamese sandwich comes with roasted duck, house-made pate, pickled vegetables, cilantro, spicy aioli and chilis.
"We do seasonal," Artanis says. "We've already had several changes on the menu. The quality of the food is unbelievable."
Despite seasonal changes, the mainstay and star of the menu is the Neapolitan-style pizza, which gets baked in a wood-fired oven that the three co-founders insisted on installing. It already has fans willing to travel for it, and Adinaguev believes it improves with each pie that comes out of the oven.
Moving forward, he'd like to start a smoking program for barbecue-style meats and a fermentation program that produces sauerkraut and kimchi, as well as barrel-aged hot sauce.
On the other side of the house, Artanis has already filled 59 barrels and anticipates brewing anywhere from 1,200 to 1,800 barrels of beer this year. He is looking to build out his 1,400-square-foot cellar for beers produced from mixed-culture fermentation. The plan is for everything on draft—except for the imperial stouts—to be available in cans. Patrons can also expect beer-paired dinners that showcase the talents of both Artanis and Adinaguev.
With all of these arrangements at hand, the question remains: Is the public ready for something like 3 Sons Brewing yet?
"Do I think they are ready? No," Adinaguev says with a smile. "But it is just a matter of enlightening the local market, and that takes time. From what I've seen, Dania is open-minded."
If the early reviews are any indication, it seems like 3 Sons Brewing will bring Dania Beach exactly what it never knew it needed.
This article originally appeared in the Summer 2019 Issue.