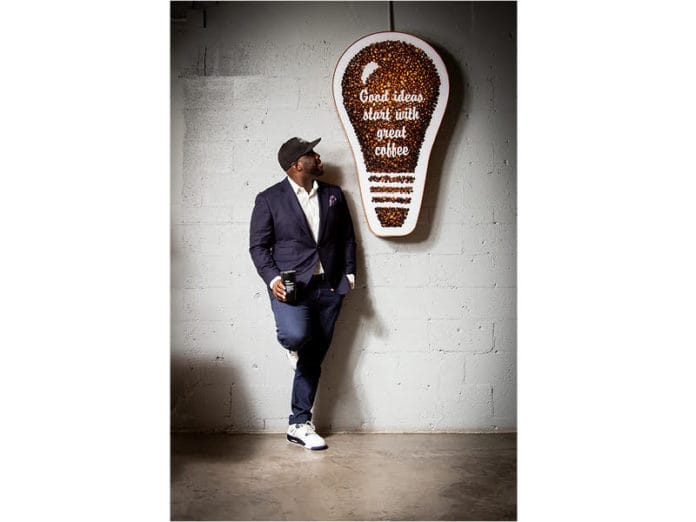 By Ryan Pfeffer
Portrait by Eduardo Schneider
When Stephen Tulloch opened the doors to Fort Lauderdale's Circle House Coffee in March, that terrifying thought common to small-business owners flashed across his mind: "I'm just hoping someone walks in."
Tulloch was not used to failure. Before he retired in 2017, he spent 11 seasons as one of the NFL's most consistent players, even holding the longest active streak for a linebacker at one point. He sums up his work ethic like this: "I come first. I leave last."
But would that be enough in this new post-NFL life?
Thankfully, it did not take a decade and 949 tackles for Tulloch to find out. People did, in fact, walk in. And they're still coming, which Tulloch knows because he spends every day at Circle House Coffee. Well, so far he's missed one day: Easter. But that's it.
"I'll take the trash out, clean the bathrooms, wipe the tables down," he says. "I want to show my staff that I'm not asking them to do anything I wouldn't do."
A lot of people probably hear about a former NFL linebacker opening a philanthropic coffee house and don't quite know what to make of it. That's understandable. Opening a neighborhood coffee shop doesn't fit into the typical narrative of a professional football player. But Tulloch prefers to create his own narrative, and for about as long as he can remember that story has revolved around giving back.
Growing up in Miami, Tulloch used to accompany his mother to her job at a nursing home as she struggled to support her family on her own. "My job was to push the patients in wheelchairs to bingo," he says. During his pro football career, he was a four-time finalist for the Walter Payton NFL Man of the Year Award, a two-time winner of the Detroit Lions' Robert Porcher Man of the Year Award and the recipient of something called the "Good Guy Award" (seriously). He also somehow found time to create the Stephen Tulloch Foundation, which aims to help underprivileged youth, and to write a children's book called The Little Linebacker. After his time with the NFL, Tulloch spent a year doing mission work in Africa, Haiti and South America.
Now, his first major post-NFL endeavor channels that spirit of service, which is why it feels a bit limiting to call Circle House Coffee just another coffee shop. Don't get us wrong—the java is delicious (Tulloch traveled to Seattle for formal barista training), and local collaborations with places like Mojo Donuts should satisfy stomachs, too. But if all goes according to plan (and it has so far), Circle House Coffee will serve as more than just another option for your caffeine fix.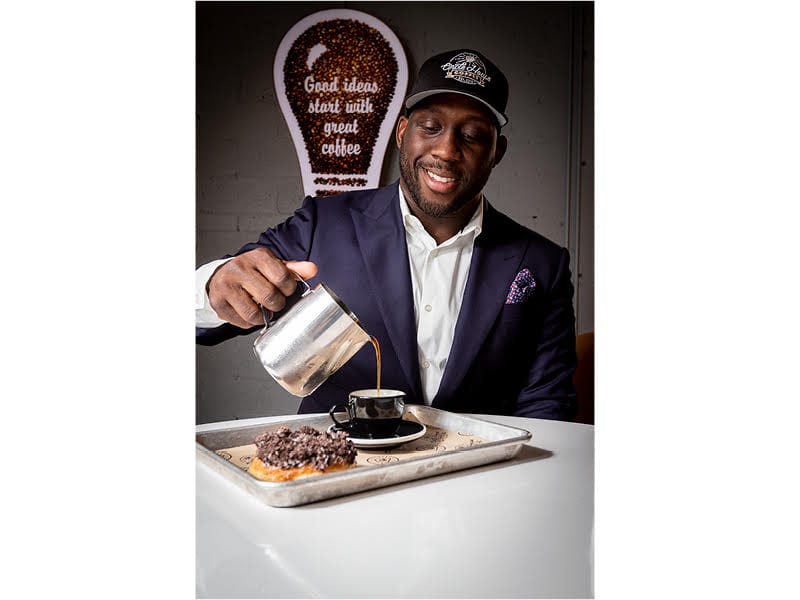 Tulloch makes his philosophy clear before patrons even walk into Circle House Coffee. The building's main mural, painted by Miami artist Rei Ramirez, depicts a group of people laughing over coffee. The important part: None of them look the same.
"When I decided to make this mural, I wanted it to show different shades of people from different backgrounds and really exemplify what Circle House is about," Tulloch says.
Beyond inclusivity, he wants his new café to be a catalyst for change in South Florida, and he's emphasizing that by, as he phrases it, "putting skin in the game." Circle House Coffee's "Round Up for Charity" program takes a chunk of the store's sales and contributes it—along with a donation from Tulloch's foundation—to a different charity every month. April's charity, North Fork Elementary, accepted an oversized check next to a beaming Tulloch. A month before that, the Dolphins Cancer Challenge was tapped to receive a donation.
"Yeah, we sell great products," Tulloch says, "but the main focus is being able to bless people."
It's a focus he hopes could prove contagious.
"I mean, man…" he says, trailing off, dreaming big. "If we can open 30, 40, 50 of these across the country, we can make a real difference."
This article originally appeared in the Summer 2019 Issue.