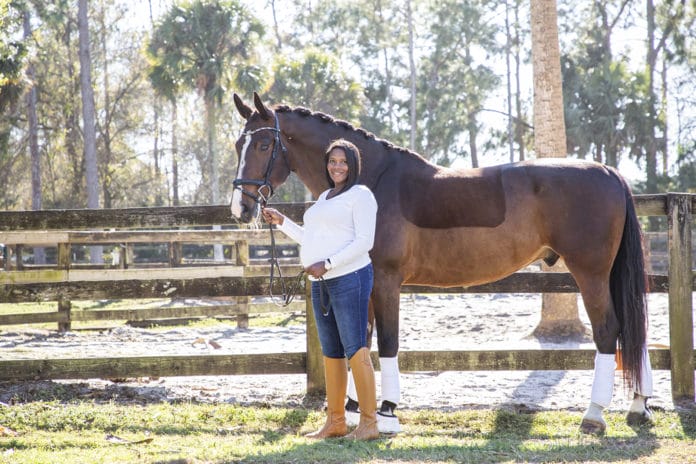 By Leslie Streeter Gray
Portrait by Jason Nuttle
"Little Black girls don't ride."
Philesha Chandler remembers hearing those words as a kid, when she was a rare face of color peeking out from under a helmet at equestrian events. Though she's in an industry where just 3.2% of those working are Black, according to a recent job study from career site Zippia, Chandler aims to be visible proof that little Black girls can, do and will continue to ride.
"That's what it's always been about," Chandler, 39, says. "My grandmother used to say, 'You're not just doing it for you; you're doing it for the next little Black girl who comes along.'"
While horseback riding isn't a new activity for Black Americans—according to the International Museum of the Horse, that history can be traced back to the days of slavery, continuing through farming, the U.S. cavalry regiments known as Buffalo Soldiers, horse racing and more—they are often underrepresented among today's equestrian athletes.
"For those of us who grew up around Black riders, this isn't foreign," says Abriana Johnson, co-host of the Young Black Equestrians podcast. "But you can't convince people by talking about it. Instead, you have to show them."
Obsessed with horses while growing up in Wichita, Kansas, Chandler started riding when she was 8 years old. "My instructor said I was a natural," she says. "My grandma would drop me off at the barn, and I'd be there all day long."
Her interest was met with curiosity by Black people outside the horse world who had never seen a rider who looked like her. Her lankiness, they said, might be better suited for track. But Chandler knew her destiny was riding, not running. "I don't run unless something's trying to murder me," she says, laughing.
Undeterred, Chandler began to focus on dressage, where rider and horse go through a series of mandatory movements, with dreams of competing in the Olympics. Though her grandmother, now-retired Wichita State University professor Dr. Anna Chandler, raised her since she was 2 and worked tirelessly to provide what she could, the young Chandler still had to offset the high expenses of her riding lessons and equipment by mucking stalls, clipping horses and teaching summer camp like other kids.
But unlike her peers, who were all white, Chandler was also summoned to the home of her second trainer "to come up and clean her house," she says. "I eventually realized I was the only one. If my grandmother had known, she would have snatched me out of there."
At the time, though, Chandler says she was willing to do whatever it took to progress and get lessons. "I chose not to let these experiences and people make me start doubting myself," she says. "I had to do what made me happy and keep pushing myself."
Chandler spent years competing but never made it to the Olympics. She'd decided to take a break, even leasing her horse Marsel to a friend, when she saw an advertisement for what turned out to be a Fox reality show called "The Search for America's Next Equestrian Star: Dressage." The prize was a saddle, a horse trailer and, most impressively, a job with Chandler's idol: Wellington-based dressage rider Robert Dover, a six-time Olympian and four-time bronze medal winner.
"I was like, 'Uh-oh, I don't know how this is going. I'm basically shy, pretty much mute around people. I don't know what I've gotten myself into,'" she says. Still, she wound up winning the 2007 show because of her talent and because "she just had that X-factor," says Dover, who Chandler worked with for a year.
From there, Chandler went on to work for American Grand Prix rider Arlene Page and Olympic medalist show jumper Kent Farrington. She now works on her own, giving lessons.
While she's not in the saddle right now—she and fiancé Joshua Johnson are expecting a daughter in May to join son Preston, 11—Chandler is still proud of being a public face for Black riders and hopes to start a formal program to support them with financial backing. Now based in Wellington, Chandler sees hope and promise in a potential program, especially after connecting with athletes like Deonte Sewell, a 23-year-old event rider from Elkton, Maryland, one of 27 winners of Nation Media's Diversity Scholarship in 2020.
"I was so honored to see that there was an African American woman with such experience," Sewell says of Chandler. "I reached out to her, and she was more than willing to meet."
At the end of the day, that connection to riders like Sewell is part of what sustains Chandler because she gets to be the role model she didn't have.
"It's like my grandmother said: You do it for the next one," she says. "It's about more than me." 
This article originally appeared in the Spring 2021 Issue.