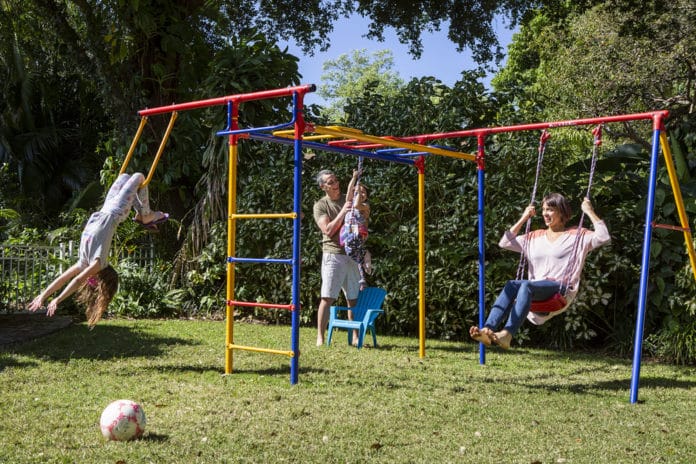 By Nila Do Simon
Photography by Jason Nuttle
Leaning back into a mustard-colored leather recliner in the family room of the her midcentury-modern-inspired home in the Rio Vista neighborhood, Anna Sorensen describes her husband of seven years, Ben Sorensen, as succinctly as she can. "He's a human exclamation point," she says.
It's a rare Friday afternoon when Anna and Ben have the house to themselves. Their two young daughters, Alexandra and Louise, are both at school, and pickup isn't for another couple of hours. It's a chance to, Anna says, "look each other in the eye as we navigate the rhythm of our complex schedules."
After learning more about said schedules, it can be easy to understand why these moments to themselves might be especially uncommon. Though Anna, 40, considers her husband an exclamation point, the rest of Fort Lauderdale might consider Ben, 41, a multihyphenate: a city commissioner, preacher, entrepreneur and lieutenant commander in the U.S. Navy Reserve, all packaged under a boyish guise and earnest demeanor.
The two met in 2009, when Ben was a member of Leadership Broward's XXVII class and Anna was the Leadership Broward Foundation's director of development. She remembers Ben's exact location when he caught her eye: the dance floor. For every graduating Leadership Broward class, the year culminates with a gala of sorts—a chance to let loose and look back at the shared experiences of community service and leadership building. There, Anna saw Ben in a big circle of friends with everyone chanting, "Go, Ben! Go, Ben!" to the beat of each of the '80s songs. As he flailed his arms, kicked his legs and mouthed the words to "Danger Zone," Ben's enthusiasm electrified Anna.
"When he dances, he just gets out there and feels it," Anna says. "He looks like he's just excited to be alive."
With this enthusiasm comes a serious side. Two years ago and a few months after he was sworn in, Ben made the news after he moved his city commissioner office from City Hall to the controversial homeless encampment that had overtaken the tree-lined plaza north of the Broward County Main Library. For nearly six months—and in the height of the commotion—Ben held meetings, met with staff and clocked in and out from his makeshift office in the middle of what became known as "tent city." For meetings at his "satellite office," as he calls it, his staff even had to create and send out a basic map pointing to the exact location—which featured an ordinary tent canopy, a plastic table and folding chairs—because, after all, there was no address to enter into one's GPS.
While everyone from downtown commuters to business owners to city officials felt the pop-up tents housing an estimated 80 overnight squatters were at the very least an eyesore, Ben saw the situation through a different lens. "I felt I'd understand more about the people and their situation if I was in the encampment," he says. "I thought, 'Let me go down there and be with the people.'"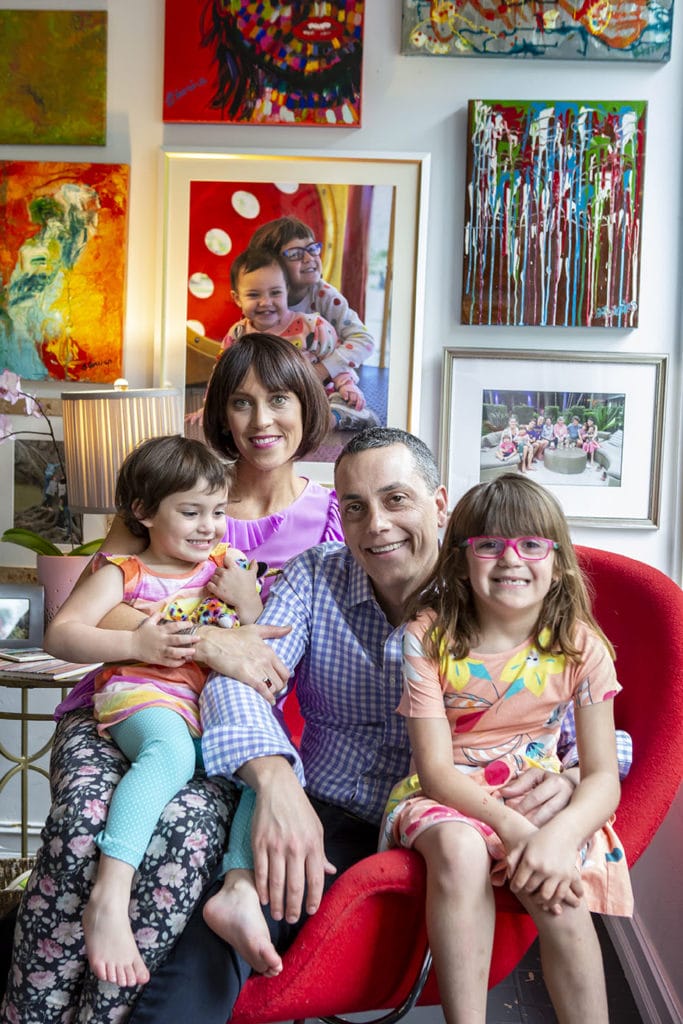 What he saw was more complex than he could have imagined. He remembers speaking with a couple living in the encampment who had hit a wall in their careers. Their work hours were limited because at least one of them had to guard the tent to ensure none of their belongings went missing. Ben also saw the pain that came with drug addiction, which oftentimes only grew, with few services or resources available to help the tenants.
But he also saw hope. In his frequent chats with a woman named Angel, who he calls his "buddy," Ben kept assuring her that the city was working to find a solution for her and others. "You are going to be able to pull yourself up and be in a place where you're safe and comfortable," he kept telling her, and she never gave up hope.
For her part, Anna had concerns with her husband being in the middle of the encampment that many considered lawless, especially after gunshots rang out one day in August 2018, a few hours after Ben left. Frankly, she was worried about the optics of her husband's move.
"I thought the public would misinterpret his actions and think it was a stunt, that he was just acting to get attention," she says. "I knew his authenticity but others didn't, so I thought his move could backfire." But it didn't. Working with his fellow commissioners, the mayor, local nonprofits and businesses (including the United Way of Broward and AutoNation), and others, Ben eventually closed the encampment at the end of 2018. After the residents were relocated to either permanent or temporary housing, or reunited with their families, Ben shut down his satellite office.
Raised in Gainesville, Florida, Ben grew up in a service-focused household. Both his paternal grandfather, Albert, and father, Andrew, were ministers. On top of that, his father served as the executive director of the AIDS Institute at the Johns Hopkins Medical Institutions before becoming the provost and vice president of academic affairs at the University of Florida, and later the president of the University of Alabama and then the University of South Carolina.
At his own urging, Ben has six academic degrees, including a law degree from Georgetown University, a master's in leadership from Duquesne University and a doctorate in ministry from Amridge University. While in law school, he co-founded a leadership training and consultation business, Optimum Associates, which he still spearheads. In 2008, he joined the military, a decision prompted by an overwhelming sense of duty he felt from living in New York during the September 11 terrorist attacks paired with his interactions with friends who had served in Afghanistan. Today, as a lieutenant commander in the U.S. Navy Reserve, his role includes monitoring and analyzing real-time intelligence.
On paper, Ben's interests—from his intelligence work to his position as a government figure to his pastoral duties—appear varied and overwhelming. But he sums up his life's work in the simplest way he knows how, through Scripture with Luke 12:48. The passage describes how if one has been gifted strong abilities, they're encouraged to share them with others so a larger population can also benefit.
"That verse is a guiding part of my life," he says. "I've been given so much. How do I use that for good? What the Scripture tells me is that these gifts I've been given come with opportunities to make the world and my community a better place."
You wouldn't be alone if you got a bit overwhelmed from reading his rather dizzying resume; his wife feels the same. "Ben has a full-throttle mentality," Anna says. "He is uncompromising in terms of his moral and ethical compass."
A native of Baton Rouge, Louisiana, Anna came to Fort Lauderdale to start a new life after Hurricane Katrina devastated the surrounding areas. She found a deep connection with nonprofits, promoting their goals and helping the underserved, and began a 15-year career (and counting) in the sector.
This brings us to the Leadership Broward gala that saw Ben cutting up on the dance floor. Anna couldn't help but smile at his unadulterated love of 1980s songs. The two kept tabs on each other over the next couple of years, mostly through their circle of friends and social media platforms. The digital connection proved pivotal, as the two would later find out. Anna moved back to Louisiana to become the interim executive director at the historic Le Petit Theatre du Vieux Carre and was in the process of separating and divorcing from her first husband.
During the Thanksgiving holiday, a reflective time of the year for Ben, he remembers thinking about how fulfilled he was in all facets of his life except love. "I started thinking about people I had met over the years who had qualities I really appreciated and admired, and the first person who came to mind was Anna," he says. Just as he was scrolling through Anna's Facebook profile, he received a direct message on the social media site. Out of nowhere, Anna had reached out to say hi.
Today, as the couple wait for the school bell to ring to pick up their daughters, it's a chance for them to muse over the life they are building together, despite some small differences. Though her husband serves as a preacher, Anna says the brick-and-mortar part of church didn't play a major part in her life—"But the belief that God played a part in my life did," she says, "as well as the phrase love thy neighbor." Ben is OK with that. For his sermons, including a recent one at the Community Presbyterian Church of Deerfield Beach, Ben welcomes Anna's thoughts on various topics, such as how to rethink the Parable of the Good Samaritan. (Spoiler alert: There can be a chain of people who help out, not just one good Samaritan.)
Artsy, creative and with an admitted interest in midcentury-modern design, Anna works at NSU Art Museum Fort Lauderdale as its director of development. Her mom's colorful paintings hang throughout the family's home, including a bright blue and purple piece that resembles the ocean. "She painted that for me when I was going through my divorce," Anna says. "We were talking about grief and anger and how it comes in waves. It was such a loving gesture and her way of caring for me."
Despite his multitude of titles, including his first taste of public office, Ben is still the same guy who busted a move on the dance floor 11 years ago, Anna says. In fact, every year they celebrate New Year's Eve in downtown Fort Lauderdale at the anchor drop (the city's equivalent to Times Square's ball drop) by dancing in the street, alongside a large crowd.
"Ben is still knees to elbows, and he's just getting down," Anna says. "When we dance, it's joyful and with wild abandon, and we couldn't care less if anyone is watching. One day it might not be that way, but for now, we just want to dance."
This article originally appeared in the Spring 2020 Issue.