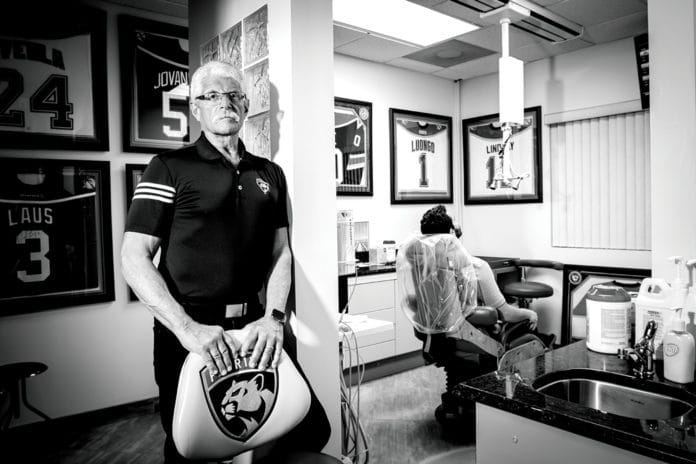 By Ryan Pfeffer
Photography by Eduardo Schneider
It is one of those videos you feel more than watch. The clip from that game is easy to find—all you have to do is type in some combination of "puck," "face" and "Keith Yandle." It all happens fast, as most things in hockey do. In the first period, a Carolina Hurricanes player whacks the puck, sending it into the air like a missile. The next thing you hear is everyone in the arena with a clear view of Yandle's face letting out one big "ooh." The Panthers defenseman immediately skates toward the locker room, appearing more annoyed than genuinely panicked. As the camera zooms in, you can see him spit something into his hand and—if you haven't already covered your eyes—you'll spot a stream of red liquid start leaking onto the ice.
Dr. Martin Robins, the team dentist for the Florida Panthers, was not in Raleigh, North Carolina, on November 23. It was an away match (team dentists generally only attend home games), so as is customary in the NHL, the home team's dentist pulled double duty for both teams. That dentist's reaction was not very reassuring, but it didn't matter much to Yandle. He holds the longest active Ironman streak in the NHL for most consecutive games played. At the time of this writing, he's fourth on the league's all-time list at 863 straight games. Knowing that, it comes as no surprise that after the dental trauma, he returned in the third period of that very same match.
But when Yandle flew home to South Florida, it was time for Robins to get to work. This was hardly his first time dealing with a serious injury. Robin has been the Panthers' dentist since their inaugural year, 1993, and he's worked over 1,000 games. But this was bad.
"I got phone calls from Europe," Robins remembers. "I had hockey guys I've known for years asking, 'How bad?'"
Very bad, was the answer. The puck wiped out nine of Yandle's teeth, and that wasn't even the worst part. "It was the broken jaw," Robins says. "His lips were so swollen that we couldn't get to the mouth for about five or six days."
But Robins had no time to waste trying to put the puzzle that was Yandle's face back together. The Panthers had a home game the next day against the Buffalo Sabres, and even though Yandle's road to having a functional mouth was going to be a long one, he was active for that game. His Ironman streak still stands.
"My anxiety when I go to the dentist is bad," Yandle says from the Panthers' locker room after practice in February. As he speaks, one can't help but look inside his mouth. Shockingly, there isn't much evidence of the puck incident in his smile, thanks to some impressive dental work. "But Robins' calmness and demeanor helped," Yandle says. "The only good thing that came with it was getting a good relationship with Marty and making a new friend."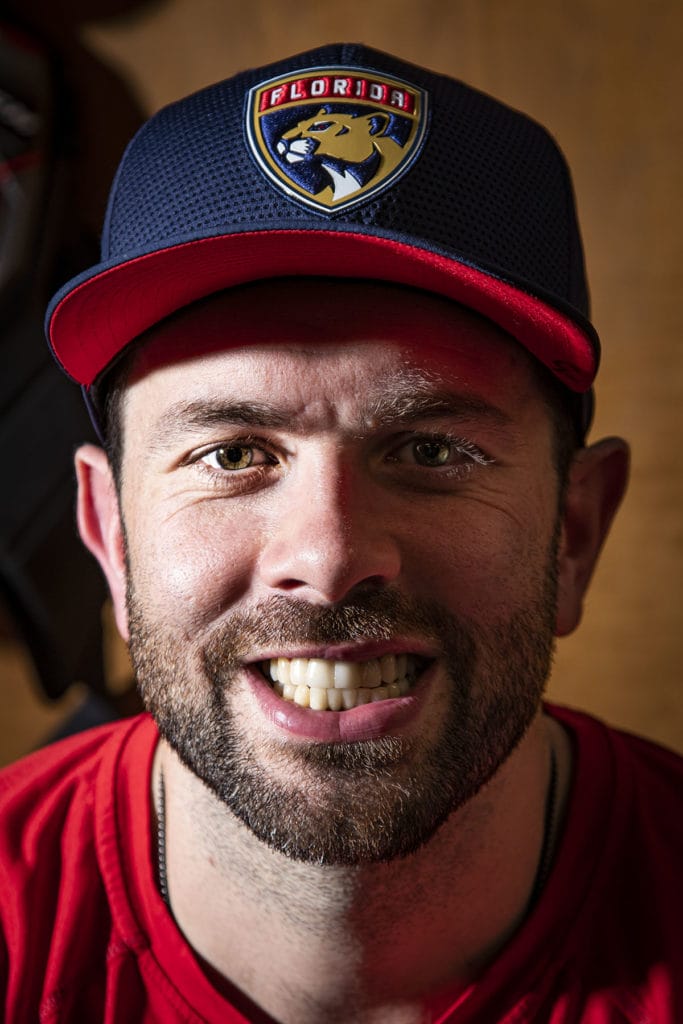 Robins has made a lot of those since he joined the Panthers staff. As the lean New York native gives a tour of his Boca Raton office, which is somewhere between a man cave and dentist's office, his passion for the team becomes obvious. Nearly every square inch of wall space has some sort of hockey memorabilia, and he can recall specific memories from each keepsake. There are pucks, posters and sticks hiding in every corner. He has a dentist's chair embroidered with the Panthers logo. A signed photo from former goalie Craig Anderson hangs right by the reception desk. "To Marty," it reads. "Thanks for the smile!"
When Robins graduated from New York University's dental school and moved to South Florida to open his own practice, joining the ranks of the hockey world wasn't necessarily part of the plan. He was raising a family and getting established when a friend who was close with the organization suggested Robins for the gig. Now he's the only original member of the Panthers' medical team left.
"I never would have thought I'd be the last doc standing, so to speak," Robins says.
The NHL was a slightly different place back in the '90s. When he started, Robins estimates about 90% of the team didn't wear mouthguards. Now he says that's flipped the other way—even though there's only so much good a mouthguard can do if you take a flying puck to the face. (FYI: Yandle was wearing one on November 23.)
But the overall attitude of players' regard for their face has shifted a bit, Robins thinks. "For the young guys, their moms and dads spent a lot of money on braces and everything else, so their expectations are to keep those teeth," he says.
Robins is happy to help the new generation keep their smiles as perfect as possible. Even though he reminisces fondly about the old-school NHL—with stories like that time an equipment manager mailed a player's false teeth to the player's mother—his priority is always the players' health. And sometimes, his work has an impact off the ice, too.
"When it happened, my kids were horrified to look at me for a couple of weeks," Yandle says. His children were 8 and 6 years old at the time of that fateful November game, and understandably scared to see their father in that state. "The first day I got back with new teeth, they were so happy—and Robins loved hearing that."
Robins still talks about that injury in a state of disbelief. "The amount of hours he spent here…" he says, his voice trailing off as he stares at a glass display case holding little Russian doll versions of Panthers players.
"He's not done yet," Robins says, rather cautiously. "But the worst is over. Now it's just making it look pretty."
This article originally appeared in the Spring 2020 Issue.