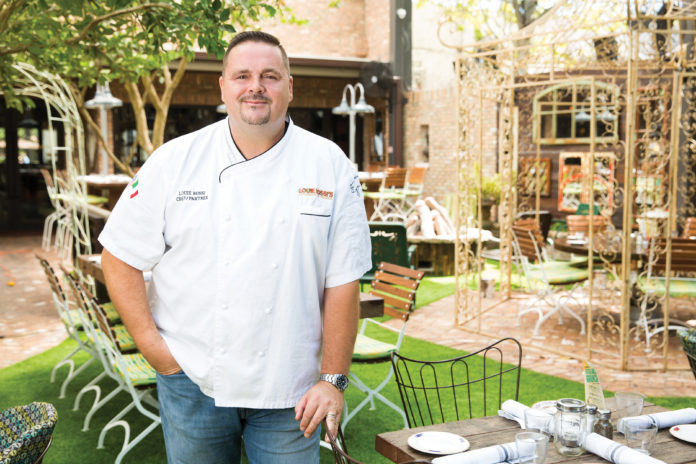 By Jan Norris
His story is directly from the headlines: absentee parent, dropouts, opiates, homelessness.
"I've been to very dark places in my life," Louie Bossi says.
The 49-year-old executive chef and partner in Louie Bossi's Ristorante Bar and Pizzeria made news with the spring opening of his second location, this one in Boca Raton on East Palmetto Park Road. The restaurant is part of the Big Time Restaurant Group, which counts Rocco's Tacos, City Oyster and the original Louie Bossi's in Fort Lauderdale among its portfolio of eateries.
The soft-spoken big man with dark curly hair believes he's finally through his roughest days and wants to tell his story to help others in what he describes as the "crazy culinary lifestyle" stay straight and sober.
Like many of today's chefs, he was a child cook. But for Bossi, it was a necessity. Raised in Queens, New York, and Lyndhurst, New Jersey, by a single mom who worked three jobs, Bossi admits cooking as a child was a matter of survival. Raised in an Italian family, he taught himself how to cook at 8 years old. In a couple of years, he was already making lunch for classmates. "They loved my cooking," he says. "Looking for the positive feedback from them was like a drug in itself."
Real drugs came in his teens, starting with alcohol. He dropped out of school before his sophomore year and started living on his own. While working in small pizza shops on both sides of the river in New York and New Jersey, he dabbled in heroin—easy to obtain through co-workers, he says. But the opiate's physical addiction took him down.
In 1992, medics saved his life after he overdosed on a subway. Several tries at recovery followed. A move to Florida in 1997 proved to be a positive step. Bossi met his wife, Toni, in a recovery session and became a father in 2001. He honed his chef skills while on the job, working within the Big Time Restaurant Group under partner Todd Herbst's tutelage.
But demons returned, and he used again. This time, he began living in his car and lost his young family. "I had no contact with them for a year," he says.
That was his rock bottom, Bossi says. He abandoned the top chef mode and focused on recovery, taking a job that included making salads for $11 an hour. He worked 25 hours a week and spent 30 hours in group meetings and therapy.
Now sober for nine years, he still attends meetings daily. He pays it forward by serving as a mentor and giving jobs to others in recovery. He also advises fellow chefs on how to handle addicts with tough love.
He's writing a book about his challenges and recently hosted the inaugural Taste of Recovery, a culinary festival and benefit event held in Delray Beach in June. Bossi hopes both endeavors call awareness to the drug problems that have long lingered behind kitchen doors.
"I give anybody credit who is in recovery—especially chefs in recovery," he says. "This industry could have been my death, too."
Originally appeared in the Summer 2017 Issue.