Written by Alyssa Morlacci
Photography by Jeramy Aréf
Painter and sculptor Brendan Murphy can now add record breaking NFT artist to his list of hyphenates.
Recently, the artist introduced the Boonji Project, launching 11,111 uniquely different avatars into the ether. Almost immediately after launching in October, his NFT sales hit more than $15.5 million.
The Boonji Spaceman has been represented in Murphy's paintings and sculptures for years. His more tangible pieces can be found locally at New River Fine Art on Las Olas. Gallery owner, Lisa Burgess, represents Murphy's work and believes it's his varied background, creative thinking and positivity that sets the artist apart.
"From professional athlete to Wall Street trader to artist, Murphy combines elements from his life experience with positive messaging to reveal deeper contemplations in his sculpture and paintings" says Burgess. "He believes it is in art's potential where we can most universally transmit positive energy. He recognizes the effect this energy, when experienced as a collective, can have on society as a whole."
This past summer, Murphy finished the public art installation "Boonji Spaceman" from his Miami studio in Little Haiti. Made with steel, coated in carbon fiber and finished with silver-based chrome, the astronaut figure is tossing its arms in the air like a gymnast who's just stuck a landing. The sculpture, which stands around 20 feet tall, was shipped off and permanently installed at the Hodges Bay Resort in Antigua.
Up close, island guests can attempt to decode the letters and numbers painted in white across the Boonji, from helmet to boots. But they'll soon realize the words don't make sentences and the mathematical formulas equate to nothing. "Visually, it's supposed to replicate working something out, working out a problem, but there is no right answer," Murphy says.
By taking the legitimacy away from numbers, Murphy is in a sense rebelling from his past lives—first as a professional basketball player in Germany, scoring points in order to win the game, and later, as a trader on Wall Street, analyzing market trends to predict which stocks would yield the highest returns.
In 2001, Murphy, like many who lived in New York at the time of the September 11 attacks, packed up and not only left the city, but also left his career in order to pursue an entirely different profession in the arts.
"I decided I was a creative person; that was the first part of this that I had to accept," he recalls. "I don't come from that background, so [I had to] just accept that I was about to go do something that I didn't even have the vocabulary for—the idea I would make stuff for a living."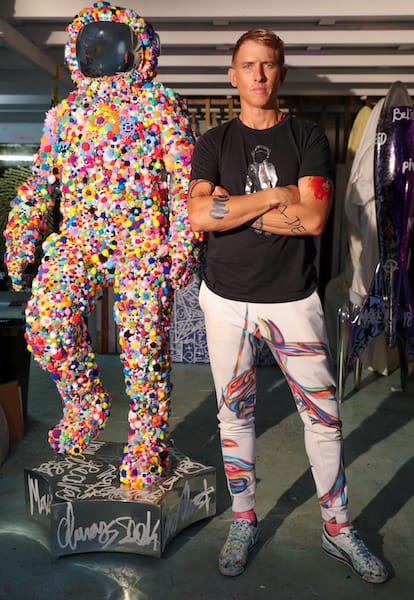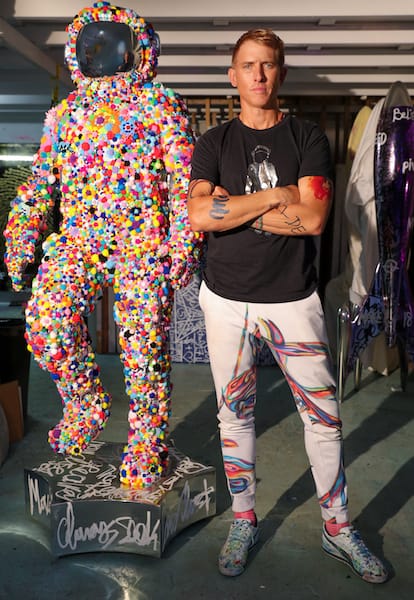 He had no formal training or guidance; the only experience he touted up until that moment was in creating the art he hung on the walls in his own apartment. Reaching for the most obvious tools—brushes and canvas—he drove up to the cabin he owned along the river in Rhode Island and began painting.
Between creative projects, Murphy took up tennis, a hobby that led him to meet an influential contemporary artist, Eric Fischl. Their friendship led to introductions with other prominent painters, namely Ross Bleckner and David Salle.
"Just hanging around them, I was able to see what it was like to be a successful artist," he says. "That was a big deal because you learn what it takes. You learn how they approach the day. You see the consistency."
Spending time with other artists expanded Murphy's belief in what was possible and fanned his curiosity. In fact, he even became fascinated with the act of exploration, making it a central theme in his art—hence his most iconic and recurring character, the Boonji Spaceman.
"My art deals with how we embrace the unknown, so who better to exemplify embracing the unknown than the guy jumping out of the spaceship?" he asks.