By Larry Schwingel
Bahia Mar Fort Lauderdale Beach Hotel and Marina may best be known as the site of the world-famous Fort Lauderdale International Boat Show, but the property itself has had a checkered past of legal battles, illicit trade and even a hanging.
In 1839, the area was first established as a fort for the United States Army and named Fort Lauderdale after Major William Lauderdale, who served during the Second Seminole War. Two decades later, five Houses of Refuge were erected to accommodate shipwrecked sailors, eventually becoming home to U.S. Coast Guard Base 6 in 1926. While the Houses of Refuge were originally built as life-saving stations, during Prohibition they were popularly referred to as "rum-running stations." During one midnight run in 1927, 80 rum-running boats were seized and the illegal liquor was presumably burned by the Coast Guard. During the standoff, American prohibitionist agent Sydney C. Sanderlin was killed by Tampa native and rum runner James Alderman and two other crew members. After Alderman was tried and convicted, he was executed by hanging where the Bahia Mar Hotel and Marina now stands—making him the first and last to die by legal hanging in Broward­ County.

The property's problems didn't end there. Marred by legal battles and bankruptcy filings, Uncle Sam finally authorized the sale of the land to the city, but the city didn't have the cash, so officials reached out to private donors. Local business owners with a personal stake in the improvement of the area raised the money and began developing the property, which included a fuel station and a main building to be leased for $300 per month. The ocean frontage was then divided into eight parcels and sold to a developer as the site of Sunrise Shores Resort.
In the late 1940s, a marina was built on the property with three miles of concrete docks to accommodate 400 boats on roughly 33 acres of land along with an ocean frontage of approximately 2,600 feet. The marina opened on December 1, 1949, but two years later developers defaulted on the annual property rent of $160,000 and filed for bankruptcy.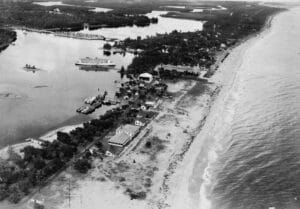 After a series of owners, bankruptcies and court battles, the city regained control of the property and, after a citywide naming contest, christened it Bahia Mar. Ten years later, in July 1959, the first Fort Lauderdale Boat Show—which included 13 exhibitors, five of them boat dealers—was held. Over the years FLIBS has grown into a global event attracting more than 100,000 people annually from more than 52 countries. Thanks in large part to Bahia Mar, Fort Lauderdale is now considered the "Yachting Capital of the World"—a far cry from the original Army fort, refuge shanties and rum-running stations of yesteryear.