By Christie Galeano-DeMott
We've all had Mediterranean fare, whether we've traveled abroad or savored it locally. But what chef Brandon Salomon is serving up at Evelyn's Fort Lauderdale is innovative, artful and, frankly, sublime. With dishes rooted in the Levant region, classic Mediterranean flavors and spices—like sumac, tamarind, coriander, turmeric, cardamom and saffron—take on new life at this restaurant that's reminiscent of a luxury yacht in its nautical design, stellar service and sprawling ocean views.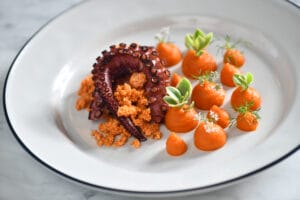 Evelyn's is named after Evelyn Fortune Lilly Bartlett, the third wife of Frederic Bartlett, who received 700 feet of beachfront property and the Bonnet House as a wedding gift from his then father-in-law Hugh Taylor Birch when Bartlett married Birch's daughter Helen. After Helen died, Birch and Bartlett remained friends; Birch even attended Frederick and Evelyn's wedding.  Evelyn transformed the property into an animal and flora preserve with monkeys clamoring in the trees, a vast variety of orchids and a commitment to preserving the home for future generations. Subtle hints of Evelyn are found throughout the restaurant, from the ombré effect on the menus (inspired by one of Evelyn's paintings) to the Rangpur Daiquiri (inspired by the Rangpur limes that Evelyn grew).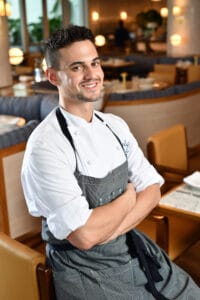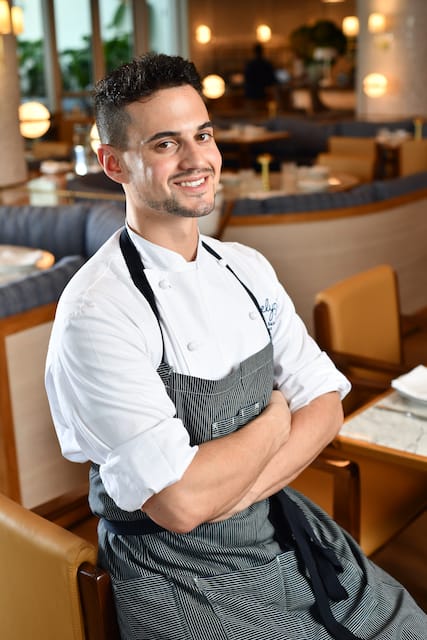 "Coming in we wanted a local connection to embody the spirit and vibe of Fort Lauderdale," says Mazen Saleh, the property's general manager, explaining the inspiration for the restaurant's name. "We wanted something familiar to the community but also something that represents Fort Lauderdale's history."
Salomon, who says he's never been to the Levant region (which encompasses Israel, Jordan, Lebanon, Syria, Palestine and most of Turkey) grew up on Long Island and studied in Hyde Park, New York, amid expansive terrains, blooming orchards and farm-to-table provisions. That experience with straight-from-the-ground food is what he's bringing to Evelyn's. His hazel eyes, with olive and chartreuse undertones, light up when talking about a delivery of ramps that came in and his ideas for the wild onions. At Evelyn's he adroitly delivers fresh, vegetable-forward cuisine that's fused with Mediterranean style.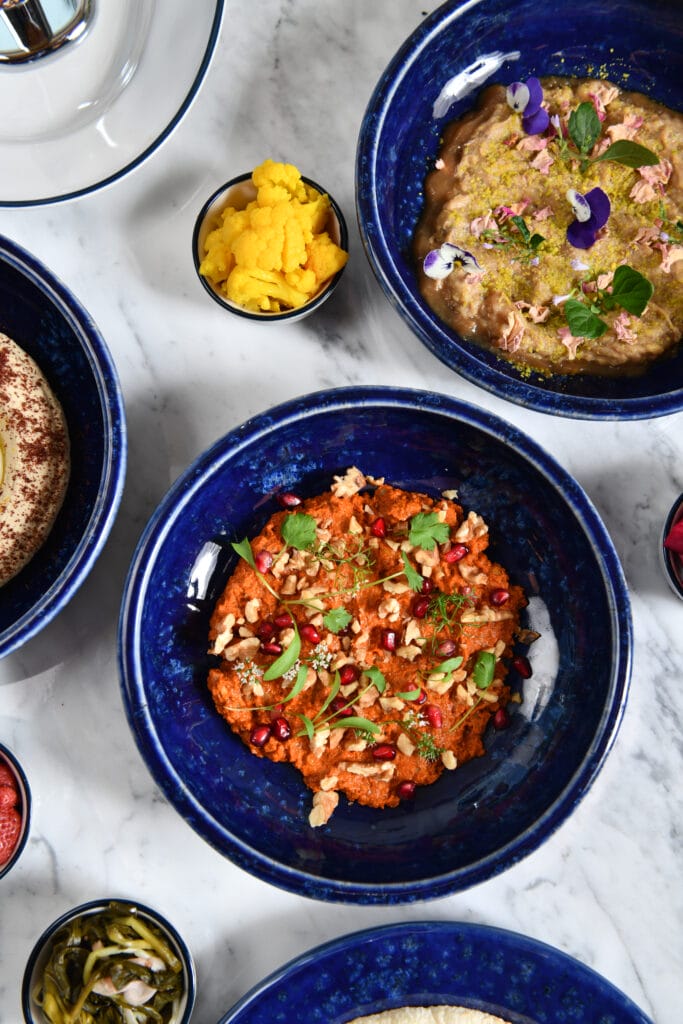 Renowned chef Mauro Colagreco fostered Salomon's appreciation of and dedication to Mediterranean cuisine. After a few stints with Marriott International, Salomon landed an entry-level-cook position at the Four Seasons Resort Palm Beach in 2015. He certainly he took advantage of the opportunity. By 2018, Salomon was cooking alongside Colagreco when he was invited to train at the chef's three-Michelin-starred restaurant, Mirazur, on the French Riviera. Meanwhile, Colagreco partnered with the Four Seasons Resort to create its signature restaurant, Florie's. which opened in January 2019. When Salomon returned to Florida, he was appointed sous chef at Florie's, where he spent three years fine-tuning his craft. When Salomon heard whispers about an opening date for the Four Seasons Hotel and Residences Fort Lauderdale, he threw his hat in the ring, pining for that next opportunity. "It was something I worked so hard for," he says "I still sometimes look at my business card and think, 'Oh wow, I'm a restaurant chef.' It's only been [a few weeks] since we've been open, but there's so much more that I want to do. I'm never one to just settle."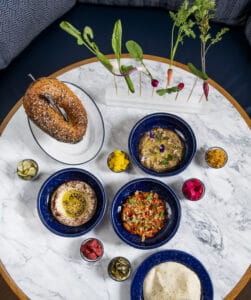 In this first post as boss, Salomon has a lot to prove. He's young, turning 30 this summer, with boyish charm and a gentle demeanor that radiates a fiery passion for food. He's talented and creative. His dishes are playful, with hints of whimsy, but also purposeful and well-executed.  Take, for example, his Australian Wagyu beef skewers. A traditional Eastern Mediterranean dish, the shish kebab is meat on a stick. But at Evelyn's, as the tender hunks of beef coated in a sweet date barbecue sauce arrive tableside, orange-blossom water is poured onto the sizzling stone grill creating a billowing cloud for the Wagyu to float on.
Salomon's personal experiences are reflected in the menu. The massive Jerusalem Everything Bagel, which comes hanging on a shiny silver stand and has a drolly named "ufra-thing" seasoning in reference to the Turkish Urfa pepper, He says that the Jerusalem Everything Bagel, which is seasoned with Turkish Urfa pepper, reminds him of the job he had working at his grandparents' kosher bakery while he was in middle school.  The Grand Mezze is inspired by memories of his Moroccan grandmother's table, which was usually covered with small plates of homemade treats. The dish is a collection of smoked eggplant, charred red pepper and hummus dips alongside a selection of pickles served with Middle Eastern-style kimchi, made with coriander, Aleppo pepper, turmeric and cumin. But it's the fanciful presentation of the vegetables that takes this dish to another level. Petite carrots, radishes and cucumbers on slender stilts seem as if they've just been picked from Salomon's garden.
"The restaurant is about discovery, about the experience," Salomon says.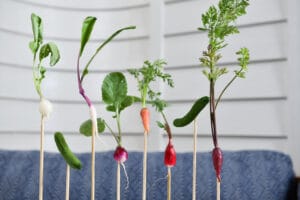 Evelyn's menu isn't extensive, but it does offer approachable quality cuisine. Being a hotel restaurant that caters to international guests alongside locals, ingredients are simplified for clarity; baba ghanoush is dubbed smoked eggplant on the menu, and the ever-popular Eastern Mediterranean jallab syrup is referred to as date molasses. But simple doesn't mean bland, boring or basic by any means. Octopus is prevalent on menus around town, but Salomon has a novel take on it. Presented in a hazy glass cloche emanating smoke, the octopus is revealed, topped with a crunchy carrot crumble and sharing the plate with creamy vadouvan carrot puree that's piped onto the plate and topped with dill to resemble carrot tops. "It's just fun. We're constantly playing around with different vegetables from local farms like Swank Specialty Produce and Harpke Family Farm," he says.
As Evelyn's cements itself into Fort Lauderdale, Salomon is excited to continue reinterpreting Eastern Mediterranean flavors and being part of elevating the local dining scene. He's also looking forward to working with his dedicated team and encouraging them to develop their skills and creativity. It seems like the mentee has indeed become the mentor.