By Monique McIntosh
"Do you hear the birds?" asks Miami-based mixed media artist Haiiileen, aka Aileen Quintana. We're sitting in her neon-bathed workshop in Allapattah, and a pulsing electronic beat has suddenly interrupted our chat. Eyes staring off into space, she momentarily hovers her hand over the pause button, savoring the delicate twitter buried beneath the heavy bass beat.
"I have synesthesia," she says, referencing a neurological phenomenon where stimulating one sense triggers an experience with another sense—in her case, sound is perceived visually as waves of color. The artist can experience vivid hallucinations in response to music, so she chooses her tracks carefully. "I make so much more sense now, right?" she jokes. Indeed, it does explain her adopted moniker—"Haiiileen, because I'm high on life," she says. It also helps explain why experiencing the artist's work feels like walking into a mirage. The Miami native has quickly collected a following for her epic sculptures and immersive installations, which take viewers into complex, kaleidoscopic dreamscapes.
Her shows range from playful holographic mazes at the Young at Art Museum in Davie to a 30-foot-high LED collage at the III Points festival in Wynwood. As the lead visual artist for music streaming service Tidal, she also recreates her synesthesia sensations for music lovers. She has made a disco ball wall and a glittering purple light show commissioned in memory of legendary singer Prince.
"Light is a language for me," says Haiiileen about her fascination with all things illuminated. "I'm able to narrate an environment through the engineering and reverse engineering of light. I'm constantly trying to have a conversation with it."
To capture these hypnotic effects, the artist experiments with a range of materials, from mirrors to LEDs. But acrylic remains a constant in her toolbox for the way it interacts with light. Collaborating with custom manufacturers GlowbackLED and Faulkner Plastics, she shines beams through the clear plastic to suspend the glow or uses it to splice rays into the full spectrum of the rainbow. Acrylic sheets also become a translucent canvas for her color studies, whether she's hydro dipping them to create organic waveforms or coating them in candy mica car paint. Playing with the plastic's sculptural potential, she has become a master fabricator in her own right, using thermoforming techniques to warp it into otherworldly shapes.
All these techniques combine to create a hypnotic effect for her most recent exhibition, "Haiii on Society," which took over six rooms from January through April at Society Las Olas, a new community-centered residence in downtown Fort Lauderdale. Wandering from room to room, viewers discovered light in all its permutations, like with "Haiii-Light"—a wall of rainbow wave sculptures inspired by the physics of color wavelengths. In "Haiii on Art," her ongoing travel photography series in partnership with Google Pixel, sidewalks and subways from around the world are transformed into impromptu light installations created from her handmade light machines.
This spirit of playfulness infuses her workshop, which is packed to the rafters with neatly organized crates filled with candy-colored materials, many of which are upcycled—a holdover habit from her earliest days spent scavenging for supplies. "The stuff I work with started out of necessity, from what I could find," Haiiileen says of her first forays into art.
Such a transition felt inevitable for the former beauty and creative director. Before becoming Haiiileen, Quintana traveled the globe as a fashion show producer for top brands. However, after a few years, she began losing interest. "It wasn't as dynamic or experimental as I wanted it to be," she says. In 2013, she made the decisive jump into the art world with her inaugural installation, "Aileen's Aliens" at III Points festival. The show's concept still straddled both realms as a psychedelic photo booth inspired by backstage memories of the runway. But the project solidified for the artist how much participants craved the experience of being transported into another realm—and to get the opportunity to see themselves and each other in a different light. "I want to make these transformation chambers," says the artist of her work. "Even in this digital age, I think it's super important to still have these tangible encounters."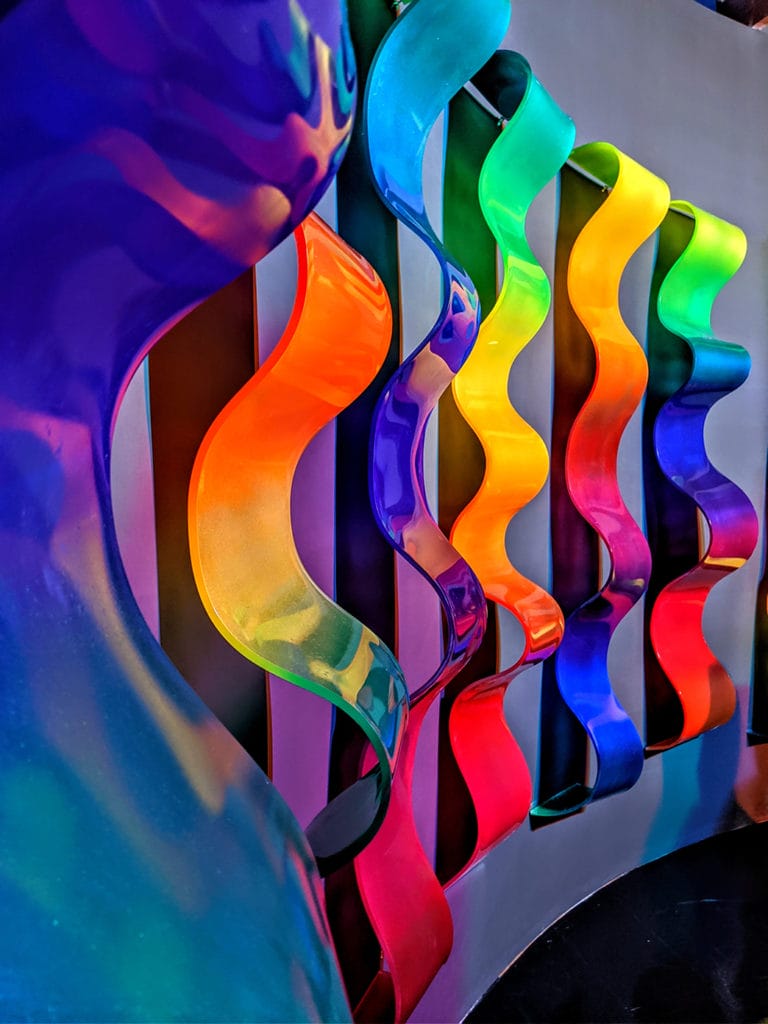 The concept of nurturing connections through art still grounds all her projects, including HaiiiLabs, a nonprofit that provides supplies and offers workshops for fellow artists and art organizations. As a first-generation Cuban American, she appreciates the immigrant-driven hustle behind South Florida's art scene and the challenges these creators experience in bringing their work into the spotlight. "It's so important to bring diverse points of view to our art community," Haiiileen says.
As for her, fostering art wherever it emerges is both a social and aesthetic call to action. "I try to find the beauty in spaces I come across," she says, "and bring in the light."
This article originally appeared in the Summer 2020 Issue.