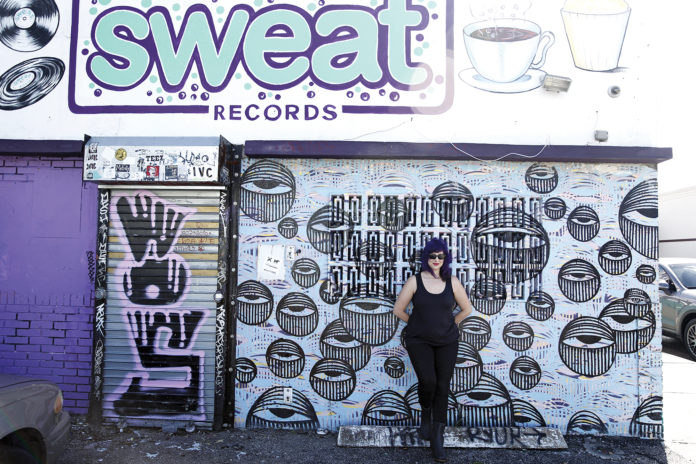 By Bob Weinberg
Photography by Scott McIntyre
How hot is the South Florida vinyl record scene? Judging by store expansions and regular events catering to collectors and novices alike, the area appears to be syncing up with national trends. Numbers indicate exponential increases in sales of the old-school music format every year for about the past seven years. And while national chains such as Urban Outfitters, Best Buy, Barnes & Noble and even Whole Foods Market carry new 12-inch records, the beating heart of the industry has always been the independent record shop.
In South Florida, neighborhood record stores are generating excitement among a widening circle of vinyl enthusiasts, making it seem more like 1977 than 2017. Record collecting and buying has become so popular that Fort Lauderdale's Radio-Active Records has plans to open a second store near the 79th Street Causeway in Miami. We Got the Beats, a record shop just a few miles north of Radio-Active Records, has acquired a sprawling space in Lauderhill for a second store. And events such as Record Store Day in April draw die-hards and newbies to indie shops, where they peruse the latest vinyl offerings—some released specially for the occasion—or pick up gently used copies of classic albums. Add to the mix quarterly record shows at the Rodeway Inn and Suites on State Road 84 and at wine shop Hollywood Vine on Harrison Street in downtown Hollywood; vinyl pop-up shows at venues such as Cash Only on Las Olas Boulevard; and even the opening of a new record-pressing plant in Opa-Locka, and you have the makings of a bustling vinyl record scene in South Florida.
No one outside the major record companies is getting rich off the trend—recoupment on pricey new product, local retailers lament, is a pittance—and vinyl accounts for a paltry 6 percent of industry sales overall. But there's no question the market is seeing a renewed vigor. Ask any of the longtime purveyors of vinyl in South Florida why more young folks are flocking to the medium—and why some older music lovers are giving it another look—and you'll get a similar response.
"A lot of music is about flipping off authority," says Lauren "Lolo" Reskin, the 35-year-old proprietor of Sweat Records in Miami's Little Haiti. "I still think buying vinyl records one of the best ways you can go against the grain, as far as the digital music world goes."
"I think there's a rebel atmosphere to it," echoes Bob Perry, the 69-year-old founder of the former Blue Note Records shop in Miami, who now vends at most of the area's record shows and maintains a warehouse just off Griffin Road and I-95. "When I do a show, I hear, 'Oh, my parents are into CDs. I'm into wax.' What's cooler than vinyl? A download? A CD? That experience—the gatefold or record jacket, the sacredness of vinyl, those labels—it translates."
"We went through a period where everyone just wanted to sit at their computer, and that still happens," notes Mike "Mikey" Ramirez, 37, who has been a partner in Radio-Active Records since 2006. "But I've spoken to so many kids who've said, 'I have an older brother or sister, and they told me how growing up, they used to go to the record store.' Some kids don't get to experience that."
Younger customers, Ramirez says, are eager to get their hands on vinyl, even though they didn't grow up with it. "It's interesting to see that, combined with the limited-edition package culture we're in, where everyone wants a unique product that's pressed on a certain color of vinyl," he says.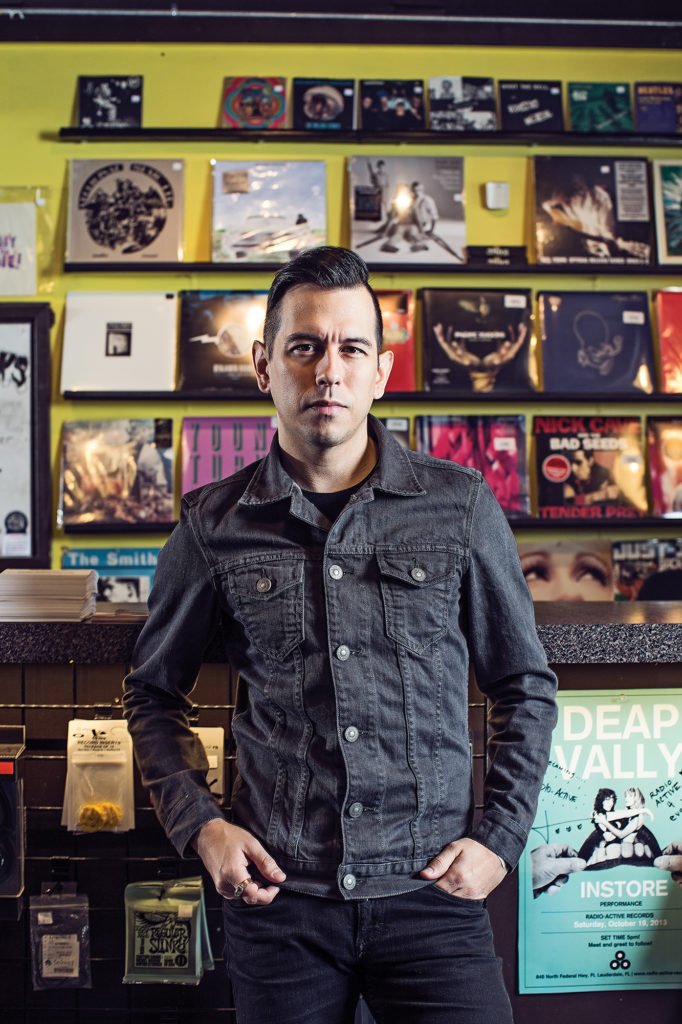 Black, blue, red or violet, the visual and tactile appeal of vinyl records has long been a selling point. Now, a generation raised on digital streams and downloads is discovering the beauty of 12-by-12-inch LP covers, some of which are works of art better appreciated on paper and cardboard than as jpegs on a computer screen. And the ritual of slipping the record from its sleeve, placing it gingerly on the turntable, lowering the tonearm until the diamond-tip needle bites into the groove and then watching the sleek platter spin at 33 revolutions per minute offers multisensory rewards beyond that of a mouse click.
"Records look cool," says Steven Toth, 53, who works at Sweat Records and presides over meetings of the Hollywood Vine-yl Society at Hollywood Vine where, every three months, vendors set up tables while DJs spin and Toth's band, Mr. Entertainment and the Pookiesmackers, provides a punk-rock soundtrack. "Even the machine is fascinating. With an MP3, you have no idea how it works. With a CD, you don't see how it works. It's almost like a toaster oven—it goes in, it pops out. Well, you see how it works with a record player."
There's no mistaking the deep affection vinyl devotees have for their obsession. Perry began collecting records when as a kid in Westbrook, Maine, he and his older brother pooled their money to buy the latest rock 'n' roll or rhythm and blues singles by Jerry Lee Lewis or Fats Domino. Perry would go on to work as a promoter and sales representative for record industry titans—Henry Stone, Jerry Wexler and Clive Davis—and mingle with icons such as Bob Marley, Al Green and Patti Smith.
In 1984, Perry stepped away from the high-pressure business and opened his first Blue Note Records on West Dixie Highway and 137th Street in North Miami. He then moved to the beloved shop on 163rd Street, where he'd remain until closing the store's doors in 2009. During that time, he developed a reputation for his eclectic selection, which encompassed jazz, blues, gospel, soul, R&B and Latin and Haitian music. He also cultivated a strong hip-hop section and customer base. While touring or visiting, rap pioneers from Jam Master Jay and Afrika Bambaataa to Dr. Dre and Snoop Dogg stopped by Blue Note Records to purchase classic funk or jazz sides. Other patrons of Blue Note Records included soul star Bobby Womack, Led Zeppelin guitarist Jimmy Page and eccentric jazz great Sun Ra.
"Every day was a great experience," Perry says, "not knowing who would come through the door." Nowadays, he works at his own pace, selling records online via Discogs or eBay, opening his warehouse by appointment and appearing at various record shows.
Reskin remembers making the "pilgrimage" from her home in Kendall to Blue Note Records as a teenager. She and her friends snapped up imports and other exotica they couldn't find at Spec's. "We used to love going to Blue Note," she says. "They had everything, just as broad as I want a record store to be, and as broad as one should be in South Florida, where people have a huge variety of tastes." She would parlay that sensibility into an after-school job at Virgin Megastore, where she worked for six years before opening Sweat Records with former business partner Sara Yousuf in 2005.
"Miami didn't really have a small store that catered to local tastes," she says. "When I worked at Virgin, our buyers weren't even based in Miami anymore, so there was stuff that was popular locally that we wouldn't have. Because I'd been a club promoter, DJ and band booker for several years, I knew there were enough people in South Florida who would support a cool, classic-style indie store."
Sweat Records retains that classic vibe, but it's expanded the role of the neighborhood record store with events such as Classic Album Sundays. The popular monthly event pairs renowned albums by the likes of Dr. Dre with Parliament Funkadelic or Van Morrison with Beck and plays them back-to-back on a high-quality audiophile sound system while attendees enjoy pizza and beer.
Communing with fellow music fans has always drawn customers to record shops. Growing up in Coral Springs, Ramirez became such a fixture at Sid's Records in the Coral Square Mall that one day an employee put a broom in his hands and told him to sweep the floor. He says he also earned the wrath of a clerk behind the counter when he paid for a purchase with a bag of change. "I think I bought a Jesus Lizard 45, or maybe it was a Nine Inch Nails bootleg," he says. "And the guy looked at me like, 'You mean I have to count all this shit out?'"
Ramirez, who studied at Florida Atlantic University, later traded the corporate grind of Barnes & Noble for the indie cool vibe of Radio-Active Records, which had started life as a used CD shop in the Gateway Shopping Center. As the appeal of CDs began to fade, the Fort Lauderdale store began carrying more vinyl, opened its back room to house even more record bins and then, in 2011, moved about a mile and a half south to its current location on Federal Highway.
Ramirez says he's still fine-tuning the concept of the new Radio-Active Records store near the 79th Street Causeway, but is set on at least carrying punk and electronic music, along with reggae. And while albums by The Beatles and The Rolling Stones will undoubtedly be there, likely among the used records, he wants to stock the place with items that can't be found at every other record outlet. He also hopes to draw customers through dedicated events, such as a jazz night or women's music night. He's spitballing ideas with Miami DJ Katrina and hopes to coordinate events with a neighboring sushi restaurant.
"I've never been the kind to open the doors, sit behind the counter and let it happen," Ramirez says. "You gotta keep thinking of new things and new people to partner with. That's what makes it fun."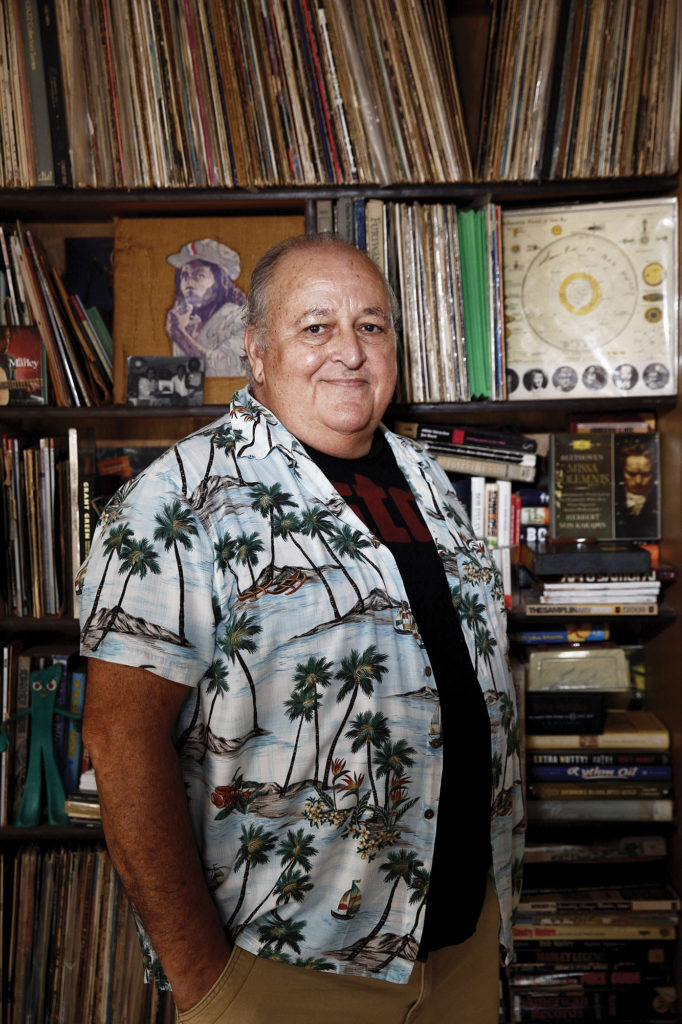 This originally appeared in the Winter 2017 Issue.