Speaking in a subdued tone that belies his reputation as being one of the hardest hitters in the National Hockey League, the Florida Panthers defenseman sneaks a smile through his bushy, lumberjack-like beard as he explains how a single bone-crunching check can change a game.
"Momentum is one of the biggest things," he says. "You want to see the faces of the guys on the bench after you make a hit. You want them to be happy you're on their team. If I can do these things for the guys to get some mojo going, that's what I'm looking to do when I'm out there."
Since joining the Panthers as a free agent in the summer of 2020, Gudas, who is in the midst of his 10th season in the NHL, has been one of the team's leaders both on and off the ice. Taking his thoughts on hitting to heart, he's paced the NHL in hits during both of his seasons in Florida.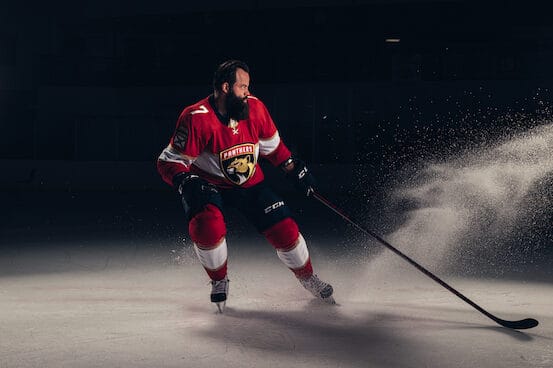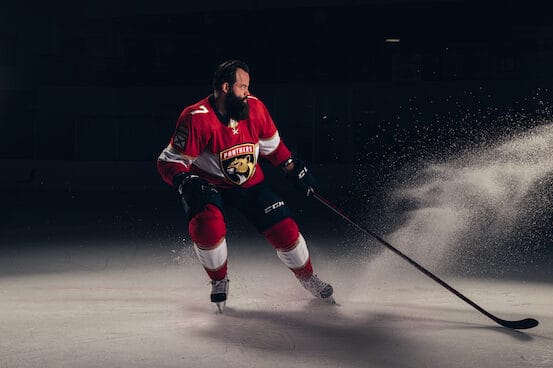 "Obviously I'm trying to play as hard as I can anytime I go out there and on very shift," he says. "I didn't really think of myself as the guy that would ever be the league leader in any of those things. The system we play really works for me, and it's nice to be able to play a physical role."
But there's far more to his game than just the pain he inflicts on opponents. He's known for playing a responsible game in the defensive zone, and you can usually pencil him in for about 20 points each season. A leader in the locker room, he's also a key mentor for young players.
"I always believed that I could be in this league for a good amount of time," he says. "I'm still developing and getting better, so I think I still have something to give. I'm really enjoying this opportunity here. I've got the trust from management and the coaching staff that I'm able to perform at the level I am. I also enjoy all of the plusses that come with playing in Florida."
Long before he settled down with his family in Parkland, Gudas, who was born in the Czech Republic, spent much of his childhood traveling from one country to the next while his father, Leo, competed in professional hockey leagues all across Europe. "Wherever my dad played, we usually followed him," he says. "He would play somewhere for one season, we'd try some new things, and then the next summer we'd move to a different place and then do it all over again."
It was during one of those seasons in Finland that Gudas, who recalls being only a few years old at the time, first fell in love with the ice. "My dad told me that I'd go outside on the lake in our backyard and wouldn't come home until it was dark," he chuckles. "They'd have to call for me to get me back inside. I was too young to remember any of it, but I guess I've loved it since Day 1."
Outside of playing hockey, Gudas, like many professional athletes these days, also has a love for fashion. Although he's embraced his nickname "The Butcher," that doesn't mean that he strolls into FLA Live Arena sporting a bloody apron and cleaver. On the contrary, he's considered one of the more dapper players on the Panthers, with his sleek suits and hats often generating thousands of likes on the team's various social media accounts on game days.
"When I came over to North American to play juniors, we'd get like $120 bucks every two weeks, so we'd go spend it on a shirt and a tie or something nice," he says. "Ever since then, I just stuck with it. I love the difference in the things that you can put on. From the hats to the pocket squares, I think that it's just always nice to bring something new or something fresh."
In trying to keep in touch with the latest trends, Gudas has a few fashionable friends he likes to reach out to for advice and even hops on Google from time to time searching for inspiration. But no matter what his game day outfit becomes, his family always set the foundation for the look.
While getting ready at home with his wife, Barbora, and four young kids, Elvirka, Frida, Kvido and Leontynka, Gudas lets the group decide where he should start. "When I'm at home, the kids pick a tie or pick a hat," he says. "I usually go off the colors they pick to decide what to go with."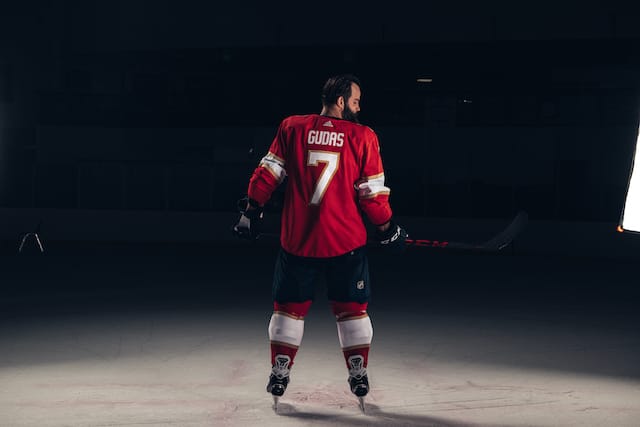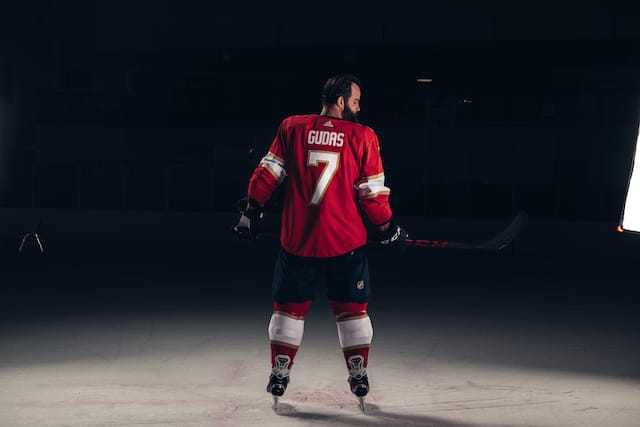 But what is it that really defines Gudas? Is he more the menacing figure that fans see upending opposing players on the ice, or is he the quiet family man trying to pick out a shirt with his kids? When posed with that question, Gudas thinks for just a brief moment before finding an answer in astrology. "I'm a Gemini," he grins. "I have two different personalities. It works out perfectly."
Two players for the price of one? Not a bad deal if you're an NHL team. Thanks in part to Gudas' contributions, the Panthers punched their ticket to the 2022 Stanley Cup Playoff after setting new franchise records for both wins (58) and points (122) during the regular season.
And as the games continue to get more and more important, Gudas and his on-ice alter ego will only become more valuable to the Panthers in their quest for the team's first-ever Stanley Cup.
"I think it's the ice, it's the arena," he says. "You walk in and it's all business. Everything changes. I'm enjoying being that guy for this team. I enjoy being able to have that switch and being able to implement myself on the ice and in the locker room. I really enjoy it here."