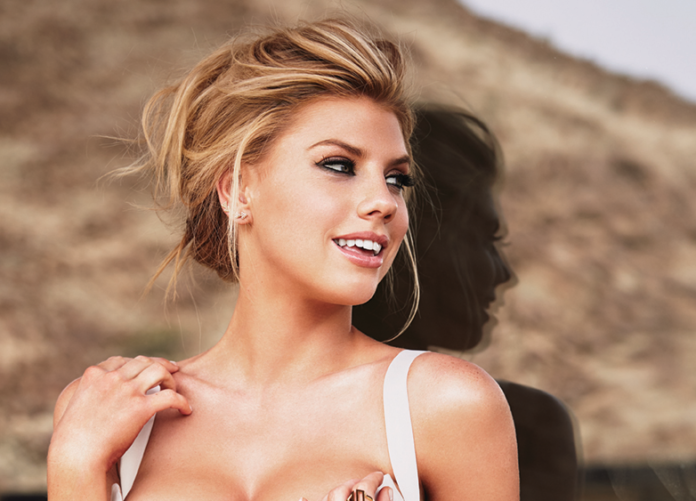 By Nila Do Simon
Photography by John Russo
Styling by Nicolas Bru
How has being born and raised in Florida influenced your life?
I feel very fortunate to be a Florida native. Growing up in Orlando, it was all about getting over to the beach on weekends. My sister, Garland, and I would spend most of the drive bugging our parents to go shopping for new bikinis. This lifestyle helped shape me into the bikini model I am today!
What were the biggest challenges to breaking into the modeling industry?
This was extremely difficult. I was constantly being turned down for my height [McKinney is 5 feet 7 inches], my shape or my chest size. One successful agent told me, "I'm not interested in another bombshell." The polite turndown was always, "Go work on your book," and I did just that. I shot with many photographers and posted pictures on Instagram. I also met and became friends with Zachary Scott, who eventually became my manager, during a weekend trip to Miami. He could not understand why I could never get signed, and he believed in me. He arranged for a meeting with the president of ONE.1 Management in New York City. They signed me on the spot.
What do you consider your biggest breakthrough in modeling to date and why?
I had just completed a shoot with Mégane Claire in Miami and posted it to my Instagram. This caught the eye of designer Paul Marciano. I've always loved the idea of becoming a Guess Girl, and Bridgette Bardot has been a muse for me since I was a young girl. Paul contacted me and asked me to come to Los Angeles. I was so nervous, I lied about my height just to get my foot in the door. I knew once he saw me he'd forget about that, and sure enough, he did. I was sent to Miami for my first Guess shoot, and the rest is history, I guess?!
What do you attribute your meteoric rise to?
The now-iconic Carl's Jr. Super Bowl commercial, no doubt. My name instantly went viral, and I became a trending topic on social media. After the Vanity Fair spread, I thought I was dreaming every time I checked my Instagram. Also, being in the right place at the right time, connecting with good people and a little old-fashioned good luck.
Looking at how beautiful you are today, it's hard to imagine you were ever bullied as a teenager. How did you overcome childhood bullying?
This is still difficult, but important to talk about—especially if some young girl out there gets comfort from the fact she's not alone. It's just the pack mentality of being ganged up on. I've had this body since I was 14; it's all natural, but believe me, it wasn't an asset back then. High school was about everyone trying to fit in and be the same. I was verbally attacked, teased and talked about for years. I eventually tried to see the positive side, realizing that I couldn't control what other people said or thought. I didn't waste my time and energy trying to defend myself, and I finally just let it go. This was very freeing for me. I think it frees a woman to do exactly what she feels is right for her. I've always gone with my instincts and have tried to live a true and honest life.
With your crossover role into movies, specifically with your upcoming film "Joe Dirt 2," how does it feel to see your brand and body of work expanding?
I love comedy! I did a skit with Daniel Tosh on "Tosh.0," and after that, I was hooked. Humor is definitely what gets me through the day. I look for humor in my friends and team. I think the reason my Carl's Jr. commercial was such a hit is that it's just so tongue-in-cheek and funny. Comedy seems to come natural for me. I want more laughter in the future!
What roles and projects are next on your horizon?
Well, my team is constantly sending me proposals from producers and directors, and there is much to come. I am scheduled to host Sir Richard Branson's Necker Cup later this year. I just shot an editorial with a famous comedic actor for an American magazine, and I also just shot a spread for the magazine's British edition—it's hush-hush, but it's big. I have an upcoming BidKind online charity auction benefiting the Kind Campaign. And, I'm most excited at the moment to be working diligently on the establishment of the Charlotte McKinney Foundation, which I will be announcing more about in Florida this coming summer.
Originally appeared in the Summer 2015 issue.