By Nila Do Simon
Turns out, that little slice of island bliss that we've all been looking for is situated on a palm tree-filled 5.5-acre property in the Florida Keys. A favorite among South Floridians, Little Palm Island Resort & Spa spans an entire private island, creating a secluded haven that shields patrons from the outside world using the surrounding ocean as its force field.
Little Palm Island debunks the idea that luxury is synonymous with contemporary design or sleek presentation. Instead, the resort basks in its own sense of relaxed elegance, offering anonymity among its 15 thatched-roof bungalows with "Swiss Family Robinson"-like wood furnishings, complete with private outdoor showers and verandas. The bungalows feature a total of 30 oceanfront suites, all personalized with guests' names on the door fronts. And to keep things intimate, no more than 60 guests can inhabit the island at any time—well, 60 guests plus the roaming Key deer.
Established in 1923 as Little Munson Island, Little Palm Island's place in history was cemented in the midcentury when it regularly welcomed guests such as Presidents Harry Truman and John F. Kennedy. While upgrades have been added, it's comforting to know that little has changed since those times. Key deer still float to and from the island, and sand pathways continue to lead to romantic alcoves with swaying hammocks.
A feeling of enchantment wafts through the Little Palm Island air. It's as if time stands still during a stay at the resort. Cellphone usage is frowned upon, with signs hanging from trees gently asking guests to refrain from making calls. There are no TVs or clocks, and Wi-Fi is only available in the lobby, an unspoken reminder that if you're here at Little Palm Island, you're here to get away from the outside world.
The property's restaurant, The Dining Room, is the epitome of toes-in-the-sand dining. The restaurant offers not only indoor, beachside and terrace dining, but there's also on-the-beach tables, offering one of the best spots on the island to watch the sunset. The menu features a vibrant blend of pan-Latin and French flavors, with constantly changing fare based on the season and fresh seafood options.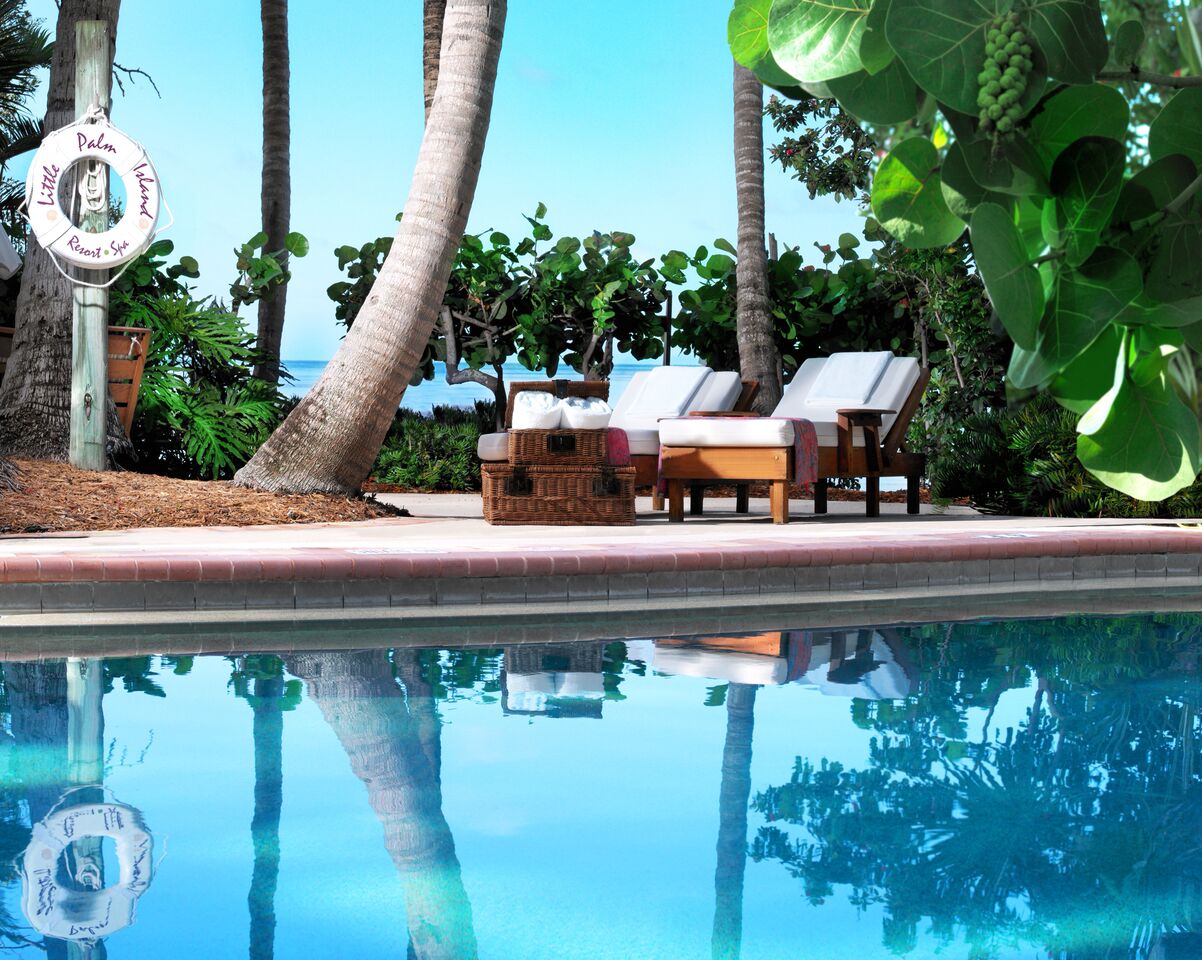 While Little Palm Island welcomes all types of guests, it admittedly favors romance travelers. Children are not allowed, making for a very sophisticated atmosphere. Adding to the amorous ambience, the spa offers signature couples treatments in the Palapa Point building, a cozy thatched-roof pavilion.
A stay at Little Palm Island—be it a long weekend or weeklong vacation—is nothing short of magical. It's an escape to a place that is foreign to those of us who are stuck in the hustle and bustle of the modern world. Even more, it's a chance to get away. Far, far away.
Originally appeared in the Winter 2015 issue.