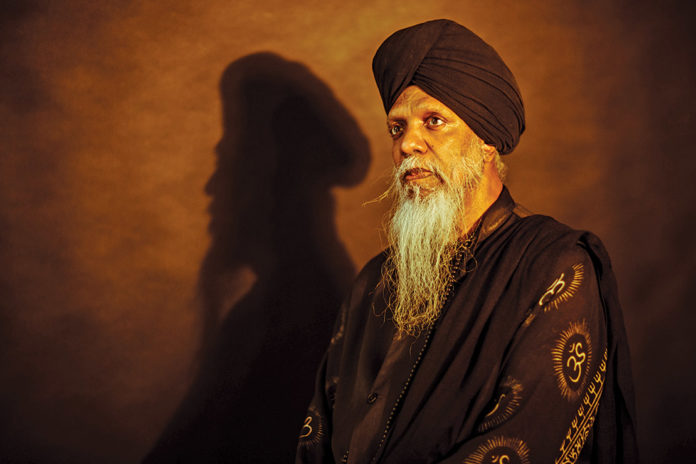 By Bob Weinberg
Portrait by Mathieu Bitton
For more than a decade, Dr. Lonnie Smith mesmerized listeners at O'Hara's Pub, the now-defunct brick-and-brass-appointed jazz bar on Las Olas Boulevard. In the late 1980s and '90s, local audiences packed the room to hear the wizardly keyboardist, whose signature turban and long, cotton-white beard added to his aura of mystery. Although Smith was genuinely warm and friendly, joking with and befriending O'Hara's regulars, he maintained his privacy. He preferred not to advertise a fact that only die-hard jazz fans and fellow musicians were aware of: The man is a jazz legend, who built his reputation as a distinctive master of the Hammond B-3 organ.
"I was really trying to hide," says the unassuming Smith, who rarely even played the Hammond B-3 at O'Hara's. "I was playing there, but I didn't try to let the people know who I was." Of course, some of those people might have caught on, as did touring jazz greats such as Betty Carter, McCoy Tyner and Smith's good friend George Benson, who all stopped by O'Hara's to play a set or two with him. Zoom ahead to the present, and Smith's profile has grown exponentially.
At 73, he's considered a hip, elder statesman, a progenitor of groove jazz whose endlessly creative musicianship keeps him from becoming a nostalgia act. Revered around the world, Smith, who splits his time between homes in Fort Lauderdale and New York City, performed in Japan and Finland over the summer and in France and Spain in the fall. In December, he performed with his trio mates, guitarist Jonathan Kreisberg and drummer Terreon Gully, at the Arts Garage in Delray Beach. And in January, Smith will once again release an album on the Blue Note label—46 years after he last recorded for it—the imprint on which he cemented his reputation with a string of funky, influential titles between 1968 and 1970.
Smith remembers the initial phone call from Blue Note, the label of legends such as Art Blakey, Horace Silver and B-3 king Jimmy Smith (no relation). "When they called, I didn't get real excited," Smith relates. "I was excited, but you didn't hear it in my voice. I'm the type where you can offer me $2 million, and while that sounds great, until it's in my hand, I don't have it."
"I?was really trying to hide at O'Hara's. I was playing there, but I didn't try to let the people know who I was." —Dr. Lonnie Smith
Growing up in working-class Buffalo, New York, Smith could play just about any instrument in his high school band room, although he didn't read a note of music. But it was the organ in Art Kubera's music shop that drew him like a magnet. Smith haunted the place daily, and to his surprise, Kubera gifted him a brand-new B-3. Borrowing his father's pickup truck, Smith and his brothers hauled home the 425-pound instrument with its unwieldy Leslie cabinet speaker. "It was snowin' real bad," Smith recalls. "And it was cold! And I was in the back of the truck, and I was huggin' the organ. I'll never forget that."
With its multiple drawbars and foot pedals, the Hammond is not an easy instrument to learn on the fly. But Smith did exactly that. He became proficient enough to land a spot in a band that backed Motown groups and other R&B stars when they passed through town. That's when George Benson came looking for him. Roughly the same age, Smith and the Pittsburgh-based guitarist shared a personal and musical chemistry. The two were playing behind go-go dancers at a bar in Harlem in 1965 when Columbia Records exec John Hammond walked in. By the time he left, Hammond had signed them both.
Columbia released Benson's "It's Uptown" and "The George Benson Cookbook," both featuring Smith, in 1966, followed by Smith's 1967 debut album, "Finger-Lickin' Good." Before long, alto-sax vet Lou Donaldson, a staple of the Blue Note label, recruited the pair to play on his funky soul-jazz classics "Alligator Bogaloo" and "Midnight Creeper."
The commercial success of the Donaldson albums led to a Blue Note contract for Smith and the 1968 release, "Think!," which featured the iconic cover photography and unrivaled studio sound for which the label was known. The latter came courtesy of Rudy Van Gelder, who engineered Blue Note sessions at his Englewood Cliffs, New Jersey, studio. "He doesn't know it, but I took a piece of rock from his studio and made it into a ring," Smith admits. "He's a genius. He just knew how to get that sound, the way he set up his studio and the mics."
Smith went on to release four more albums for Blue Note. While he also recorded for other labels, including Kudu and Groove Merchant and, more recently, for Palmetto and his own Pilgrimage Records, he has great affection for Blue Note (as do his fans, who clamor for him to play tunes from those recordings). Smith obliged with 2013's "In the Beginning, Volumes 1 and 2," a double-disc collection on which he recorded new versions of old songs with a superb octet.
His upcoming Blue Note album will also feature his aptly named band, Evolution, featuring saxophonist Joe Lovano, guitarist Kreisberg and dual drummers. Just as before, Smith doesn't overtly betray his excitement about returning to the label, which is now presided over by musician/producer Don Was. But the warm feelings remain. He treasures his time with Van Gelder and label chiefs Albert Lion and Francis Wolff. "It was just a beautiful thing," he says. "It was like I was in the family. You can't beat that."
Originally appeared in the Winter 2015 issue.