By John Thomason | Portrait by Jason Nuttle
Like most people who buy and sell vinyl records for a living, Tony Cicalese started out as a collector—with a bit of domestic larceny involved. "I got into records first as a thief, taking them from my mother into my room and never giving them back, one at a time," he says. "Donna Summer? This is going to stay in my room."
In his 20s, circa 1999, Cicalese began a fledgling retail business on eBay, specializing in out-of-print CD singles and auctioning them on his WebTV. When a Whitney Houston disc fetched $110, he realized he was onto something. "The first mailed check I got from an eBay customer turned the power back on in my apartment," he recalls. Twenty-three years later, Cicalese is still peddling music, though in a vastly changed, largely brick-and-mortar landscape. He currently runs two record stores—We Got the Beats in east Fort Lauderdale and We Got the Beats Too in Lauderhill—and is considering a third location in an undisclosed part of South Florida.
Though his stores offer limited selections of CDs and cassettes, vinyl consumes the most real estate by far, mirroring a national trend. In 2021, according to the Recording Industry Association of America, record sales jumped 61 percent, surpassing $1billion for the first time in 35 years and overtaking compact discs as the top-selling physical medium. To put this into perspective, streaming still leaves all other forms of music consumption in its digital dust, accounting for 83 percent of industry revenues in 2021. But at some point in the recent past, records became cool again.
Watch any series or movie set in the apartment of a hip, young, urban character, and a record collection is conspicuous in the set design. These days, Walmart, Target and Barnes & Noble sell vinyl, the retailers offering exclusive colored variants of perennial sellers like Fleetwood Mac and Marvin Gaye. But teenagers and young adults with disposable income are the target demographic for vinyl's ascendancy. Fans of Billie Eilish can choose from 18 variations of her debut album, When We All Fall Asleep, Where Do We Go?, from standard black vinyl to picture discs to green and orange versions. There's even a glow-in-the-dark edition.
So how did vinyl records transition from boomer garages to zoomer bedrooms? "It happened somewhere along the way between 2010 and about 2016ish," Cicalese says. "It's full-blown now. The kids are all into it." Cicalese says that the popularity of records today is, among other things, a result of their aesthetic, as opposed to strictly functional, nature. "You started to get things like Urban Outfitters having exclusive colors," he says. "But I still look at Record Store Day as the thing that triggered it."
Record Store Day, launched in 2007 by a cadre of record shop owners in Baltimore, is manna for vinyl collectors. One day a year, usually in April or May, hundreds of new and limited pressings are released only to independent record shops—you can't snag them on Amazon—which can generate several months' worth of typical store revenues in a single day. Cicalese credits Record Store Day for putting We Got the Beats "on the map." These days, he says, "All the good things are converging—the fad, the die-hards who never stopped, the people who are genuinely getting into it now."
For Bob Perry, an institutional figure in South Florida music retail for nearly 40 years, those "die-hards" have been a sustaining force. A former major-label marketing-and-distribution professional, Perry opened Miami's Blue Note Records in 1984, naming his store after his favorite jazz label (the label happily granted him permission). Across Blue Note's tenure in what might be called the second wave of music retail, Perry attracted a remarkably diverse consumer base. "My interest was roots," he recalls. "I wanted blues, gospel, jazz, Latin, things I liked, things I knew and bought from distributors."
Blue Note would expand from its original 1,200 square feet to 5,000 square feet; in its heyday, it was part of "Record Alley," a North Miami corridor that included Spec's, Vibrations, Record Liquidator, Peaches and Open Books & Records. Perry's rivals would even send customers to Blue Note for the rare stuff. His patrons included Matt Dillon, CeeLo Green and Steely Dan's Donald Fagen and Walter Becker. Perry would close Blue Note after 25 years. "Downloading killed it. I couldn't sell shit," he says with characteristic bluntness. But he never stopped buying and selling, transporting his inventory to a warehouse in west Broward. Today, he occasionally sells at record fairs and on Discogs, the leading online marketplace for records. Even when vinyl fell out of mainstream favor, it remained the focus of Perry's business. He says he was dragged "kicking and screaming" into the CD market. "I never thought [records had] ever left, because my whole world was around that," he says.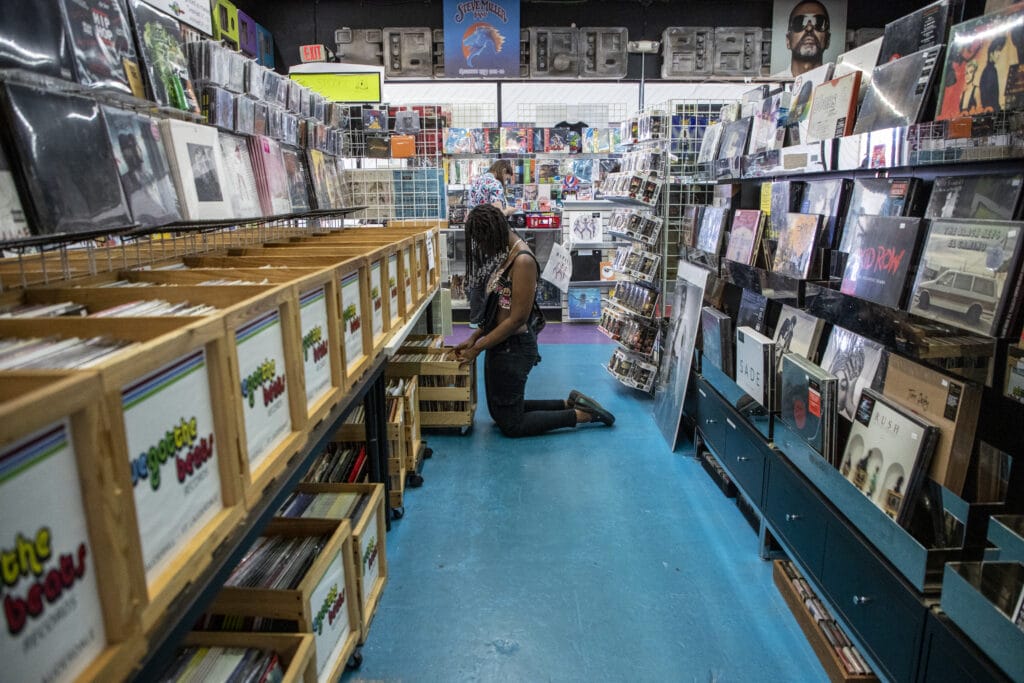 Today, if records are a bubble, Cicalese doesn't expect it to burst anytime soon. Distributors are continuing to raise prices for new vinyl, and customers are meeting them, as demand outstrips supply. "It used to be, people could come in and spend $60 and get three new records; now it's more like two," Cicalese says. Until that bubble does burst, vendors like Cicalese and Perry show no signs of slowing down. When asked about the vinyl revival, Perry's answer is a simple one: "I just think they're cool. Records have always been cool—45s, picture sleeves, vinyl, the liner notes, the crack of the gatefold. Everything about records is cool. What's cool about a download? Kids got hip."
Other Local Record Shops
Radio-Active Records: A bastion of the hipster set, this retailer across the street from the Parker is a one-stop shop for the best in indie and alternative rock and all their esoteric subgenres. It also has sizable jazz, soul and classic rock departments.
The Record Rack: This reasonably priced Pompano Beach retailer of new and used vinyl is perhaps your best bet on Record Store Day, where it discounts some of its old inventory while offering all the RSD exclusives.
Vinyl Destination: This seemingly hole-in-the-wall establishment near the Classic Gateway Theater in Fort Lauderdale only caters to the pre-owned market, and is grand central for classic rock, pop, new wave and R&B at fair prices.
Top Five Records: It keeps weird hours, but this downtown Lake Worth Beach shop is a hardcore collector's dream. New inventory is scant, but rare finds are always possible—and because of the owner's vigilant standards, the condition of the vinyl is almost always near-mint.