Written by AMY BENNETT WILLIAMS |  Photography by ANDRE GABB |  Styled by  ANNA CHU
After the last two years, Miami City Ballet's Artistic Director Lourdes Lopez could give a master class on rising to the occasion. How easy it would have been—understandable, really—to sink in the chaotic tides swamping arts groups throughout the nation. Yet somehow, Lopez took it all in stride. Her troupe danced through the pandemic, surpassing a four-year $55 million capital campaign by $10 million while keeping her beloved artform thrillingly relevant, as MCB's upcoming season will make clear over and over again. "At Miami City Ballet, we start with 'Yes.' Nothing is impossible," says Lopez.
Just ask Yuliia Moskalenko. The Kyiv-born Ukrainian ballerina has just taken a huge leap of faith, leaving family, friends and her besieged birthplace for the warmth of Florida and a new artistic home with Miami City Ballet, where she's now a principal dancer. Speaking of her journey, Moskalenko chokes up. She knows she's one of the lucky ones, she says through a translator, and is more grateful to Lopez and her new company than she can say. "I can continue in my profession … which I've pursued since I was 6 years old." That's when a gymnastics teacher took the kindergartener's mother aside. This girl is something special, he said; get her into ballet training. That conversation set her life's course: an education that blended academics with craft. Moskalenko got into the highly competitive Kyiv State Ballet school, which at the time was the only way to get to the National Opera of Ukraine, her ultimate goal. She achieved it, shining in a series of lead roles in Giselle, Swan Lake, Sleeping Beauty, The Nutcracker, Don Quixote, Paquita and many others. Moskalenko loved her life, she says, which included hours of daily rehearsals and classes, walks with her dog and the occasional modeling gig (gracing the cover of Ukrainian Vogue).
But when Russia pushed in, the dancing stopped. Tanks rolled into neighboring towns, television journalists described attacks with trembling voices, civilians died. Moskalenko's family, including her parents and 2-year-old niece, fled west "We packed everything in backpacks so we could run through the forest," she says. They left just in time. On the news later, they watched the building next to theirs being destroyed. She began searching for a way out. At the same time, celebrated Ukrainian/Russian choreographer Alexei Ratmansky began pleading with the international dance community: Help your Ukrainian colleagues.
The Cuban-born Lopez took it to heart. "I'm an immigrant. My parents also fled a country," she says. Though she was just 2, "the stories are implanted in your brain as you're growing up." So Lopez reached out. An email, translated to Russian by a friend, started a series of international WhatsApp chats, sometimes interrupted by war, Lopez recalls. "During one of the conversations, Yuliia said, 'I have to hang up—we need to leave.'
She had just gotten word Russian troops were marching in. Moskalenko sent Lopez her professional details and performance videos, and on their strength alone, Lopez offered her a contract.  "We're taking a risk here, as she is," she acknowledges. Then came another challenge: "How do we get a visa for her?" Because Moskalenko is not a political refugee, nor does she have family here, visa options were limited. She had to apply for a type O visa, only granted on the basis of "extraordinary ability in the field of arts … evidenced by a degree of skill and recognition substantially above that ordinarily encountered, to the extent that you are prominent, renowned, leading, or well-known."
The problem was, her documentation of that skill and recognition––reviews, programs, accolades––was locked up in her empty apartment in Kyiv. So, Lopez and a team of immigration lawyers took a deep dive, scouring the internet for newspaper archives, and theater programs to flesh out Moskalenko's resume. Then came the diplomacy. Endorsements from elected officials would be a big help, attorneys said, so Lopez crisscrossed party lines, first approaching Democratic Congresswoman Debbie Wasserman Schultz, who wrote a support letter. "She thought it was a beautiful thing," Lopez says, "but then the immigration firm said, 'You need a senator too,' so I went to Marco Rubio, who did the same thing. Ratmansky pitched in too, penning a testimonial averring that Moskalenko possessed "extraordinary ability," which is the condition on which such visas are issued.
It worked. In late July, Moskalenko landed in Florida with a hard-won three-year visa and a Miami City Ballet contract. Lopez flew to Europe to bring Moskalenko back. Not that the dancer needed a chaperone; Lopez was there as a shoulder. "Her mother, her father, her sisters, her partner are all still in Ukraine," she says. "She's alone in this new world, so we wanted to give her that support."
"After the tragic events in my country," Moskalenko says through a translator, "my ideas about the world changed. What I thought were problems before are now silly. What's important is that my family's safe and I still can dance."
"The minute you offer [a refugee] a contract, you're giving them safety and stability and security—an opportunity at a life, at a career," Lopez says.
That ethic of inclusiveness, from the corps de ballet to the C-suite, is woven into the fabric of Miami City Ballet, which begins its 37th season this October. The company was molded into one of most acclaimed troupes in the United States by one of its most revered male dancers, legendary founding artistic director Edward Villella. Under the guidance of Lopez, who took the helm in 2012 as Villella's successor, the company has spent a decade coming gloriously into its own.
The daughter of a Cuban army officer who fought Fidel Castro, Lopez's family fled for Miami when she was 2. At 14, she headed off to study at New York's School of American Ballet, eventually rising to become a principal in George Balanchine's New York City Ballet, where she worked for more than 20 years. Like the company itself, this season's four programs (plus the traditional Christmastime favorite, The Nutcracker) braided diverse strands into a vibrant fabric.
"There's an alchemy that happens—or should," Lopez says, "between arts organizations and the communities they serve. They take on the DNA of where they are." This mentality is at the core of what makes MCB unique. It's a reflection of "this multicultural, multigenerational, multifaceted mosaic of a community," Lopez says. "I say mosaic, because everybody here holds on to what they love dearly. And because they do that, there's a vibrancy that is not found in other places around the United States."
That mosaic is framed by the city's American identity—as in Las Americas. "We're so close to this whole international Latin American energy, ethnicity, cultural sensibilities and way of looking at life. It all impacts what we do, how we do it and why we do it." Add next-level diversity, and you have a decidedly different animal than most old-school companies. Because MCB draws from around the globe—"the majority are immigrants," Lopez says—body types aren't mold-stamped, nor do its 53 dancers come equipped with standard training. To unify such a corps is more than merely challenging. "Honestly, it's sometimes a nightmare," Lopez laughs, "but in the end, you have a group of people with different makeups, different social consciousness, backgrounds and ideas all headed in the same direction. And that's what makes this company so interesting."
Differences become strengths, she says, the way they might when some high-tech firms seek out people with humanities backgrounds. "They don't want just the geeks, they want people who've studied the arts, because your brain thinks differently." The same rings true with Miami City Ballet. "Everybody comes in looking different physically, having learned almost a different way of dancing, until they come together here," Lopez explains. It doesn't hurt that "here" is sunny, warm and relaxed, says Brazilian-born principal dancer Renan Cerdeiro. "We go to work right across from the beach," he says. "Moving to Miami makes you feel life is a little easier." That's not to say there aren't pressures.
"There's a necessary balance," he acknowledges. "Dancers put pressure on themselves on their own—it's what they do." Plus, "Lourdes is very demanding. There's a certain standard she expects. You just feel that in the room when you're working with her, but it's in a very warm way, if that makes sense." For Lopez, nurturing her company means pushing it to new places. "I've always felt Miami City Ballet has made space for me to grow," Cerdeiro says. Last season, as COVID raged, the company offered a handful of pop-up performances created by its dancers and staged them throughout city neighborhoods. They called them "To Miami, With Love."
Cerdeiro's piece was staged at the Fairchild Tropical Botanic Garden in Coconut Grove, where he presented his work Não Esqueça (Do Not Forget)—not as a dancer, but as a choreographer. Debuting his own composition meant baring himself in a new, more fearsome way. "You feel your brain is exposed," he confesses. The common denominator is artistic excellence, as internalized and conveyed by Lopez's lieutenants, the three rehearsal directors who keep the dancers in step with company priorities. Like the dancers, all three have different training, "but there is that one aesthetic we all believe in," Lopez says.
Showcasing that aesthetic in four distinct programs is a challenge Lopez faces every year. So, she approaches it as a chef might plan a banquet, beginning with an inventory of her ingredients. "I ask, 'Collectively, what should the dancers of Miami City Ballet be doing?' Because I view the company as a company. I don't view it as one person or star." At the same time, she ponders each dancer, "what they're ready for, what they should stretch toward. Dancers have a very short life on this earth—15 years, maybe 20 if you're really lucky. You want to experience as much as possible, so when you step off the stage, there are no regrets."
For example, this season's complex, notoriously demanding Symphony in C by Balanchine. "I've been dying to bring it to Miami City Ballet because it's a great work," Lopez says, "but I've felt the company as a whole wasn't quite ready. "Until she saw that it finally was. "I'm not sure that to the naked eye it would be visible, but to those of us working day in and day out in the company, you just see it." She likens it to a sports team getting its groove. All of a sudden, "They're out there and they're there really together, they're talking to each other, they're scoring, they're moving the ball, they're doing what they need to do." Right now, she says, her team is there. "The corps is at a really high artistic and technical level. The soloists are strong, the principals are strong, there aren't any weak links at this point, and I'm going to take advantage of it, because it could disappear in a nanosecond." Then she considers her audience. "There is no shame in wanting to be entertained," Lopez says. "So I look at works by choreographers we're known for—Balanchine, (Jerome) Robbins, Twyla Tharp, Paul Taylor, Alexei Ratmansky."
Next comes the spice. "I start looking around for the diverse voices. What's interesting out there? And I put all these names of ballets in a mental bucket," she says. Then, with the components on the table, assembly begins. "So I have this work by this choreographer. What complements it? Or I have this young female choreographer—where should I put her work? Where is it best seen, given the other works on the program? Sometimes you don't want to put a novice—someone choreographing their first ballet—with a masterpiece, because you want to protect that young voice." Once she has a working plan, Lopez lets it marinate. "I put it away, then I come back to it and I move things around. I take things out. I put things back. Then I put it away again. And it's in constant flux until really the bitter end."
The result is a season of satisfying classics garnished with delicious surprises. After Romeo and Juliet, the company takes on West Side Story Suite, which demands singing and acting as well as dancing, before moving on to a piquant mix of masterworks and explorations by new artists. Her lodestar notion: Ballet, with its "old, European vocabulary, its Baroque music which everybody thinks is boring, is an art that can live anywhere, anytime," Lopez says.
Take Balanchine's 1957 Square Dance, which marries American folk to music by Vivaldi and Arcangelo Corelli, a Baroque-era violinist and composer. "Mr. B's original version included a caller," Lopez says, "someone on stage saying, 'Swing your partner,' who created lyrics to the score." Balanchine's instructions for the role were simple: "You can write what you want, you can sing what you want—you just can't talk about ballet," she says. When the piece was revived in the mid-1970s, Balanchine took out the caller "and just left it as a regular ballet, which is lovely," she notes, but, "part of what made it unique—so very cool and different—was removed."
So, Lopez is putting it back. Her caller? Nicaraguan-born Miami b-boy, rapper and, now, Yale-trained writer Rudi Goblen, who will provide running commentary about life in South Florida. That's just the beginning. "We've pulled together an entire Latino creative design team," Lopez says. "Costumes by Afro-Mexican Montana Levi Blanco, sets by Mexican architect-turned-stage designer Mariana Sanchez and lighting by Puerto Rican María Cristina Fusté." As for Lopez's hope for the piece: "That it's the one that makes everybody go, 'Oh, my God!'"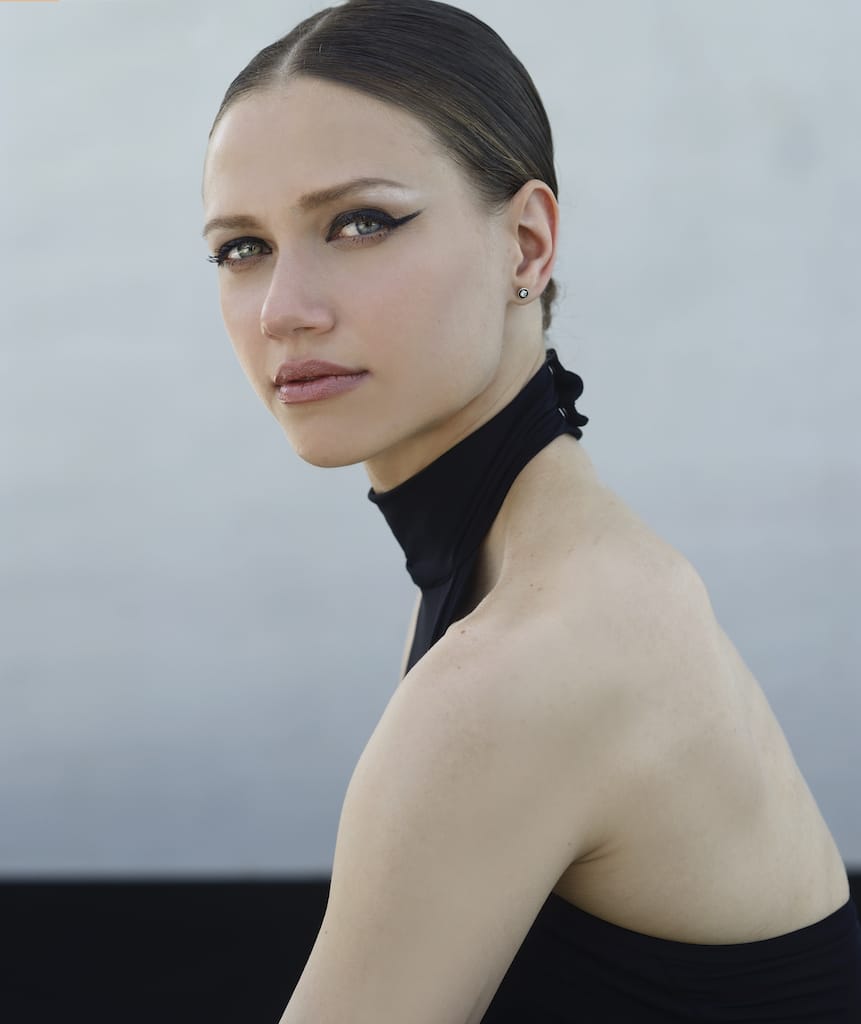 Though an August injury has temporarily sidelined Moskalenko, she's eager to return to the stage, for several reasons. The war remains an open wound in her life, with news from home still grim: tanks appearing in nearby villages, civilians turning up dead on roadways. She doesn't want the world to move on, but fears as the conflict has receded from the headlines that it already has.
"People in the occupied territories go missing, others are forced to move deep into Russia, then disappear," she says. "We want Ukraine back." When it all gets to be too much, meditation sometimes helps. If that doesn't work, she says crying it out can. But what never fails is ballet. "When I'm dancing, I'm not thinking of anything else."
MIAMI CITY BALLET: UPCOMING SEASON
ROMEO AND JULIET 
Arsht Center: October 21-23
Broward Center: November 5-6
Kravis Center: November 11-13
GEORGE BALANCHINE'S THE NUTCRACKER®
Arsht Center: December 16-24
Kravis Center: December 28-30
MODERN MASTERS FEATURING DIVERSION OF ANGELS
Arsht Center: February 10-12
Kravis Center: February 17-19
Broward Center: March 4-5
FRESH AND FIERCE FEATURING WEST SIDE STORY SUITE
Arsht Center: April 14-16
Kravis Center: April 21-23
Broward Center: April 29-30
ENTRADAS FEATURING SQUARE DANCE AND AFTERNOON OF A FAUN
Kravis Center: May 12-14
Arsht Center: May 19-21
Tickets available at miamicityballet.com