By Lola Thélin
Portrait by Eduardo Schneider
The world is a treasure-trove of valuable gems and junk. The lucky few may discover a masterpiece at a flea market or inherit a serving dish worth thousands. As owners of Akiba Antiques, an auction gallery and online platform, Jonathan Akiba and Alexander Anapolsky are in the thick of this serendipitous world.
Their business dates back 40 years to Paris, where Akiba's parents operated a retail location with the same name. Akiba took the business online seven years ago, creating an auction house focused on fine art, jewelry and antiques. Anapolsky joined Akiba Antiques five years ago, but they have known each other since their middle school days at Miami Country Day School. Their families immigrated to the States—Akiba from France and Anapolsky from Ukraine—and both grew up in the antique world.
"My grandmother was the head of the art department at the local university," says Anapolsky, 33. "She exposed me to art, and my parents are antique collectors. They'd sit me down and tell me the history of a piece. I don't think I cared much about it then, but now I have a 4- and 2-year-old. If you start them young, this could become part of who they are."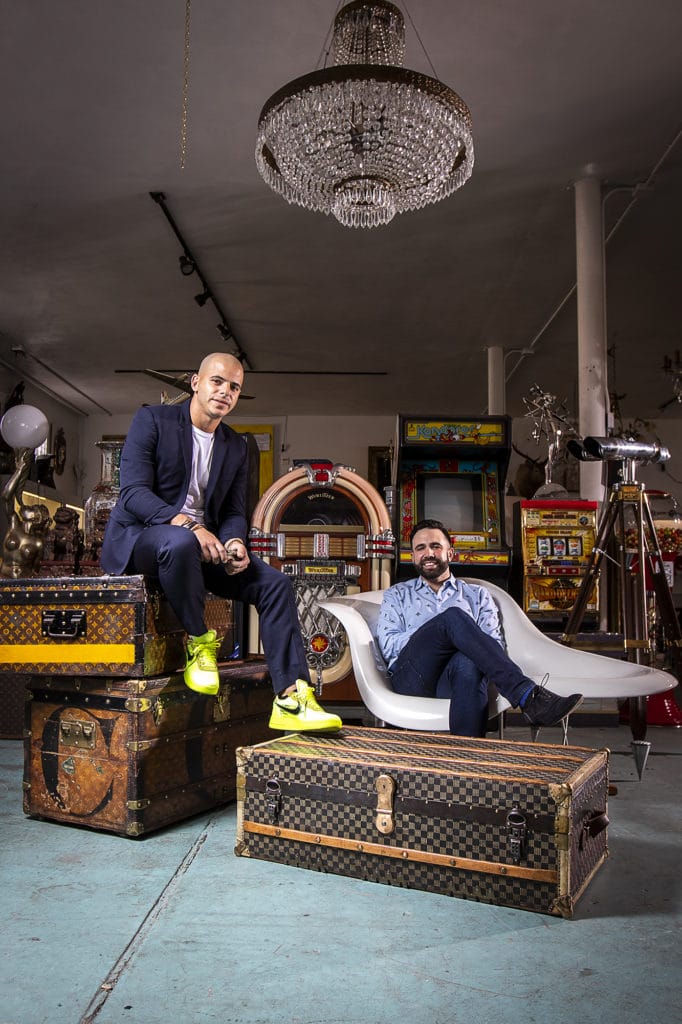 In 2017, the business partners visited the estate of a former client. There, they found 100 pieces of porcelain, including one made in Meissen, Germany, by the 300-year-old Meissen porcelain manufactory. Akiba estimated its worth at around $2,000 and purchased the lot for $5,000. When the two returned to their Dania Beach store with the finds, one of their clients fell for that Meissen piece.
"He had to have it but didn't want to spend the money," says Akiba, noting that the client proposed a trade: the Meissen piece for a tureen that Akiba says he'd "always been in love with."
The three-piece tureen was made with early Royal Vienna porcelain. Akiba valued it between $5,000 to $7,000 and listed it in an auction with a starting bid at $3,000. "I didn't get a single hit," says Akiba, 33. "I felt very bad about my trade and purchase. Six months later, I told myself I would sell this piece for whatever I could. I listed it for $1,000. It started going into a bidding war and sold." In fact, it sold for $43,750.
The tureen, from Austria, features a neoclassical four-seasons motif and dates back to circa the 1890s. The piece is hand-painted in a cobalt blue hue and embellished with gold leaf textured accents in floral motifs and geometric patterns. Twelve groups of dancing and drinking cherubs surround the bowl, each representing a month of the year. The underbelly of the bowl bears the traditional Royal Vienna beehive mark and the German words Frühling und Sommer. Herbst und Winter (spring and summer; autumn and winter). The auction winner, a 20-year-old man, flew in from Thailand to pick up the prized tureen.
"Once every six months, we need a score like that to stay alive," Akiba says. "We stay lucky to stay afloat. It doesn't happen every day. Trust me, I take a lot of losses."
At the end of the day, the luck of the draw keeps Akiba and Anapolsky coming back for more. "I love the thrill—the thrill of going to someone's home and seeing what they have," Akiba says. "I've walked into the shittiest neighborhood and walked out with the best stuff."
This article originally appeared in the Spring 2019 Issue.