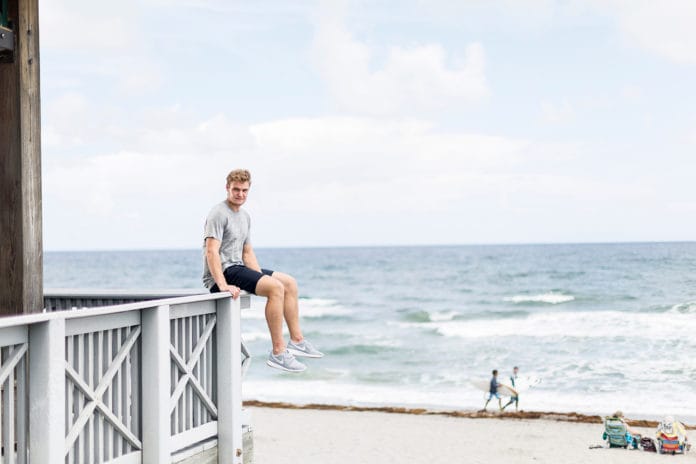 By Jameson Olive
Portrait by Edward Linsmier
For more than a decade, the biggest stars among South Florida's sports landscape have played on the hardwood, with Dwyane Wade, LeBron James and Chris Bosh leading the Miami Heat to four straight NBA Finals appearances and back-to-back championships in 2012 and 2013. But now with James wearing purple and gold in Los Angeles, Bosh's retirement and Wade's emotional farewell tour approaching its end this season, there will soon be nothing left from that "Big Three" era, leaving a noticeable void of stardom in the area.
Luckily, Florida Panthers captain Aleksander Barkov is ready to step onto the ice and into that soon-to-be vacant spotlight. Standing in a bright blue T-shirt, white shorts and a pair of slip-on sneakers after a practice at the Panthers IceDen in Coral Springs in February, Barkov, 23, appears to be the poster boy for the unique privilege of playing ice hockey closer to the equator than Canada.
When he's not lighting social media on fire with his highlight-reel goals, the Tampere, Finland, native can be found in Boca Raton, riding his bike along the city's palm tree-lined streets or eating at one of his favorite sushi establishments.
"I'm living a dream," Barkov says. "Every day you wake up and realize you're where you are and why you're here. It makes me happy, and it just makes me work even harder to try to get better. I wouldn't do anything differently."
The second-overall pick in the 2013 NHL draft, Barkov is in the midst of his sixth season with the Panthers. After setting a new career high in points (78) in 2017-2018, he's on pace to eclipse that record this season, while also bringing his all-world defense to every shift.
Making the transition from star to superstar, he garnered national attention on February 17 when he shrugged off a defender to score a between-the-legs goal on 2015 Vezina Trophy winner Carey Price that led the Panthers to a win over the Montreal Canadiens.
"I've never seen someone with that much skill, period," says Panthers center Vincent Trocheck.
That goal, which was basically the equivalent of an NBA player pulling off a windmill dunk while someone tries to whack the ball out of their hands, helped Barkov reach beyond his regular hockey-loving audience. ESPN's "SportsCenter" crowned it the No. 1 play for the day. "I've always dreamed about a score like that, and it happened that night," says Barkov, who spends hours scouring the internet for moves. "Now I'm going to try and create something new."
With Barkov locked into a long-term contract, the Panthers hope success will soon follow. Bringing back memories of the team's glory days of the mid-1990s, when fans from Brickell to Boynton Beach donned Panthers attire, the talented Finnish center is the key to hockey reigning supreme in South Florida once again.
"I'm just doing my job," says Barkov, whose lack of ego belies his immense talent. "I try to be as good as I can for this team and for my teammates. My biggest goal is to win the Stanley Cup. I'll do everything I can."
This article originally appeared in the Spring 2019 Issue.