By Nila Do Simon
Cecelia Feathers says she was born with a black thumb. So when the advertising and marketing communications lead with Nestle launched Birdie Floral Truck in October, even she was surprised by the cultlike following that would soon sprout for her mobile floral business. A couple of weekends a month, Feathers packs her Daihatsu Hijet truck with dried and live flowers for pop-up events at venues such as Rosemary Square and the Sunny Side Up Market, plus she opens her Boca Raton studio once a month to the public. Here, Feathers discusses what makes Birdie Floral Truck the much-needed antidote to a stress-filled pandemic.
Why focus on flowers?
There's an energy to being around flowers; they have a calming effect.
What's the advantage of dried flowers?
This is a truck for people who can't keep flowers alive, like me. Dried flowers don't require a ton of upkeep yet still have that cool feel of nature, plus they tend to work well in Florida's humidity. They're put through an intense process—which includes being freeze-dried, undergoing a safe chemical treatment, then getting bleached and dyed—so they last for years.
What are some flowers you typically carry?
We can only have flowers that do well in the heat. Our selection includes pampas grass, eucalyptus, dried preserved bunny tail, palm fans, sunflowers, football mums, roses, alstroemerias and carnations.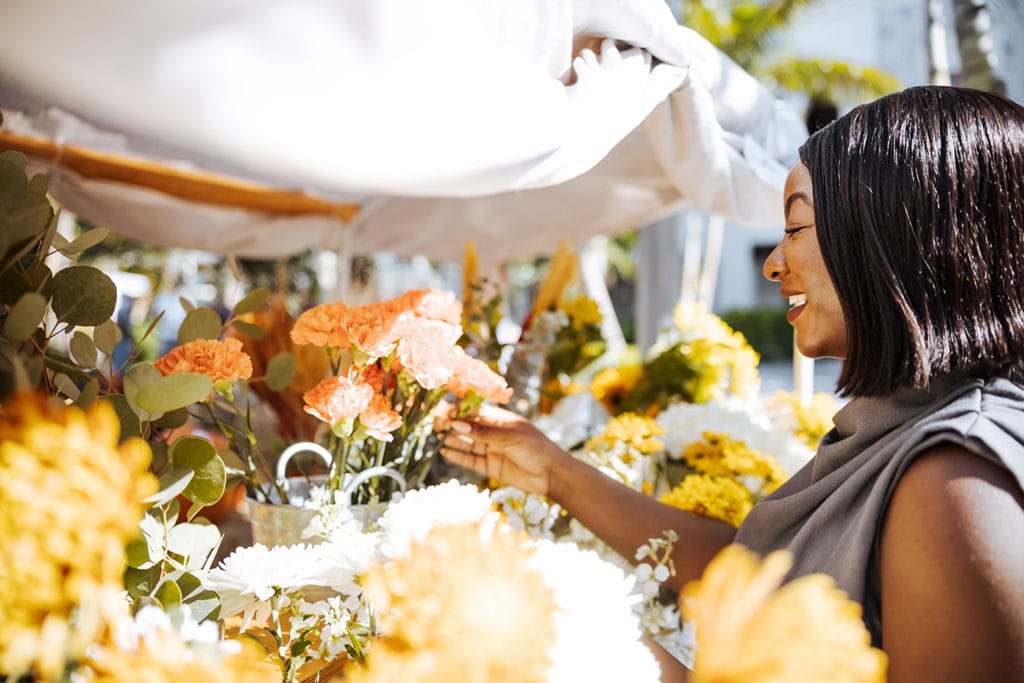 So how does it work?
At Birdie, you have the romantic opportunity to build your bouquet with fresh or dried flowers from our truck. Most everything is priced per stem; you can even name your price, and we can assemble a beautiful bouquet for you. We feel it's important to make beautiful things accessible for everybody.
What has your black thumb learned about flowers since launching Birdie?
When driving to my first event, I remember Googling how to keep fresh flowers alive in the sun and listening to YouTube videos on how to wrap them. I've learned so much since then, like what types of flowers do well on the truck with the heat, how cutting fresh flower stems underwater makes them last longer, and to always carry filler flowers that are not expensive but are still beautiful.
What are some memorable interactions you've had with customers?
At one of our pop-ups at Rosemary Square, a couple said they liked our vibe and wanted us to provide the flowers for their January wedding. I didn't think I could handle that volume and scale, but it turns out the bride was the ultimate DIY bride who wanted to create a low-key, hipster-esque wedding. It all turned out beautifully.
Why do you think Birdie Floral Truck has become so popular?
We've been true to ourselves since the beginning. I was very honest: I didn't know what I was doing. It just started out of a passion project. I think knowing that I knew nothing about the floral business has inspired people to do things they otherwise wouldn't have.
This article originally appeared in the Spring 2021 Issue.