KAVITA CHANNE
Founder of Channé Rosé wine
Some of my most prized possessions are handwritten letters I've written over the past few years to my babies, Micah and Maverick, for them to open as adults. Some of the letters were written before they were born, while others were written the day they were born. Some I wrote during birthdays; others I just wrote when I felt I wanted to capture a message to them. These letters mean so much to me because in this day and age, so much of what we do is electronic. There is something so beautiful about a note with a person's actual handwriting on it. My handwriting is like chicken scratch, but these are a time capsule of sorts for my children and me to remember all the ages and stages of our lives together.
Another prized possession of mine is a bottle of our award-winning vintage of Channé Rosé. This award was given by one of the oldest wine competitions in the world, the prestigious Concours Général Agricole in France. In the 2019 competition in Paris, more than 16,000 wines were tasted, and only 334 from Provence took home a medal. And we were one of the winners! Why does this mean so much to me? I worked closely with my winemaker in France to create this special blend while I was pregnant and then as I was becoming a new mama. It was difficult to balance launching a business with being a hands-on mom, but I still kept on. In some ways, Channé Rosé is like another baby of mine. I am so dedicated and passionate about what we put in these bottles and am so excited that it shows through. Less than three years later, you can catch wine lovers enjoying our blend throughout Florida and Georgia, as well as Long Island, New York.
***
BRIAN FREED
Managing partner at Damn Good Hospitality
What are your most prized possessions? Music, sneakers and art—in that order.
What's the story behind your interest in these pieces? When I was a kid, a neighbor got me into hip-hop and rap music. At first it was the bad boys like NWA, Slick Rick, Ice-T and 2 Live Crew. What originally struck me was the shock value of these groups swearing on cassette tapes. Then I started listening to artists like A Tribe Called Quest, Beastie Boys, Public Enemy, Run DMC, LL Cool J and Eric B & Rakim. I started paying attention to the words they were saying, the struggles they had faced in their community. It didn't hurt that they looked fly with fresh kicks.
Around the same time, Michael Jordan was on top of the world. His shoes were legendary. I'll never forget my first pair of Air Jordan 4 sneakers. They were the coolest shoes I had ever seen. The design was so different from the monotony of every other brand.
I remember going to Miami in the mid-'90s. The vibe was electric. Everywhere you went, you heard old-school hip-hop and electronic music, all the songs I grew up listening to, plus you learned about new music. I started building a music collection. I also came across artists like KAWS. I thought his "Companion" figurine was the coolest thing. It was a riff on Mickey Mouse but with X's over the eyes. Then I was introduced to Shepard Fairey's art. That led to my interest in other graffiti artists like Basquiat, Futura, José Parlá, Barry McGee and Banksy. It wasn't until 2000 or 2001 that I started buying Obey prints, which had this cool propaganda look. I was always interested in finding stuff no one else in my circle had at the time.
All these worlds—music, sneakers and art—began colliding. I started getting serious with collecting art around 2004. I wanted every wall in my house to be filled with it. I think it was around then that I picked up my original KAWS Krusty the Clown. It was raw, much like hip-hop from back in the day.
How did these pieces earn a special place in your heart and home? KAWS is my favorite artist. The first "Companion" sculpture I saw had me from the beginning. It was like seeing punk rock defacing a national treasure like Mickey Mouse.
For the Bast artwork, there's mayhem and fuckery but order. It reminds me of Basquiat.
Jordan sneakers were tied to my childhood. Everyone wanted to be like Mike. The way he flew… As a skateboarder, snowboarder and BMX rider, this was all I thought about back in the day: catching air.
OMAR KELLY
NFL columnist for the South Florida Sun-Sentinel and host of the web-based weekly show "X's and Omar"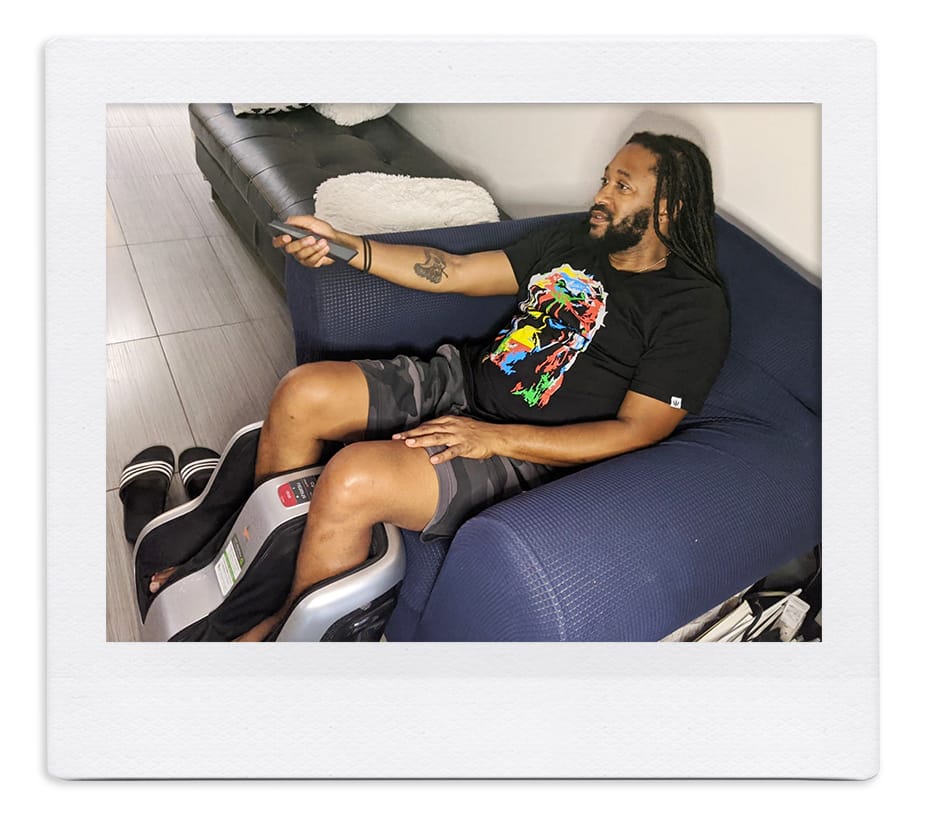 Tell us about your prized possessions. I have a couple of Sprayground backpacks that I take with me everywhere because they serve as my office. I keep my computer, its power cord, my digital recorder, a Wi-Fi air card, notepads, pens and headphones in there so that no matter where I go, I can plop down and do work. Sometimes working at home becomes stagnant, so I occasionally have to relocate to let the inspiration flow. Sprayground gives me the opportunity to show my personality and style. I've got this Tupac bag that pays homage to the most inspirational entertainer of my lifetime. I must have had 100 people compliment me on how cool that bag looks.
The other possession I cherish is the Human Touch Reflex4 foot and calf massager that I use at least twice a week. I'm flat-footed and have developed foot issues as I've aged, especially after being rear-ended and herniating a disk in my back. The foot massager has this shiatsu mode that provides my calves with relief and puts me in a comfort zone after a long day of working at home.
Why are these possessions so special? The photo on the Tupac backpack features him shooting a cameraman the double-finger salute that says, "Fuck the world." Sometimes that's my mood. I love things that speak for me without me having to say a word.
And at 43 years old, I've learned that I'll wake up at least once a week and a body part is hurting more than it should. I can't afford to get massaged and adjusted on a regular basis, so the Human Touch Reflex4 is the best at-home route without annoying my wife by asking her to give me foot rubs every week. But for the record, I still ask for them.
***
SUSAN PENROD
Publicist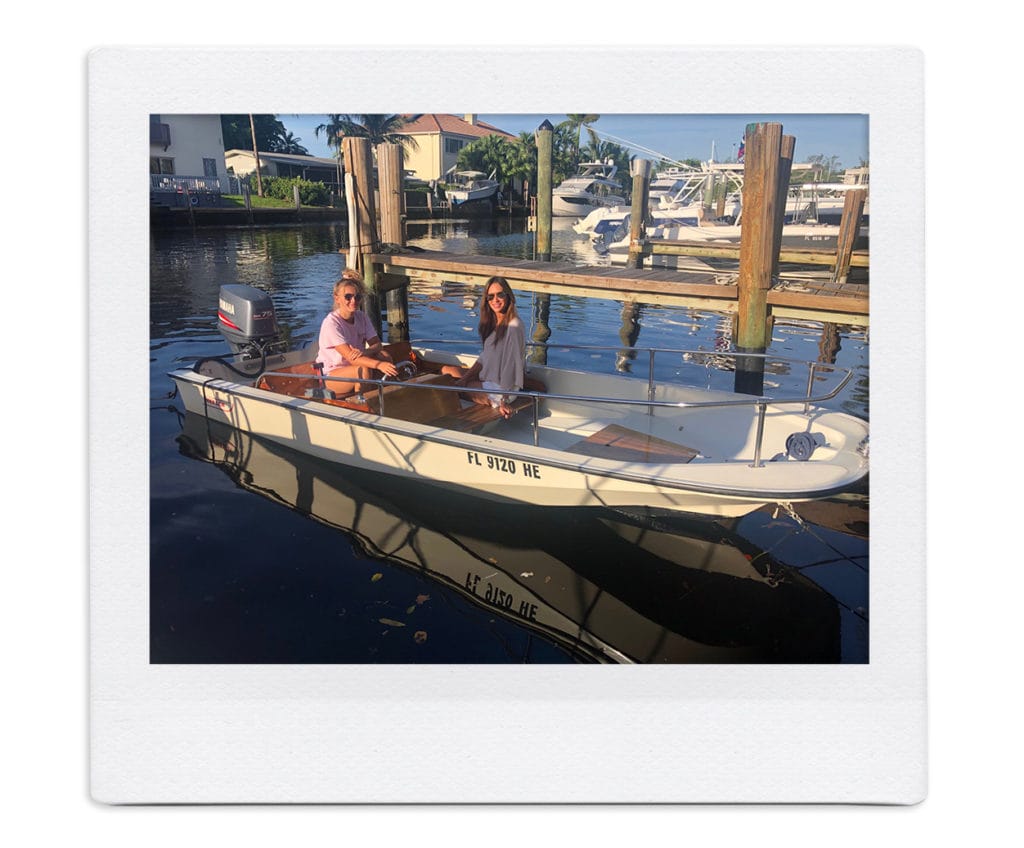 Some of my most cherished possessions are items that were handed down from my grandmother, Colleen, who passed away almost 20 years ago. One of my favorites is a pillow she needlepointed that says "Bless This Mess." I keep it in my closet as a daily reminder of her and the memories of watching her needlepoint everything she could get her hands on. When she passed away, all her grandchildren were able to take mementos that were special to us. The memory of her sitting in her chair making these beautiful creations left an impression on me. When life gets crazy and sometimes messy, the pillow reminds me to take a breath and ask myself what advice my grandmother would offer.
I also love to collect shells and butterflies. A few years ago, I was walking the sandbar on Cat Cay, Bahamas, when I came across a beautiful shell in the shape of a butterfly. It was lying there all by itself on the beach. I keep it on a shelf with some other mementos. A person very special to me passed away many years ago, and her passion was butterflies. When I stumble on items like this in nature, I like to believe it is her way of letting me know she is always with me.
At the moment, my 15-foot Boston Whaler is my most prized possession, not because it is a boat but because of the commonality it has provided to my daughter, Olivia, and me. We purchased it during the COVID-19 pandemic. We both love being on the water, so the Whaler allows us to spend time together—and it takes a little teamwork to keep it pristine. Olivia is by far the better captain and can dock a boat better than some seasoned boaters I know.
***
SOPHIA MYLONA
Owner of Thasos restaurant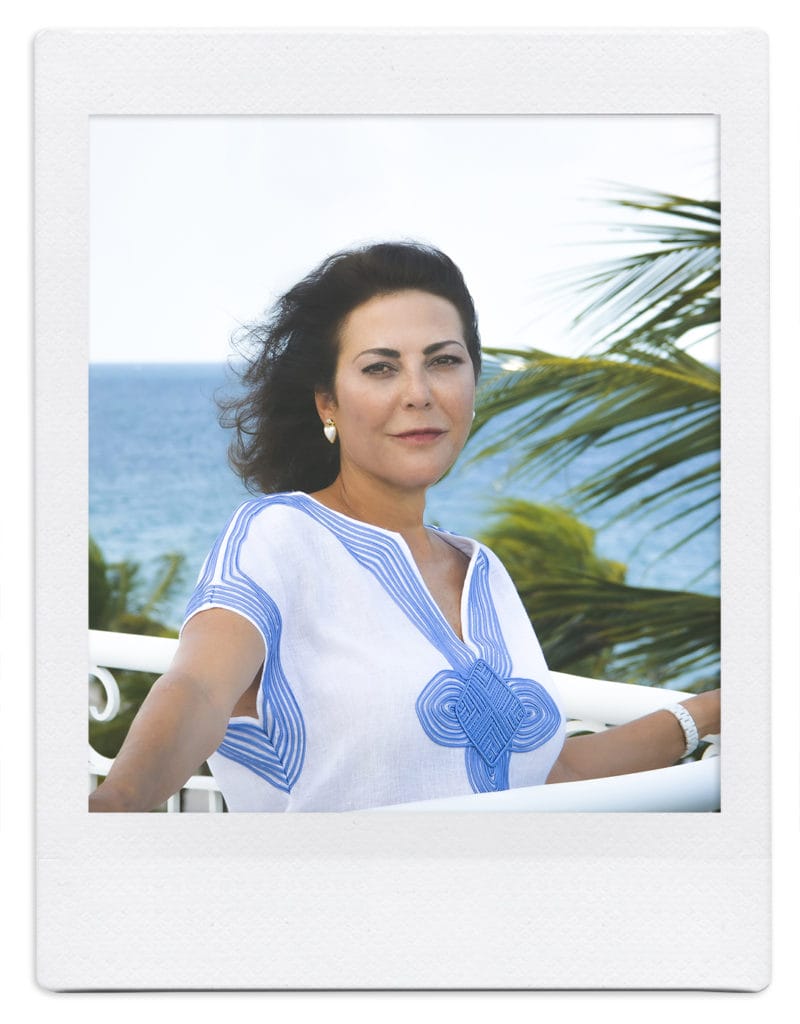 Two things come to mind when thinking of my personal treasures: one is my ocean view, and the other is my grandmother's holy seal. During the COVID-19 lockdown, I had the opportunity to spend more time at my home that overlooks the Atlantic Ocean. As I looked at the sea and enjoyed the breeze, it affirmed that everything would be OK again. Being in touch with nature in the beautiful Florida weather washed away the anxiety and stress that the lockdown brought.
My most sentimental possession is my grandmother's handcarved wooden holy seal, which is used in Eastern and Greek Orthodox churches to mark the prosphora, or the bread used in the Orthodox Holy Communion Divine Liturgy. Kneading and baking was my grandmother Sofia's gift. She would knead all night, making small round loaves for us that she stamped with the seal. My siblings and I would anxiously wait for the hot bread to come out of the wood-burning oven so we could place a piece of cheese inside to melt. My grandmother treasured the holy seal. She kept it together with the icons. I still remember the awe and reverence with which she would carry and handle it. In keeping with my grandmother's memory and tradition, I, too, keep the holy seal with the icons.