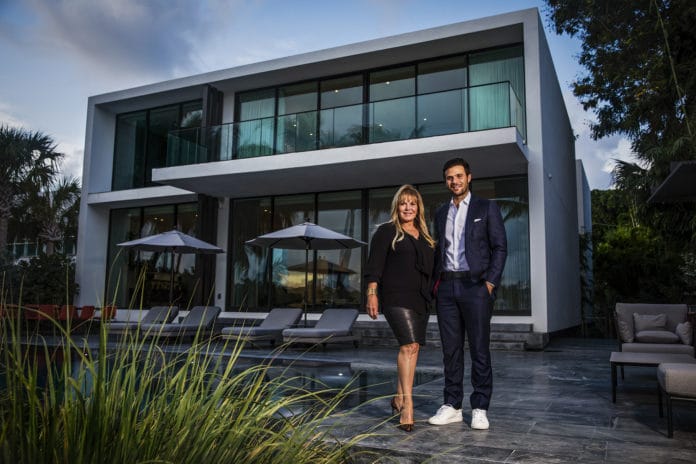 To put a regional spin on a Calvin Coolidge dictum, the business of South Florida is business, particularly the real estate business. Mayi de la Vega—founder and CEO of ONE Sotheby's International Realty—is on top of the game, with 16 offices throughout South Florida and more than 800 agents. Her son, Daniel, president of the company, shares an office with his mother in the Miami Design District and remains part of the company's growth equation.
In 2018, sales totaled $2.2 billion, and ONE Sotheby's was No. 1 in Broward and Miami-Dade counties for all transactions over $1 million. However, a decade earlier, when Mayi opened her first office in Coral Gables during the height of the economic downturn, the business was not quite so robust. "Everyone thought the world was falling apart, and it was difficult to put deals together," she says. "I knew an international real estate firm like Sotheby's, with its global footprint and marketing, would resonate in this market."
Now, ONE Sotheby's is one of the top 10 highest-producing affiliates of Sotheby's International Realty, a network spanning more than 22,500 associates in 72 countries. ONE Sotheby's has the majority market share of luxury condominiums above $2 million, with 20 exclusive new developments in Broward, Palm Beach and Miami-Dade counties that account for more than $3 billion worth of inventory. These days, Mayi says she's shifting focus to "building relationships" and creating "an environment for our associates to thrive together as one team." 
To that end, ONE Sotheby's has implemented a companywide wellness initiative, a holistic program centered on physical and mental health. "We are focused on fostering a sense of community," Mayi says, "where we all work hard but also take time to take care of ourselves." 
But real estate and wellness aren't the only passions of the de la Vegas, whom both are devoted art collectors. "Mainly through art in various forms, the Sotheby's brand—which has three centuries of heritage—represents and defines exclusivity," she says.
Daniel, a member of the Photography Committee at the Solomon R. Guggenheim Museum, also draws strength from the convergence of art and real estate. "Art allows you to meet people from all over the world," he says. "So many art collectors are also real estate collectors. When our friends in the art world visit Miami, I show them Zaha Hadid's One Thousand Museum building; it's like sharing an art collection you're passionate about."
Daniel, who was raised in Coral Gables, sees Fort Lauderdale as pure potential. "Where else can you live in a high-end, single-family home and walk to an urban destination, as well as the beach?" he says.
From a residential perspective, he says he believes there's "tremendous long-term value in Harbor Beach," a private community. For commercial real estate, he likes Flagler Village. "There are promising new food and beverage tenants like Batch, The Cookie Co. and Glitch Bar, which I believe will draw more people and businesses," he says.
ONE Sotheby's has extended its reach in Palm Beach County and northward, acquiring two Sotheby's affiliates with offices in Boca Raton, Delray Beach, Palm Beach Gardens, Jupiter and Stuart. The future is rosy in business and in life for the de la Vegas, who continue to enjoy a good working relationship. "We have mutual respect for each other, run parallel tracks and, most importantly, always support each other," Daniel says. "It can be challenging when we disagree in the office, but on the weekends and at home, we inherently have a different relationship. There, she's my mom, and I always agree with her." 
This article originally appeared in the Fall 2019 Issue.