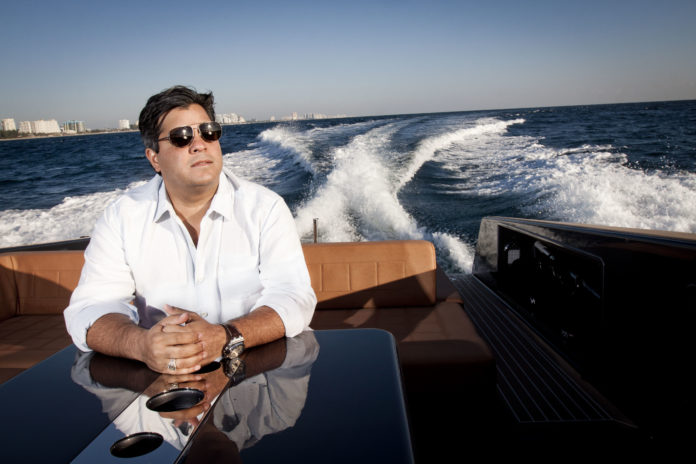 By David Lyons
Photography by Eduardo Schneider
When he was 8 years old, Dev Motwani would occupy himself with video games at his parents' Merrimac motel in the North Beach section of Fort Lauderdale. And when customers walked through the door, he'd put the game on pause, see if a clerk was present, and check in the guests if needed. All while figuring out the sales tax for their room rates in his head.
"It was funny because I was always good at math," he recalls. When guests questioned the validity of the precocious young man's calculations, Motwani says, "I would punch the calculator and show it to them."
Now 36, Motwani is a dealmaker, investor and visionary for the neighborhood where he and his older brother, Nitin, once rode their bikes as children. He is president of the family's Merrimac Ventures, a Fort Lauderdale real estate investment firm that is in the vanguard of bringing upscale resorts to the beach and fresh development projects to downtown.
The old Merrimac, once a landing spot for spring breakers, is long gone from the family portfolio. In its stead, names like Conrad, and stunningly, the venerable Four Seasons are poised to take prominent positions across from Fort Lauderdale beach. Adding to that is the upcoming Gale Boutique Hotel & Residences, which Dev notes is a pedestrian-friendly project in North Beach.
"The Gale is a cool project because there is a 130-unit condo paired with a historic boutique hotel two blocks from where we grew up at the Merrimac," he says.
Combined, the Motwani projects are a sizable subset of a vast makeover for Fort Lauderdale, formerly a haven for an annual spring break college crowd that infamously took the place by storm in the mid 1980s, forever changing the course of the city's economic development plans.
In 1985, spring break got busted after 350,000 students ran amok in the streets, vandalizing motel and hotel rooms, and overwhelming an outmanned police force.
So Fort Lauderdale and its Broward County neighbors launched a reverse tourism campaign. Their message to the students: If you intend to trash our cities, you're not wanted here. The county promptly launched campaigns to attract families interested in peaceful vacations on the local beaches. For the Motwani family, the shift in sentiment was devastating. Bob and Ramola Motwani had just arrived from Missouri as the new owners of the Merrimac.
"We had our own pool," the younger Motwani says. "It felt like paradise to us as kids. For my parents, it was a nightmare because all of the business was gone."
The family altered course, snapping up distressed hotels along the beach. "They realized that the end game was to acquire the whole block and sell it to one of the hotel chains," Dev says. "Most of the properties on the beach were being foreclosed. People were running away."
His father helped spearhead a visitor bureau effort to draw tourists from Europe, Latin America and Canada. And he participated in community efforts to upgrade the beach area's infrastructure. When he died at the age of 47, Bob left it to his wife and sons to become standard bearers for development. Initially, the proposition was a non-starter for both brothers.
"We had always said we would never come back to Florida," Dev says. "We would never get into real estate because our vision of real estate was watching our parents struggle running these hotels."
Both went to college. Dev attended Duke University, taking time off to work for the Al Gore presidential campaign in 2000. He worked in the White House's West Wing, four doors away from the Oval Office.
After college, the brothers took jobs on Wall Street, Dev at Credit Suisse, Nitin at Goldman Sachs. That left their mother to shoulder most of the family business. She was the one who gained city approvals for a 320-room luxury hotel on the site of the old Merrimac and the Gold Coast hotel the family had acquired.
Dev soon wrapped himself into that deal, which had initial negotiations with now-president-elect Donald Trump. The family partnered with a New York developer, who introduced the Motwanis to Trump in order to incorporate that property under the Trump brand. While the branding and partnership never fully matriculated (it is now the site of the Ocean Resort Residences at Conrad Fort Lauderdale Beach), Dev says that moment was when he saw how powerful the development side could be.
"As a kid, I mostly saw how my family dealt with real estate, never with development," he says. "And when I saw how development worked, that's what pulled me away from Wall Street and back to Fort Lauderdale."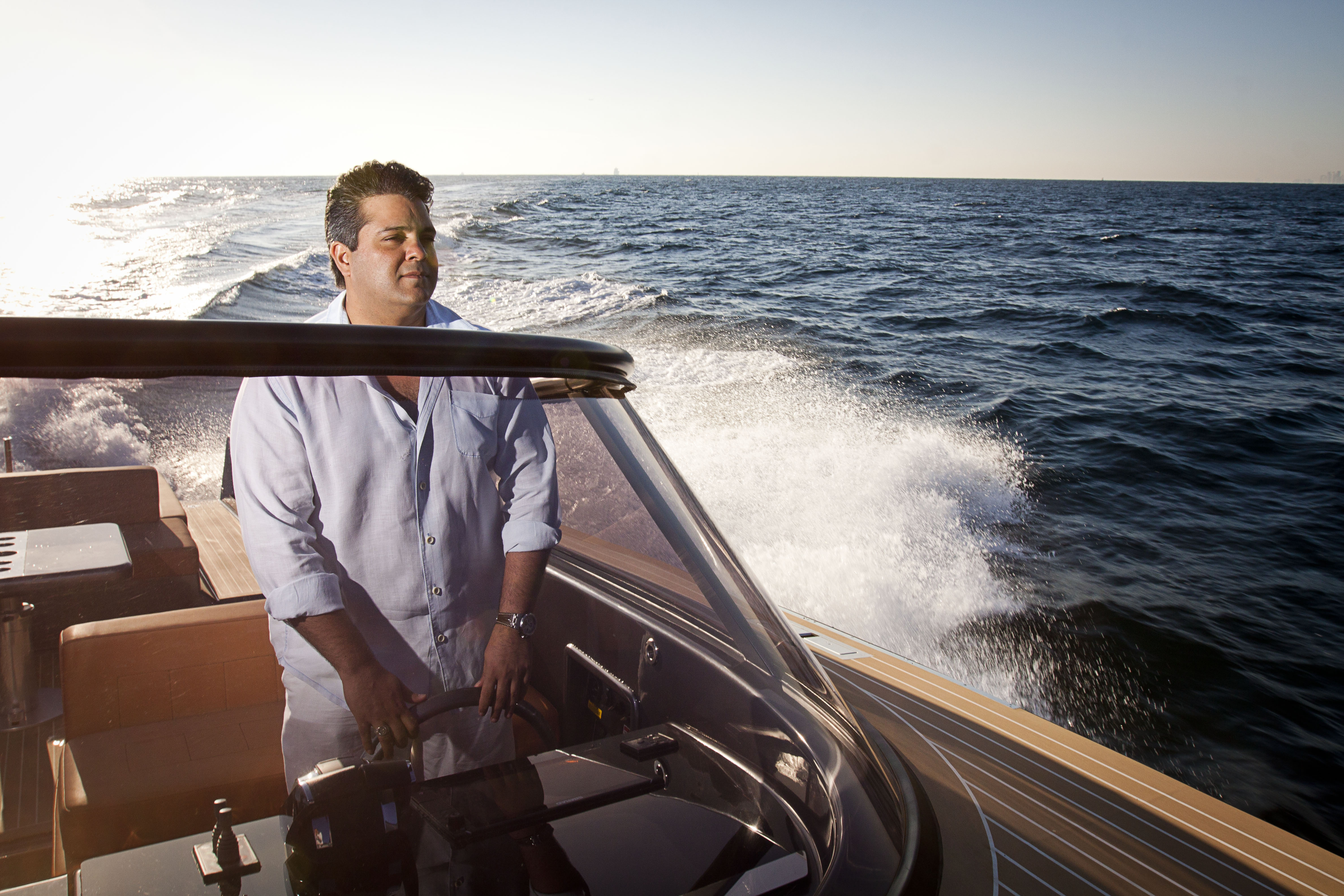 As the real estate boom ballooned, the sons returned home separately after earning advanced degrees in development at Columbia University. Dev started a real estate investment fund, which currently oversees $750 million in development projects. Recently, he cut a deal with New York-based Property Markets Group to develop the languishing Las Olas Riverfront, a 3.67-acre mall on the New River.
Dev is as atypical a developer as his projects. His travels abroad have allowed him to have a different perspective of what Fort Lauderdale could be. With his tight-knit family, he regularly travels to their native India, visiting relatives and eventually spreading his father's ashes in the Ganges River in 1994. Those global experiences led to more trips, including backpacking in Europe as a college student for six weeks, hiking Machu Picchu in 2002, and his most recent adventure: traveling through northern Norway down to Germany and then racing on the Nürburgring, a Grand Prix-style track with severe elevations.
While these journeys offer only a snippet of Dev's spirit, they also indicate how out-of-the-box his current projects can be. Take, for example, the Flagler Village Hotel, the site of which he purchased last year with plans to develop a 195-room hotel with ground-floor retail space. "The way I see it, that was a location that was available to everyone, but we acted on it," he says.
He also worked to persuade developer Nadim Ashi to develop a Four Seasons on land the family previously owned at 521-529 N. Fort Lauderdale Beach Blvd. Ashi, who is redeveloping the iconic Surf Club in Surfside under the Four Seasons brand, owns the Palm Beach Four Seasons and the Florida rights to the name.
"Fort Partners has a great track record with the Four Seasons already," says Dev of Ashi's company. "That is a relationship they brought to the table."
Nitin is managing director of Encore Capital Management, a private equity fund with nearly $1 billion in assets. He is also a partner in the massive Miami Worldcenter development under construction, and steers the development of the Paramount Fort Lauderdale Beach, a 95-unit condo to the north of the Four Seasons site. Dev says the two work closely together. "My brother and I are partners in everything we do."
Dev notes that he's "bullish on South Florida," calling it "a place where people want to be." As part of his commitment to the community, he sits on the board of the Broward Center for the Performing Arts and on the foundation board of Broward College.
So it is with a sense of irony that he sees continued strength in the Fort Lauderdale market; he attributes much of it to the very spring breakers who ran amok 30 years ago.
"What I like to say to people is that just as our visitors of the 1980s have matured, so has the market. The same people who were tearing up the Merrimac when they were 20 years old in college, they're now 50 and they're successful. And they have fond memories here. But they don't want to stay in a motel; they want to stay at the Four Seasons."
Originally appeared in the Winter 2016 Issue.