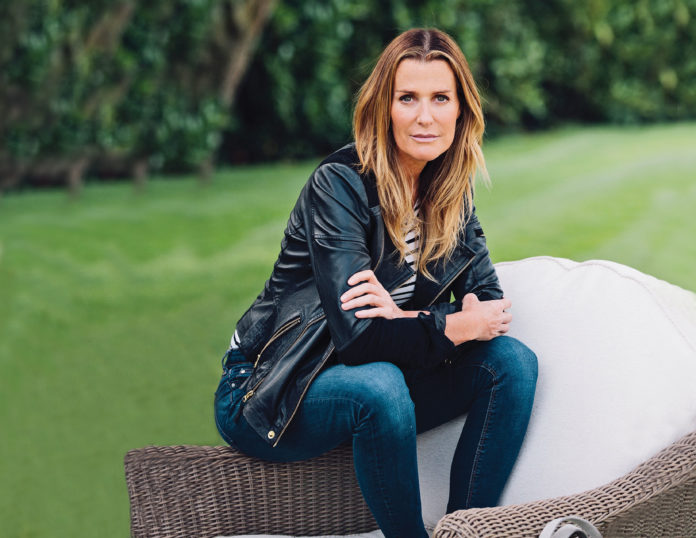 By Betty Cortina-Weiss
Portrait by Brittan Goetz
India Hicks may have been born an aristocrat—she's the goddaughter of the Prince of Wales and was a bridesmaid in his wedding to the late Princess Diana—but listen closely when she speaks and you'll hear something unexpected. "Every day, I run around with my hair on fire, trying to get the balancing act of life right," she says. "I have five children. I live between three countries—the Bahamas, England and the U.S. I co-founded a business, and my eye is on every part of it. I sit in on forecasting meetings, distribution discussions and conversations about package design. I barely have a moment to breathe!" Talking briskly but with palpable passion—not to mention a dash of that famously wry British wit—over the phone Hicks could pass for a bootstrapping startup maven rather than a noble.
The author of three books on island life and style, Hicks started an eponymous social selling lifestyle company in 2015 that markets handbags, home accessories and beauty items inspired by British culture and island life. Recently, she announced a new product line expansion, to be created through collaborations with seriously stylish partners like Jonathan Adler. And in March, Hicks will release her fourth book, A Slice of England: The Story of Four Houses, in which she opens the doors to her home in the English countryside and the houses of her childhood.
In between it all, she's making a point of returning to South Florida on February 2 to speak at LitLUNCH!, the kick-off event for the 30th annual Literary Feast, which raises money to support Broward County Public Library Foundation's literacy programs. As a preview to her message for the 200 local women business leaders expected to be in the audience that day, Hicks shares with Venice what her audacious business journey has taught her about life—and the other way around.      
Embrace the unexpected
"I was brought up with a unique and blessed heritage, and expected to marry sensibly and be happy living in the English countryside. It was supposed to have been a very different life than the one I lead—here I am on a Caribbean island with my partner and five kids and running a business. People told me this was not what I was supposed to do, that I would get bored, that I would never sustain my life this way. And people in business looked at me like I was a piece of fluff. But I never listened to the naysayers then, and I don't listen to them now. When we founded India Hicks in 2015 and set out to bring shopping back into the heart of the home, that was unexpected, too. I have learned so much and am so grateful I get to work on something I utterly believe in. I get to meet our incredible ambassadors, hear about how the business has changed their lives and encourage more women to do something for themselves. It's meaningful, and it would not have been possible if I had just done what was expected."
You've got to have grit
"When you're working on a startup, there are more than just bumps along the road. There are bloody mansions! What do you do when you run into one of them? You just keep getting up and moving forward. There are hard moments for sure. I have days away from my family. I have long days when I stay up late to answer calls and emails. But I just stick to it. Having grit is really about having the resolve to keep going."       
Always seek guidance and inspiration
"Sometimes it's hard to ask for advice. When I was starting my business, it was hard in part because no one else was doing what we were planning to do, so no one could really give me that kind of advice. Still, I knew it was important to lean on people for other kinds of support. I reached out to Aerin Lauder, for example, and said, 'Let's get together over a cup of tea and cry about how hard it is to balance everything!' I also look for inspiration in successful women I admire. Mindy Grossman, the former CEO of the Home Shopping Network (who's now the president and CEO of Weight Watchers International) is one of them. Just seeing a woman like her at the head of a boardroom was hugely inspiring to me. And then there are CEOs I've met who come to business from such a different place—like Chantel Waterbury from the jewelry brand Chloe and Isabel. She had a challenging early life but found a way to be successful. Her story is different from mine, yet both of us had to fight to be taken seriously and have a seat at the table."
Have a fearless spirit
"I've always been a little fearless. I've jumped out of airplanes and off bridges, hiked up mountains and slept in caves. I work to make sure that adventurous spirit is alive in my company because this is an adventure, too. That doesn't mean I don't feel fear. In fact, sometimes I wake up in a cold sweat thinking, 'How am I going to maintain this? How am I going to protect the women who work with me? How will we succeed?' Business can be scary, but when you believe in what you're doing that makes all the difference. Plus, having a strong family around me and feeling loved is what really gets me through."      
Believe in second acts
"I just turned 50 and there are so many doors opening—ones I never could have imagined. This has been a whole new act for me. I know a lot of women in our India Hicks tribe feel that way, too. And that doesn't always have to do with age. You can look for a second act at 20 or 30. What's terrific about second acts is that they allow you to look back at what you did before, see where you might have taken wrong turns and learn from your mistakes. All that life experience and perspective makes a second act even more authentic and exciting!"